The 10 Most Asked Questions About Lash Extensions
By Jennie Waeland, October 22 2020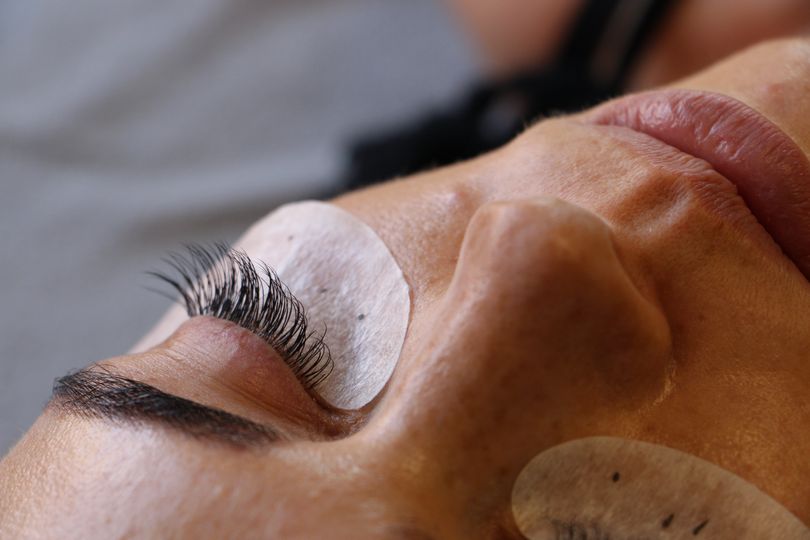 Picture this. You wake up and begin the usual scramble to start your morning routine before you head off to work. Hectic, right? 
Now imagine waking up and looking in the mirror, only to find that your lashes need no tending to. Thick, luscious, long – and you don't even have to dig around for your mascara. Dreamy. 
Lash extensions are a quick fix with long-lasting, hassle-free results. If you are interested in trying lash extensions but aren't sure where to begin, here's everything you should know pre-appointment.
What are lash extensions?
Lash extensions are not the same as strip lashes. They are semi-permanent, synthetic lashes that are glued to your natural lashes through the use of lash adhesive. They are placed on individually, either on each lash or every other lash, depending on the look you are going for. 
How is it different from a lash lift?
A lash lift doesn't use synthetic lashes, it is the augmentation of your natural lashes. A perming solution is used to lift and curl your lashes, making them appear longer and more shapely. You can also get a tint to make your lashes darker, giving a faux mascara look. 
For more information, we have a blog post highlighting the difference between extensions and a lash lift. 
How do I prepare for lash extensions?
Before your appointment, make sure that there is no eye makeup or excess product such as moisturiser around your eye area. The area should be as clean as possible. 
If your go-to mascara is waterproof, you should avoid this a couple of days before your lash extensions. Otherwise, this may interfere with the application. 
Furthermore, you shouldn't come to the appointment wearing contact lenses as these cannot be in place during the treatment. This is because it will make it harder in the event that anything gets in your eye during the treatment. 
Can I wear contact lenses with lash extensions?
Yes, once the lashes have been applied, you can wear contact lenses again. However, if you notice any irritation when wearing the contact lenses, we recommend getting them professionally removed as it might not be the best option for you. 
How much do extensions cost?
At LeSalon, we offer different lash extension treatments:
Half Set Individual Eyelash Extensions

–

£75.00
Full Set Individual Eyelash Extensions –

£115.00
Half Set Russian Volume Eyelash Extensions

– £95.00
Full Set Russian Volume Eyelash Extensions

– £135.00
Eyelash Extensions Infills (60 minutes)

– £65.00
Eyelash Extensions Infills (90 minutes)

– £88.00
You can view our lash services here. 
What are Russian Lash Extensions?
They are a lightweight, fluttery type of lash extension with flexible, buildable options. Russian Lashes are more voluminous than a classic set as your therapist will apply a few synthetic lashes to each of your natural lashes. Read all about them here.
What are infills?
Your lashes will Infills are the re-application of lashes in areas that may have experienced lash fall-out or gaps. They are recommended to keep your lashes looking full and fierce, avoiding looking 'gappy'. 
How often should I get infills?
As humans, we have between 90-120 natural lashes on our upper lash line. However, these will shed daily, an average of 2-5 lashes. We recommend booking an appointment for infills every 2-3 weeks. 
Can I wear mascara with lash extensions?
You don't need to wear mascara with lash extensions, as they basically act as mascara anyway. With extensions, your lashes will look fuller, darker and longer. 
We recommend avoiding mascara altogether, especially with the more natural, lighter lashes as this will add weight to the lashes and give a higher risk of them falling out. 
If you do decide to wear mascara, make sure you use oil-free makeup remover and be gentle, otherwise it may cause lashes to fall out. You must not use any oil-based products around your lashes, as this may break down the adhesive that keeps the lashes intact.
Avoid waterproof mascara completely as this can ruin your lash extensions and will be very hard to get off, resulting in lashes falling out prematurely. 
How do I look after my lash extensions?
Don't pick at them –

Picking at your eyelashes may weaken them and even make them fall out. This will result in bald patches along your lashline, and an infill would be necessary to restore them.
Brush your eyelashes every morning and night – Use a clean spoolie brush to brush through your lash extensions. This will keep them in order and looking neat. It can also break down any pollen or dust on the lashes which can lead to infection.
Sleep on your back on the first night – Sleeping on your back is recommended for the first night as your eyelashes are more susceptible to bending or misshaping if you sleep on your front or your side.
Avoid steam rooms, sunbeds and saunas for at least 48 hours – Moisture should be avoided in the first 24 hours as it won't allow the adhesive to dry fully. Places such as steam rooms, sunbeds and saunas can bring on sweat which may loosen the lashes. With that said, vigorous exercise should be avoided before the lashes have dried.
Hopefully we have cleared up any questions you had. Should you have any questions during your appointment, your lash technician will tell you everything you need to know, along with all the aftercare to keep them in the best condition. If you have any more questions pre-appointement, feel free to message us on our Instagram or via our online chat.