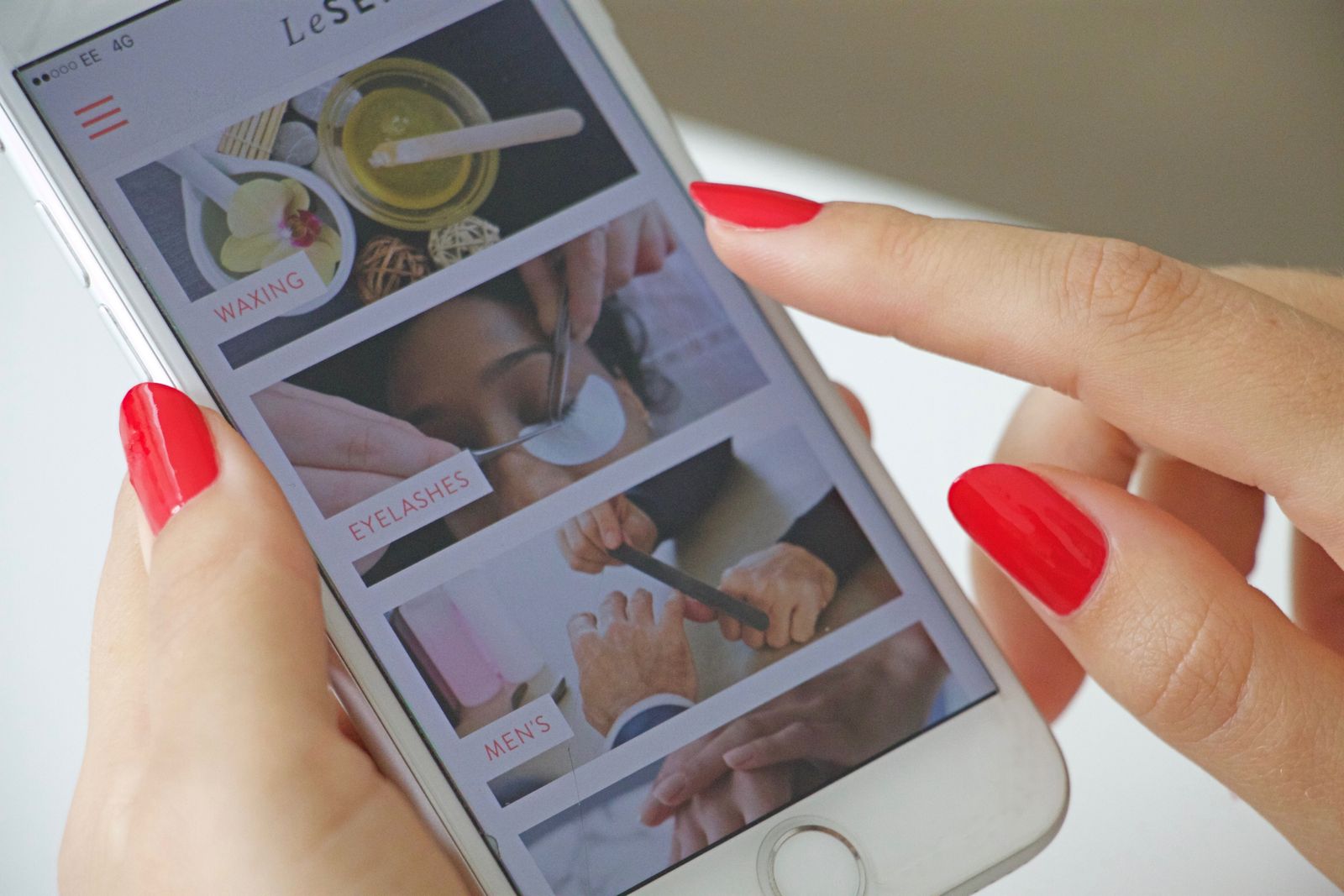 Frequently Asked Questions
What is LeSalon, where do you operate and how do you select your therapists? All these questions, and more, answered here.
General
What is LeSalon?
LeSalon allows you to book beauty services anytime, anywhere. Our professional therapists come to you, whether that's at home, in the office or in your hotel room.
What services does LeSalon offer?
We currently provide manicures and pedicures with both classic and Shellac nail polishes, waxing, lash treatments and spray tans. If there is a particular service you'd like us to add, let us know at hello@lesalon.com.
Who are LeSalon therapists?
We carefully hand pick, screen and certify each therapist in person. They are all professionally trained, incredibly talented and passionate about what they do. Every therapist that works with us is fully qualified, insured and complies with LeSalon's high service standards. We collect regular feedback to ensure you receive a consistent 5* experience.
Can I choose my therapist?
Yes you can! You can re-book a therapist you had before or select a new one. Once you've chosen your therapist, you'll see what their availability is so you can select a date and time that works for you. 
Bookings & treatments
How do I book a treatment?
Download the free LeSalon app or visit our website and register your details. Follow the steps to book your first appointment and once your request is submitted, you will be matched with a LeSalon therapist. You will receive a confirmation email, detailing the name of your professional and your booking details.
When and where can I request a treatment?
LeSalon services are available from 06:00 - 23:00. We currently cover London, zones 1-4 and parts of zone 5. If you're in an area that we don't currently operate, let us know via hello@lesalon.com.
How do I get ready for my appointment?
You'll receive all the information you need in your confirmation email. The most important thing is that you and the therapist can sit comfortably.
Our therapists bring all the necessary products and tools with them. But if there are any products you would prefer they use or you have any allergies or concerns, please let them know.
I've booked a manicure/pedicure. What do I need to know?
We recommend sitting at a table for manicures and either a table or sofa for pedicures. If you're having a Shellac treatment, you'll need to sit near an electrical socket so the professional can plug in their LED lamp. Your therapist will also need access to running water.
I've booked a wax. What do I need to know?
We recommend lying on a bed or a couch for waxing treatments. Your therapist will also need a nearby electrical socket to warm the wax.
I've booked a lashes treatment. What do I need to know?
We recommend lying on a bed or a couch for this treatment.
How do I amend my booking?
You can upgrade your booking through you app. Any other changes, please contact LeSalon at hello@lesalon.com or via support chat and let us know what you'd like to change. Please note you may be subject to additional charges for changes made at short-notice. See below for more info.
Lateness, cancellations & rescheduling
What is your cancellation policy?
We know things can change, so we make it easy for you to cancel your appointment. We ask that you give a minimum of 24 hours notice.
How do I cancel a booking?
We ask that you give us a minimum of 24 hours notice. You can cancel by clicking onto your booking. You won't incur any charges.
For a cancellation made under 24 hours notice, please contact hello@lesalon.com. You will be charged for 50% of the cost of the service. For under 4 hours notice, you will be charged 100% of the cost of the service.
What is your late policy?
You can message your therapist via the app up to two hours before your booking. We ask all of our therapists to wait for a maximum of 15 minutes. If you do not attend the booking or the therapist is unable to carry out the full treatment(s), you will be charged the full price of your booking.
What if my therapist is late?
Please notify LeSalon Customer Support and they will contact the therapist.
How do I reschedule a booking?
The cancellation policy also applies here. We ask you give us 24 hours notice if you wish to reschedule.
Payments
When will I be charged for my booking?
Your card will be charged once your booking is confirmed with a therapist.
My booking was cancelled. When do I get refunded?
If your booking is cancelled as we were unable to match you with a therapist, your card will not be charged.
If your booking was confirmed with a therapist and cancelled for another reason, the Customer Support team will process the refund. Refunds can take up to 5 working days to appear in your account.
Can I tip my LeSalon professional?
Tips are not included and there is no obligation to do so, but if you would like show your appreciation of the service provided, you can do so at the end of your treatment. Just click into the booking and next to 'Payments', press 'Add tip'. 
I have a voucher code. How do I use it?
Please enter the voucher code in the Discount box when you get to checkout. The value of the code will be deducted from your total booking cost.
I have a gift card. How do I use it?
Click on "Do you have a gift card? Tap here to redeem it.' when you see the Discount box at the checkout. The value of your gift card will be deducted from your total booking cost.
Connect with us
When does your Customer Support team operate?
For urgent queries, you can use our website and app chat service. We're online from 09:00-21:00 Monday-Friday and 07:00-18:00 Saturday-Sunday. Alternatively you can call us on 020 8050 1354.
For non-urgent queries, you can email hello@lesalon.com.
Are you on social media?
Yes, you can follow us on Facebook, Instagram, Pinterest and Youtube.