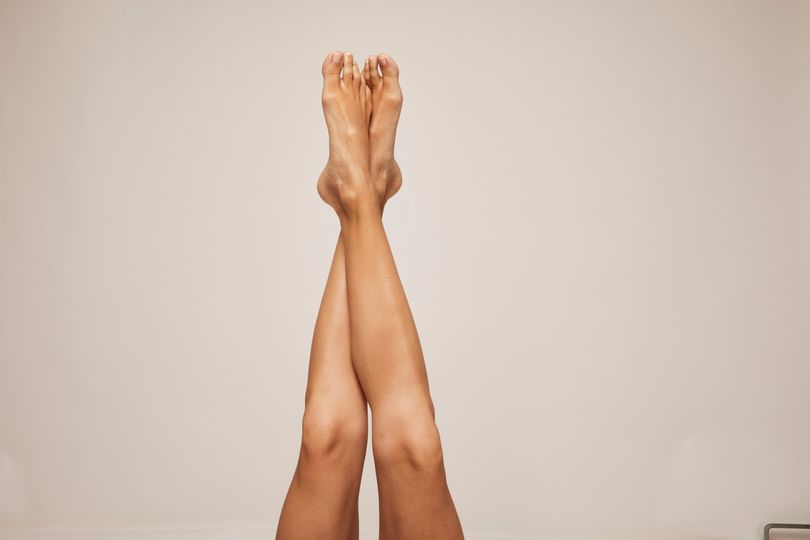 If you are thinking about booking a spray tan during the warmer months, you may be considering the following question… Can I tan through fake tan? This blog post will answer all queries that you have about this. 
Even though we are exposed to the highest amount of UV rays in the summer period, getting a spray tan is still a valid option in the summer. Especially if you live in the UK, the weather is very unpredictable. The chances of topping up your tan naturally all summer is often not the case. This summer, especially, has lessened our chances of a natural tan as many of us haven't travelled abroad. 
We all love to look bronzed when wearing shorts and dresses in the summertime. For many, a glowy tan can help us to feel more confident. So, is it possible to tan your skin through fake tan?
What is a spray tan?
To start off, it is beneficial to understand what a spray tan actually is. 
A natural bronze is caused by UV rays from the sun. When your skin is exposed to these strong rays, the melanin (colour pigment) rises to the surface of our skin. The reason that this happens is that our skin is trying to protect itself from any harmful rays. If you do not protect your skin from direct sunlight, it can begin to burn and blister. 
Alternatively, a spray tan is a method we can use for an instant tan with no risk of UV rays or burning our skin. A spray tan uses the ingredient dihydroxyacetone (also known as DHA). This ingredient causes a reaction with the amino acids found in the cells on top of your epidermis, the top layer of skin. This is where the pigment occurs. Your therapist will guide you into a tanning tent and proceed on your treatment. At LeSalon, we offer, along with our classic service, a Vita Liberata service which is completely organic. 
Does my spray tan block UV rays?
Contrary to what you may believe, spray tans do not form any time of barrier on the skin. It will not block UV rays from reaching your epidermis. A fake tan is solely a pigment reaction, and therefore your skin remains as exposed and vulnerable to solar rays as when it doesn't have a spray tan. 
The same goes for makeup. When you wear makeup, it does not act as a complete barrier to the sun. However, makeup creates a slight barrier due to the products being used, such as foundation. 
It is possible to bronze up through makeup, however it is more likely to turn out blotchy and not even. It is not advisable to tan with makeup on, however always be sure to use moisturiser with SPF. This simple act will protect your skin on a daily basis. 
How do I protect my skin when tanning?
Whilst a spray tan can make you feel great when out in the sun, it can come with consequences. Unfortunately, having a spray tan can stop you from seeing the true colour of your skin. This means that you might not be able to tell when you are burning. 
Some people think that you only need to wear SPF and sunscreen when you are in direct sunlight. This, however, is not the case. Even if clouds are blocking the sun or it is a rainy day, the UV rays are still present. It isn't a case of 'out of sight, out of mind'. 
By wearing SPF every day, you are not only protecting your skin from burning but lowering the risk of skin cancer and slowing the ageing process. The sun has such a large impact on your skin, most of which is invisible to the naked eye. According to EHE Health, you are cutting the risk of getting skin cancer in HALF by wearing sunscreen every single day. 
What SPF should I be wearing?
Many dermatologists recommend wearing a sunscreen with an SPF of 30 or higher. According to the American Academy of Dermatology, SPF 30 can block up to 97% of UVB rays. 
As long as you are wearing a sufficient enough factor of sunscreen, it doesn't matter what form it comes in. You can choose between stick, cream, gel, spray and more. 
You should apply sunscreen on all areas of the body. Especially, when your skin is exposed, such as when you are in a bikini. You may want to use a higher SPF for your face, as the skin is much thinner than the rest of your body. This means that it is more fragile and more susceptible to harmful rays. 
A higher SPF number is always better but please note that no factor can block 100% of UV rays. This makes it essential for you to be considerate of your skin when in direct sunlight. Make sure that you alternate time in the sun and in the shade. You should wear a cap every now and then and sunglasses to protect your eyes from the sun. 
Overall, enjoy your time in the sun and be mindful when tanning with a spray tan. Protect your skin even more so than usual! If you would like to read more on how to protect your skin, this article will be right for you.