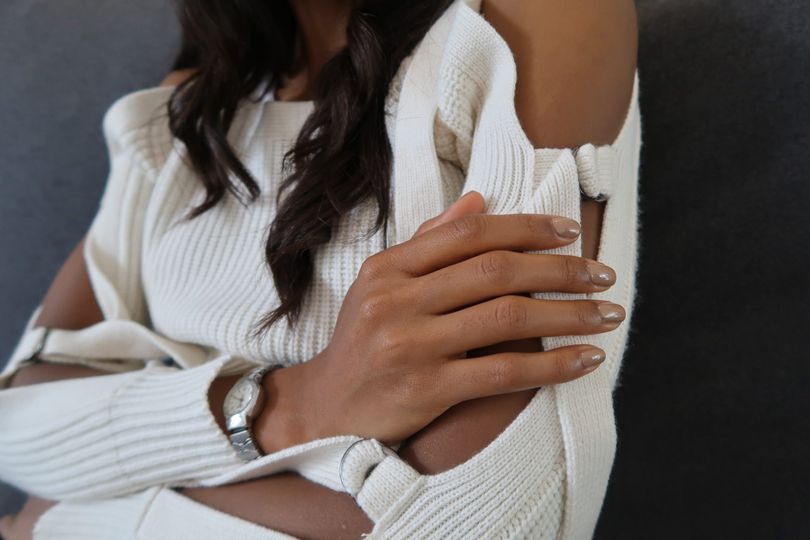 When it comes to our routine manicure, words that don't often come to our head may include 'wet' or 'dry'. From an outside perspective, it may seem that there is one standard way to execute a manicure. This isn't the case, though. 
Though it has been around for a while now, you may only just be hearing about a 'dry manicure'. It is popping up on our social media and sneaking it's way into magazines, but what actually is a dry manicure? It is better than the manicure that we're used to? Let's find out. 
What is a wet manicure?
The manicure that the majority of us are used to is technically called a 'wet manicure'. This is where your mobile beauty therapist will soak your fingers in a bowl of warm water at the beginning of the manicure process. 
The main purpose for this is to soften the skin and cuticles. After buffing and filing, there is a lot of leftover dust and dirt residue so this method is also a surefire efficient way to clean up before applying any product. 
So, what is a dry manicure?
You guessed it. A dry manicure is the exact opposite method, missing out the soaking stage. Now, you may think, won't this method be extremely drying on my nails?
In short, no. Most mobile beauty therapists make up for the lack of soaking with the application of oils, creams and other hydrating products. This will give the same moisturizing effect that the water has. 
Need a fresh manicure? Book one of our expert mobile beauty therapists to come to your home today!

Book an at-home manicure.
How will it benefit my manicure?
Granted, right now you might not be sold on the idea but keep reading. There's more to it than you may think. 
Prolonging the longevity of the polish 
One of the main benefits of a dry manicure is the hold that it has on your nail polish. Why is that? It's time to get scientific. 
Your nail plate naturally curves in a 'C' shape. However, once submerged under water, the 'C' curl becomes lesser. Annoyingly, the natural nail plate is often not completely dry by the time that the polish has started being applied. So, once the nail plate is fully dry, the polish doesn't lay completely flat on the surface and can begin to peel away from the nail. 
Preventing peeling cuticles
When soaked in water, the cuticles often become plumper and take on an absorbent role. This means that once the area is fully dry, the cuticle can begin peeling back. 
However, with a dry manicure, it is easier for the cuticle to be pushed back and kept in check. 
Saving time
Many of us book in a manicure to save us time in our hectic, non-stop days. Omitting the soaking stage, you are shaving a few precious minutes off the appointment and therefore giving yourself more time to get on with your routine. 
Keeps your nails strong
You know when you get out of the bath and notice that your nails are bendier and a more pale tone. This isn't your eyes playing tricks on you. 
Water can make your nails more fragile and less sturdy. A dry manicure will keep your nails in top condition before the application of polish. 
Less risk of a bacterial infection 
Now, we're not saying that all wet manicures lead to a bacterial infection of some kind. This is not the case at all. However, it is worth noting that water opens up your pores and therefore, risks more chance of a fungal infection being transmitted. Especially, if the bowl hasn't been properly cleaned between appointments. 
Cutting down water consumption
Now, this isn't beauty related but it's important. Water usage is definitely something that we should all strive to cut down, especially in our beauty routines. Brushing our teeth, taking showers, washing our faces… There's no mistaking that water plays a large role in our routine so we should aim to reduce our consumption whenever possible, no matter how small. 
A dry manicure will save a bowl of water being used and later poured down the sink. 
We are back open and available for all your manicure needs. You can book via our app or at lesalon.com.