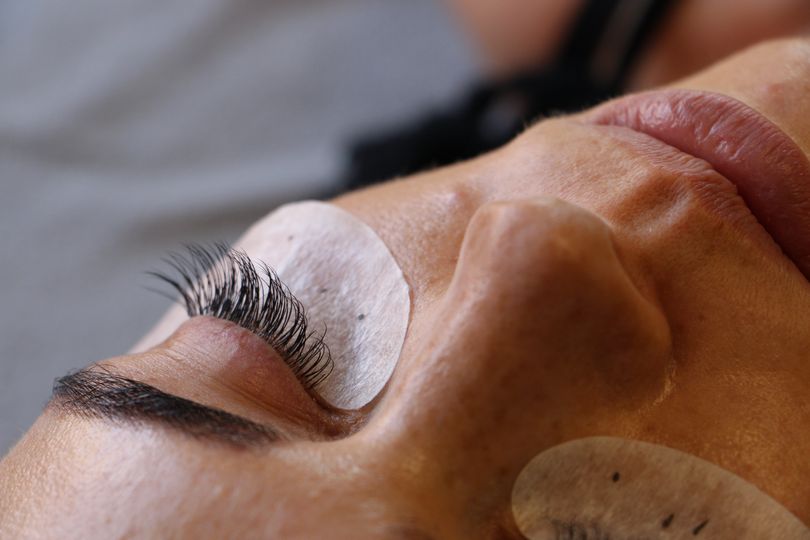 Having great eyelashes is such an underrated feature. They can be the main feature in a glamorous makeup look, or help to boost your confidence rocking a makeup-free face. There are two categories of eyelash treatments that you can get at a beauty salon – eyelash extensions and an eyelash lift. 
There are a couple of factors to take into consideration when choosing what eyelashes are right for you. You may want to think about:
Eye shape 

Vegan options 

Allergies to certain materials 

Your commitment to maintenance

Eye size 

Your eyelid type – monolid, hooded etc

Dramatic or natural 

Price range

Eyelash length 

Eyelash curl 
Lash Lift
A lash lift uses your natural eyelashes and is designed to curl and perm your eyelashes semi-permanently into the desired shape using a chemical solution. A lift involves using an adhesive to stick your ashes on a silicone shield in the desired layout. You can choose whether you want them to face directly upwards or to be more fanned out. They are then coated with the perming lotion for up to 12 minutes. 
As your natural lashes are used, you do not have to worry about the outgrowth of your lashes, and you can wear mascara without ruining the perm. 
At LeSalon, we offer a lash lift service for £55. 
We also offer a lift and tint service combined for £60. An eyelash tint helps to enhance your lashes, and acts as a semi-permanent dye. It does not affect length, curl or volume. Whilst you can wear mascara with lash lift, you might not need to with a tint as your lashes will be dark enough. 
Eyelash Extensions
Eyelash extensions can be confused with temporary false eyelashes. However, extensions are synthetic eyelashes that are glued to your natural eyelashes using an adhesive. Your technician will apply individual lashes to each of your natural lashes which will last for weeks.
Extensions are a great alternative to mascara, as you don't need to use any other product on your eyelashes. They are already thick and dramatic enough to sport as a glamorous eye 'look'. 
They will begin to fall out every 4 to 6 weeks alongside the natural eyelash growth cycle. It is recommended to get infills every 4 to 6 weeks to fill the gaps. 
When it comes to extensions, there are many types to choose from. This may be overwhelming if you aren't familiar with the different styles. These are the most popular styles…
Mink Eyelash Extensions
Mink eyelashes use real hair, as opposed to synthetic, to achieve a more natural, lighter look. The eyelashes themselves are lightweight and effortless to wear. Some synthetic extensions may feel more heavy on your eyelids, whereas mink extensions are extremely comfortable. 
Mink eyelashes are known for their 'fluttery' texture. The extensions are very thin and fanned out, great for staying to the lighter side of eyelashes. On the other hand, you can easily build up a dramatic effect by layering the eyelashes. Being so lightweight, mink eyelashes are one of the best types to layer up if desired. 
Due to their light weight, these eyelashes will have great longevity as they do not pull on your natural eyelashes. 
Unfortunately, the downside to mink eyelashes is that they are made from real mink hair, which makes them non cruelty-free. Don't worry, if this is an issue for you, we have you covered with the next option. 
Faux Mink Eyelash Extensions 
If you are looking for a vegan alternative, faux mink extensions are also available! These are basically the same exact eyelashes but are synthetic. 
Another bonus is that if they become wet, they will not curl or ruin their shape. This is so useful when it comes to swimming and showering. Who doesn't love manageable eyelashes?! 
Being faux, mink extensions also come at a lower price to the real alternative. 
Silk Eyelash Extensions 
If you want to get that great eyelash look but are allergic to certain fur, silk eyelashes may be the right choice for you. 
Silk eyelashes are a wonderful middle ground between real and synthetic eyelash extensions. They have a full appearance, with the eyelashes starting thicker at the lashline and gradually tapering off towards the end. Not only does this give an extremely natural look but it also lessens the need for eyelines, as your eyelash line will look fuller and darker. 
Better yet, the lashes are completely vegan, and extremely glamorous. The silk texture makes them luscious and glossy. They can be quite dark and bold, so are an ideal choice for a darker 'evening' look. 
Much like faux mink eyelash extensions, silk eyelashes are very low maintenance. They do not get misshapen easily and are suitable for water. As they are not derived from real hair, they also come at a lower price tag than real fur and hair. 
Synthetic Eyelash Extensions 
Considerably the most dramatic and least natural looking eyelashes. Synthetic eyelashes are a lot thicker and darker than most, and have a glossy sheen that is not seen so much on the more natural eyelashes. 
Most people don't opt for synthetic eyelashes as they are heavier and can weigh on your real lashes. These lashes would be great in a dramatic look with heavier makeup. 
Russian Lashes 
Russian lashes are the newest trend. They are extremely thin and therefore buildable. You can even have more than one to each individual natural lash. 
At your appointment, you have the chance to choose between 2D, 3D, 4D, 5D or 6D. This number is a reference to how many Russian lashes you can apply to each natural lash. 
The lashes are typically fanned out, creating a more fluttery and natural look. Russian lashes tend to last 4 to 6 weeks but it is recommended to get infills every 2 to 3 weeks to keep them looking their best. 
At LeSalon we offer many types of lash extensions, including infills and half sets. You can find all of our lash services here.
Lash Serums
Alternatively, if eyelash extensions or lash lifts aren't for you, you can try lash serums. Lash serums are less maintenance and commitment, as it is simply a serum that helps your lashes grow thicker and longer naturally. Both eyelash extensions and lash lifts only target the top lashes, whereas lash serum is safe to use on lower lashes too. This can help to give a more natural all-round look. 
You can buy lash serums for typically between £10 and £40, depending on the brand. You may find what you're looking for here. 
If you are still looking for more information about lash serums, check out our blog post on whether they are really worth it here. 
We hope that this has helped you understand the options you have when it comes to lashes.