Here's what to know before waxing your bikini line at home
By Zoe Greenwood, November 20 2020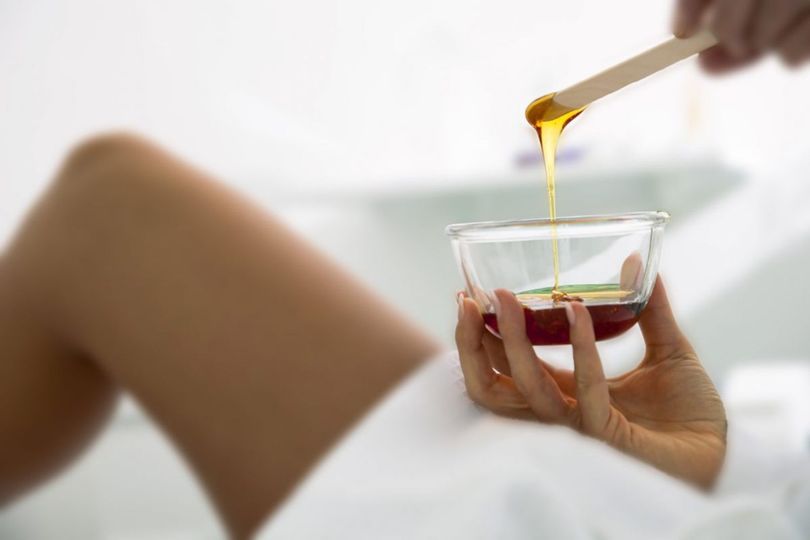 So, usually you leave your bikini waxing to the professionals, but seeing as we're back in lockdown for the next 3 weeks (possibly more), you're starting to warm to the idea of waxing your bikini line at home yourself… I'm going to say this up front, it's going to take a lot of preparation – mentally, physically, emotionally – but I've listed everything you need to know before you start on this hair removal adventure. 
How do I properly prep my skin before waxing? 
Before you begin your wax, prep is key. Ensure that your skin is thoroughly cleansed – this can be done with mild soap and warm water. I would actually recommend having a shower pre-wax as this will remove any excess oils, open up your pores and make the waxing process far less painful. Make sure to pat the area dry before applying the wax. 
If you don't regularly exfoliate your bikini area, it's also a good idea to wait a week before you wax and begin by gently exfoliating the area every few days. This will remove any dead skin cells and ensure a smoother wax. 
What wax is best for bikini waxing?
When it comes to waxing, there's two types: hot wax and wax strips . You can read about the difference between these two waxes here. In the meantime, I'll provide a summary. When it comes to more sensitive areas – we're talking about underarms, facial areas and, yes, your bikini area – hot wax is more ideal as the heat opens the hair follicles up making the wax process less painful. 
It also tends to have a stronger grip on the hairs making it more suitable for thicker and more stubborn hairs. 
How do I prepare the wax? 
Not only do you have to prep your skin, but you also need to prep the wax. If you've got a wax warmer, then great but I presume that, if you're anything like me, you don't. Instead, you can heat the wax up in the microwave until it has the consistency of honey. Before you apply the wax, let it cool down and test it on your finger to check that it's not too hot (you don't want any burns down there!). 
Once you start waxing, you might find that your wax is starting to thicken up. If this happens, simply reheat it in the microwave to get the right consistency again. 
How long do my hairs need to be? 
Ideally, your hairs should be quarter to half of an inch to be suitable for waxing. If they're too short, the wax won't be able to grip them and if they're too long, it will be harder to control. If you think they're too long, you can simply trim them down to the ideal sizes and start waxing the same day. 
What's the best way to apply the wax? 
Now here's the scary part. I asked our waxing professionals on the best way to apply the wax as you can never be too sure and they said…start from the top of your inner thigh and work your way down in the direction of the hair growth. Applying wax against the direction of your hair growth is likely to irritate your skin and not wax off as smoothly. 
Make sure you do this in sections – not all at one. Once the wax has hardened, hold your skin tight and pull at an angle against your hair growth. Be sure to apply a thick layer of wax so it's easier to grab on. 
After you've waxed the area, remove any wax residue with an oil-soaked cotton pad. 
What should I do if I experience irritation after bikini waxing? 
You're very likely to experience a bit of redness after a bikini wax, but it's completely normal – even with a professional. To soothe down the area, you can apply a lightweight anti-inflammatory cream if you wish; however, most people leave it. If after 24 hours, you're still experiencing irritation, I would suggest getting it checked out to make sure it's nothing serious. 
How can I keep my bikini area smooth as long as possible? 
Now that you've just done your own at-home wax, you'll, of course, want to keep your bikini area looking smooth for as long as possible. After 5 days, start gently exfoliating the area 3 times per week to prevent ingrown hairs. If you do it too often, you'll be more prone to irritating the skin. You can also use tea tree oil, or baby oil, to hydrate and soften the skin. 
To get rid of any existing ingrown hairs, read our full guide here.
There you have it! Sounds scary at first, but with a bit of practice you'll get there – don't worry if it doesn't go as expected on your first go. If you're not ready to take the jump, then why not wait and book with LeSalon? Our at home waxing experts will talk you through the whole process and do the difficult bits for you.