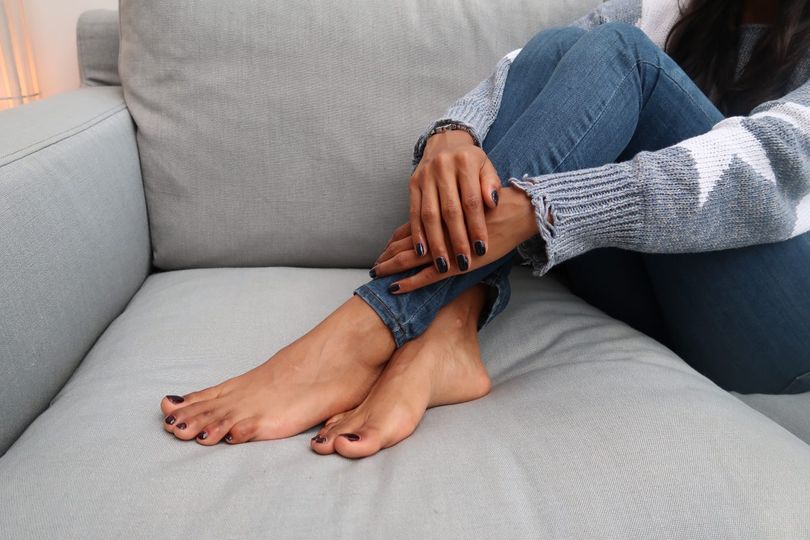 Let's be honest, your feet are often overlooked as a body part that needs some TLC, but being on your feet all day can seriously take a toll on your toes, soles and heels. Unfortunately, now that many of us are self-isolating, we aren't all able to get that professional pedicure that you rely on every month…
Fortunately, we've spoken with some of our expert mobile beauty therapists and they've told us that there are some super easy and effective at-home foot treatments that you can try to soothe and refresh your feet. 
Cut Your Toenails Regularly 
We can't push this enough: you need to cut your toenails! It's something that is easily forgotten (feels a bit like a chore, if I'm honest), but long toenails can really damage your feet. Make sure you cut your nail to the shape of your toe; don't be tempted to cut straight across otherwise you'll have sharp edges on the corners of your toe. 
The same goes for cutting your toenails too short – this can cause ingrown toenails (ouch!). If you're experiencing ingrown toenails, read here about what you can do to prevent them.
Exfoliate
The best way of removing a build up of dead skin cells, is gently rubbing your feet with an exfoliating foot scrub 2-3 times per week. These scrubs will act as a physical exfoliant to diminish rough skin and can either be bought in store or you can make one yourself using home ingredients. 
The best ones to look out for are those using natural ingredients and are rich in moisture. Ingredients to look for include: 
Coconut oil

Lavender oil 

Peppermint 
You can also use a pumice stone which acts as a buffer to get rid of unwanted calluses and remove dead skin. Dip the pumice stone in warm water and move it around the dry areas on your feet in circular motions. 
Both these exfoliants work best if you soak your feet for roughly 10 minutes beforehand. This will help soften the skin and make it easier to work with. Once you've finished exfoliating your feet, use foot cream to moisturise the area immediately. 
Foot Peel Mask 
Sounds gross, I know, but hear me out. Foot peel masks are a quick way to get rid of any dead and dry skin and are available from many beauty brands. All you'll have to do is place it on your feet, seal it up and leave it for 15 or 20 minutes. The result isn't instantly noticeable, but after a couple of weeks you'll start to see results. 
Be careful of blisters 
Blisters are horrible, I'm with you on that. They hurt, they're uncomfortable and they make you dread wearing shoes ever again, but it's not the end of the world. Most (if not all) have experienced blisters due to new shoes, improper footwear or not wearing the right size of shoes. 
Investing in proper footwear and just generally looking after your feet will reduce the risk of blisters; however, sometimes it's unavoidable. When you do get a blister make sure you keep it clean to prevent any infection and avoid any extra rubbing from shoes. Getting a blister plaster is a great way of protecting the blister from any dirt whilst also giving you some extra comfort when wearing shoes. 
Cuticle Care 
Looking after your toenails is all good and well, but don't forget about your cuticles! Cuticle oil is the key to beautiful feet – rub in some oil to each of your toes every evening before bed to hydrate and nourish the cuticles. 
You can also push back and cut cuticles; however, I recommend having this done by a professional. If you do this badly, you risk getting an infection which will not be pretty! 
Regular Pedicures 
Of course, regular pedicures are the best way of ensuring your feet are always kept in the best condition possible. It's a lot easier (and way less stressful) to rely on an expert to transform your feet than yourself – I get it. If you have no time to get a professional pedicure, or can't, then check out our step-by-step guide on how to do the perfect at-home pedicure curated by our experts! 
Or, why not book an at-home pedicure with an expert mobile beauty therapist. Our Salonettes are all professionals providing you with 5* treatments, in the comfort of your own home.