10 Best Ways To Repair Dry Cuticles
By Jennie Waeland, November 30 2020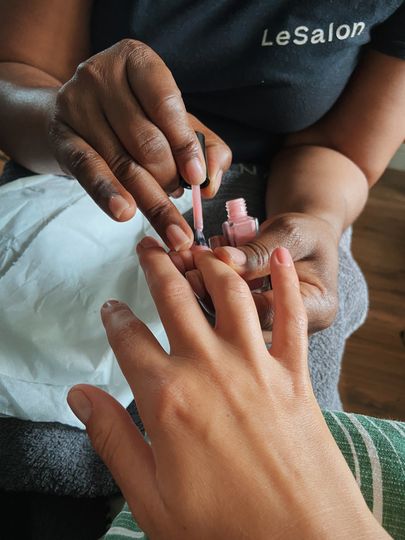 It's that time of the year again. Unfortunately, with the weather turning colder, our hands are more susceptible to cracking and drying up. Our cuticles and nails can face some brutality during the winter months and, sadly, can become noticeable and ruin the aesthetic of a manicure. 
First things first, what are cuticles? Seemingly pointless at first glance, cuticles are actually crucial for your nail health. Cuticles are the layer of skin at the bottom of your nail, and they serve the purpose of preventing bacteria from penetrating the nail root when new growth occurs. 
Keep reading to find out how to repair dry cuticles to not only help the function of the nail but, more importantly, keep your manicure looking great. 
Take a break from nail polish 
The feeling of getting a manicure can become quite addicting, especially to those who don't have time in the day to block out time to paint their own nails. 
Manicures have many benefits such as regular nail upkeep and added moisture, however, polishes can eventually take their toll on your natural nails if over-done. So, take a break from manicures every once in a while to let your natural nails breathe. 
Once you want your manicures back though, you know where to find us! Book an at-home manicure with one of our mobile beauty therapists today!
Avoid cutting your cuticles
Leave the cuticle cutting to the professionals. As mentioned before, the cuticles are the gateway barrier between your nails and bad bacteria. When cutting your own cuticles, you run the risk of cutting too short and making your cuticles bleed. 
This is something to avoid as not only will it be painful, but it will also leave your nails more vulnerable and open to infection as the barrier is damaged. 
Cuticle oil 
The holy grail of nail products. Cuticle oil is definitely a gift from above and can transform your nails from drab to fab. 
Cuticle oil helps to restore and retain moisture on the nail and stimulate healthy circulation. To use, simply use one drop on each nail and massage into the nail bed. The massage technique is what helps promote blood flow. 
There is no rule for how often to do this but we recommend once a day, at least. Your best bet is to apply hand cream back to your nails after washing your hands. 
Shea butter
Alternatively to cuticle oil, you can use shea butter on your cuticles to bring back some oomph. 
Shea butter has softening properties to help keep your cuticles moisture-rich and preventing any cracking or peeling as a result of dryness. 
It contains natural essential fatty acids to help heal damaged nail beds. Apply shea butter before bed to allow it to sink into the nails whilst you sleep. 
A firm favourite of ours is L'Occitane Shea Butter. 
Vitamin E
If you want moisture, Vitamin E is a firm choice. Not only does it prevent cracked nails and retain moisture, but it also helps to heal brittle yellow nails. 
Vitamin E will help keep your nails and cuticles looking as good as new. 
Coconut oil
An inexpensive way to salvage dry, cracked cuticles. Coconut oil is rich in moisture and will do wonders for your nail area. 
Like cuticle oil, massage the coconut oil into your nail bed at night on each finger. Let this soak in overnight, preferably whilst wearing gloves. 
Coconut oil is also a great way to achieve a glossy nail without any clear polish. 
Biotin 
Biotin is an all-round game changer for the health of your nails. You can take biotin tablets, otherwise known as vitamin B7, daily to promote healthy nails, hair and skin. 
Be sure to check with your doctor before consuming the tablets. 
Biotin helps promote healthy cell growth and helps out the protein-building amino acids in your nails. 
Soak your nails in olive oil 
For 10-15 minutes per day, soak your nails in a small bowl of olive oil. Olive oil is rich in vitamin E, which is incredibly moisturizing. 
Oils are much more beneficial than creams, as they tend to hold the moisture for longer and can penetrate the skin deeper, leaving your nails moisturised for longer. 
Use gloves with your products
Creams and oils are the best way forward to help your cuticles retain moisture and stop them from drying out. To let the product truly sink in, try wearing cotton gloves. 
Apply your products as usual before bed and then slip on a pair of gloves to help lock in the moisture and keep the product in place. This will allow it time to work its magic without rubbing off too quickly on your bedding. 
Let's not let any product go to waste!
Avoid harsh soaps
Products with many chemicals can be very drying on the skin and nails, which may result in cracked cuticles. 
Try using soaps with natural ingredients that soothe your hands. Great ingredients you should look out for include aloe vera, shea butter, coconut and argan oil. 
Avoid using too much hand sanitizer with high alcohol contents. This can strip your nails of their moisture and leave you with flaky, sore cuticles. So use hand sanitizer in moderation. 
Keep an eye on your cuticles over these colder months and make sure they get the TLC they deserve. 
The best way to ensure your nails stay healthy and nourished is by getting regular manicures! But who wants to trek all the way to the salon in this horrible weather? Book a mobile beauty therapist today and indulge in your favourite beauty treatments, in the comfort of your own home.