Will Acrylic Nails Harm My Natural Nails?
By Jennie Waeland, November 10 2020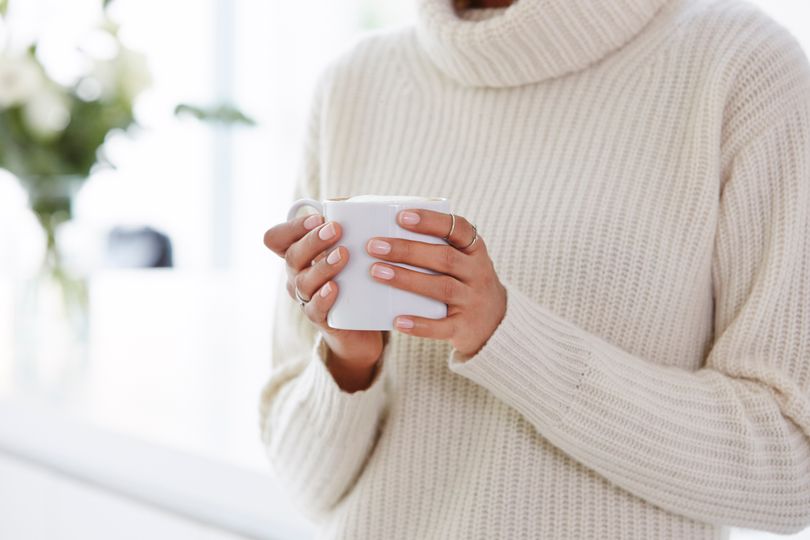 If you are prone to nail-biting, can't grow your nails or simply don't like your natural nails then acrylics might be right up your street. Acrylics can immediately transform stubby, dull nails to fierce, glamorous talons. 
We'd be lying if we said that a dream is to have instagram-worthy nails. Feeling put-together can be a true superpower. It isn't just about aesthetics, but how our appearance can have an impact on our confidence. Simple pleasures such as having our nails done can make us feel put together and ready to take on the world. 
So, acrylic nails can give our hands a well-needed glow up, but does this transformation come at a cost?
What are acrylic nails? 
Acrylic nails are artificial nails which are made from a mixture of liquid monomer and powder polymer. This forms together to make a hard, protective coating over the natural nail. 
For the most part, acrylics are used to lengthen the nails and create more canvas for great manicures and intricate nail designs. 
Are there different types of acrylic nails?
Yes, acrylics come in a wide range of shapes and sizes. The main nail shapes being almond, oval, stiletto, square, rounded and coffin. The choice is completely yours, as the shape is purely for aesthetic reasons. 
During your nail appointment, you can choose how long you want the nails to be and the therapist will file them down to your desired length, 
So, you may be thinking – this all sounds perfect so what is the catch? Well, there are a few things to watch out for when it comes to acrylic nails. 
Weak nails 
Getting your nails done may become addictive, your natural nails beginning to feel bare without them. Unfortunately, acrylics can begin to weaken your natural nails underneath, making them feel flimsy and tearable. 
When your acrylics start growing out, resist the urge to pick at them. This will only do your nails harm. Picking the nails off can temporarily change the texture of your natural nail surface, causing peeling and an uneven surface. 
Incorrect removal 
If you need to remove acrylics, please leave it to the professionals. With regular nail polish or gel nails, it is okay to take the polish at home. Sure, gel polish will take a bit more time and effort but it is still a relatively hassle-free, fool-proof method. However, acrylic nails can cause some serious damage to your nails if removed carelessly or incorrectly. 
If removed improperly, your natural nails will become thin and weak. They may even rip and become tender, leaving some skin raw and exposed. 
The damage isn't worth the rush, make sure that you care for your acrylics and respect the process. 
Bad nail technicians
Unfortunately, you may accidentally come across a bad nail technician every now and then. They may be heavy-handed or just lack experience but the wrong technician can cause some damage to your nails. 
If the acrylics are over-drilled when applied, this can make your natural nails weak and in pain. Furthermore, if the acrylics become loose and adopt air pockets after some time, this may be a warning sign that something is not right. 
Ideally, you should change your acrylics every six to eight weeks. Any longer and wear and tear may become apparent, in some cases this can lead to longer term issues. 
Thin nails
During the appointment, your natural nails will be filed down before the acrylics are applied. If you are an avid acrylic fiend, your nails will be filed down frequently and won't leave much time for regrowth and healing. 
Thin nails are prone to tears and peeling which is not only a bad look but can take a while to repair. 
If you have found yourself in this tricky situation and your nails aren't looking their best, here are some tips to help you get back to strong, healthy natural nails. 
Hydration
Staying hydrated is beneficial in all aspects of life and beauty. Nails are no exception to this. Water intake can promote good circulation which, in turn, can help with the growth and strength of your nails. Dehydration can cause your nails to become brittle. 
Give the manicures a break 
As already mentioned, acrylics and gel manicures can have a heavy demand on your natural nails. Also, when the acetone and UV lamps used in manicures can strip your nails of their moisture. It's good to let your nails breathe and repair in between appointments. 
Biotin supplements
Biotin is a vitamin that can strengthen brittle nails. It helps with cell regrowth and aids your nail's protein-building amino acids. 
Vitamins and minerals are a key ingredient for healthy nails. Let's talk about some more…
Omega 3 Fatty Acids 
For shiny, moisturised nails, omega 3 fatty acids are perfect. Your nails will be left with rejuvenated cells to help with strength and growth. 
You can find omega 3 in oily fish, nuts, seeds and plant oils. 
Folic Acid
Bow down to folic acid, the miracle-worker. For tired, dull nails that need a boost. Folic acid promotes healthy cell growth to send your nails in the right direction again. 
Find it in eggs, milk, beans and leafy greens. 
Zinc 
Zinc to make the nails wink. If you find yourself plagued by discolored, yellow nails or flimsy tips, zinc is the one for you. These issues are usually derived from a zinc deficiency. 
Zinc supplements are a great way to strengthen your nail bed. Also, it can be found in meat, shellfish, nuts and whole grains. 
Calcium 
We all know that calcium helps with strong bones and teeth but what about nails?
Calcium is actually very vital in contributing to your nails' health. A calcium deficiency can lead to brittle nails which are easily tearable. 
You may also notice small white spots on your nails if you are lacking calcium. 
Protein
Protein is a key contributor to any healthy diet. Whether you're vegetarian or carnivorous, it isn't hard to get protein into your diet. 
Without it, you will lack keratin production. This will affect the growth rate and strength of the nail bed. 
Meats are very rich in proteins. However, you can also find it in eggs, legumes, whole grains and dairy. 
Vitamin C
What ISN'T vitamin c good for?! Aside from the obvious benefits, vitamin c is great for collagen production. This helps with durability, shape and strength. Think of collagen as the backbone of nails, teeth and hair. 
If you are lacking in vitamin c, your nails can become brittle and weak. 
Fingers crossed for healthy nails. Look after your nails and you will reap the rewards, seriously.