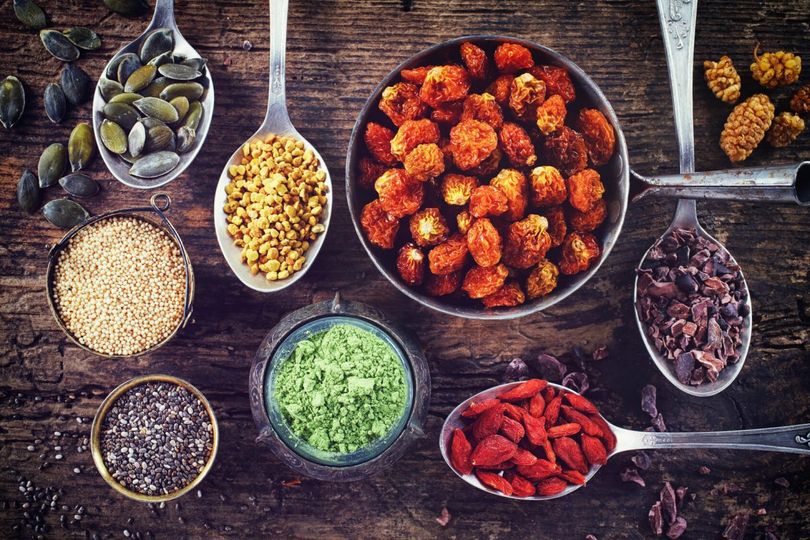 The secret to healthier hair and glowing skin? It's not in your makeup or skincare case. It's in your diet. Here are our top 10 tried and tested superfoods. Start from the inside and you will glow with good health.
Not sure what superfoods are?
Whilst not being a medical term in itself, superfoods are called as such because they are nutrient dense foods, meaning they have large doses of antioxidants, polyphenols, vitamins, and minerals which are fabulous for you.
Blueberries
The antioxidants in blueberries protect you from premature ageing as the flavonoids help eradicate dangerous free radicals which can cause damage to cell walls and DNA. Add some to your morning shake, sprinkle on your yoghurt, or snack on some throughout the day. They are also low GI.
Wild Salmon
Not farm-raised though. Wild salmon is one of the best food sources of omega-3 fatty acids, which helps keep your skin supple and moisturised. Salmon also has selenium, a mineral that protects the skin from sun exposure. The vitamin D in salmon keeps your bones and teeth strong and healthy, too. There are so many ways you can eat salmon. We like to bake ours in the oven with a squeeze of lemon and some salt and pepper.
Spinach
This leafy green vegetable is rich in nutrients and antioxidants. Spinach is loaded with lutein, which keeps your eyes healthy and sparkling. Spinach is also a good source of vitamins B, C, and E, potassium, calcium, iron, magnesium, and omega-3 fatty acids. We love to have spinach in salads instead of lettuce, we also add it to our green shakes, or have it as a side with a main meal.
Oats
Oats are high in calcium, potassium, magnesium, vitamin E, B vitamins, protein and more. As well as helping improve your skin, they are brilliant for those suffering from stress and tiredness. Add some to your diet by starting your day off with a bowl of porridge, or include in your morning shake.
Avocado
Packed with antioxidants, not to mention potassium, vitamins and good fats. Perhaps the trendiest superfood out there at the moment, try this creamy fruit sliced on toast or even in a smoothie.
Millet
Rich in silicon, which is vital for healthy skin, hair, teeth, eyes and nails. We make millet porridge or use as a substitute instead of rice or pasta.
Strawberries
High in iron and brilliant for cleansing your whole system, strawberries are an all-around, must-eat superfood. Along with blueberries, they have the lowest GI out of many fruits.
Watercress
Full of vitamins A and C, and works like a natural antibiotic, helping zap unwanted blemishes and heal the skin. Add to your salad.
Sprouted seeds
Not to everyone's taste (but if you can get over the soil flavour), these are packed full of vitamins. Go on add a sprinkle to your salad, we are absolute converts now!
Quinoa
Pronounced "keen-wa", it is a gluten free, low GI complex carbohydrate. It contains eight amino acids and is high in fibre. Cook and add it to a salad of your favourite veggies.
So, there you have it – our top 10 superfoods for fabulous skin and hair. For more beauty and wellness tips, check out our blog!
While eating healthy does do wonders for your skin, you can also look after yourself through a bit of pampering. Book a LeSalon manicure to keep your hands and nails fresh.