What products will be used on my feet?
By Cassidy Brown, April 29 2021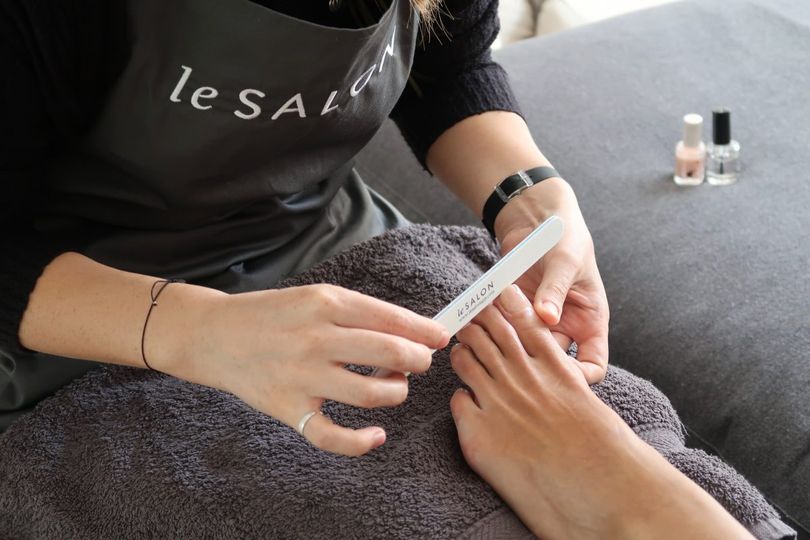 Every time you get a pedicure, it's not unusual to wonder what products will be used on your feet. Well, we are here to give you all the information you need to truly relax your mind when you're getting your next pedicure.
Leave it to the experts
Each of our Therapists uses very similar products but may have their own preferences when it comes to specific brands. You can be assured that all of the products our Therapists use are safe for your skin and beneficial to your overall foot health. Also, your technician will sanitise each and every tool they will be using for your treatment before and after. We want nothing more than to make you feel comfortable and at home while getting your treatment. Here, we'll give you a quick run through of the kit your technician will be carrying, and how they'll use it during your treatment.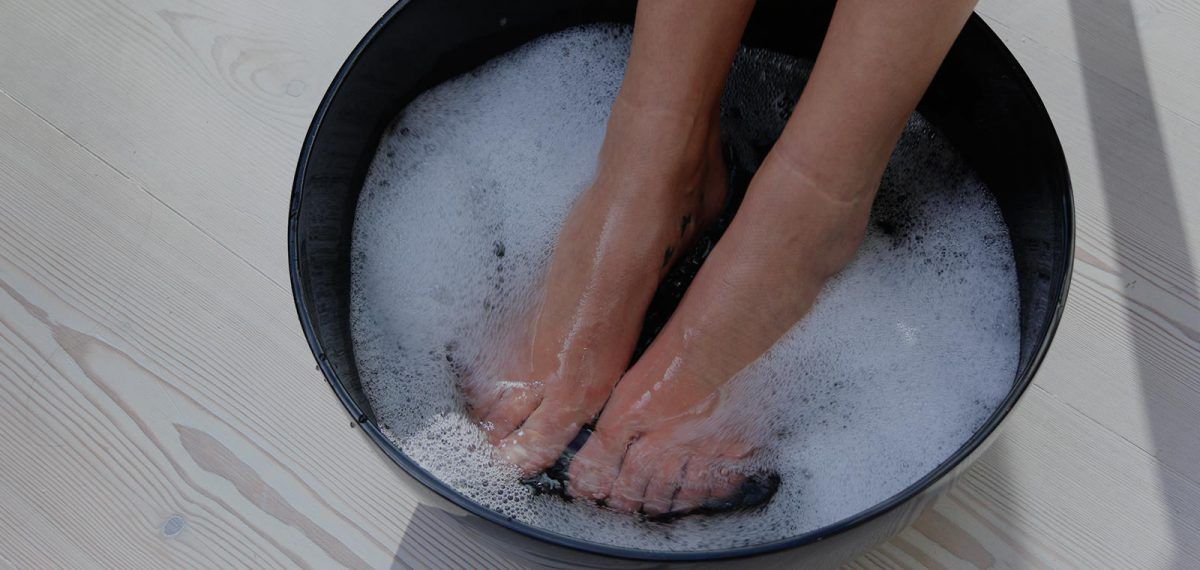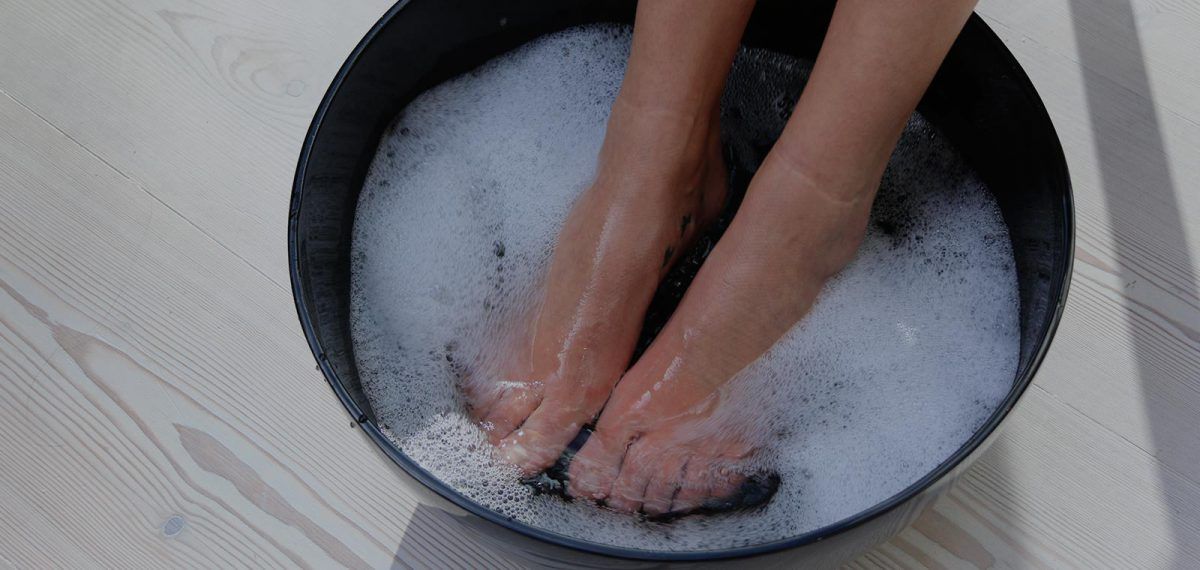 Acetone
After the nail tech has set up the area where you will be receiving your pedicure, the first thing she will do is remove the old polish if you have any. To do this, they will use acetone and a cotton disk. The acetone is safe to use on nails and skin.
Acetone is not only used on nails but can be used to clean surfaces as well. Most commonly, other than for nail use, it is used to clean equipment in laboratories. It can also be used to prepare metal to be painted. It safely strips away any nail varnish to create a great blank canvas to start with.
Emery Board
Next, the nail technician will use an emery board on your toenails to file them properly. Emery boards are typically made from wood or cardboard that has been coated in powdered emery. Emery is a form of corundum containing iron oxide or other impurities.
The powder can be dyed different colours, but is typically found in grayish-black. It provides an abrasive effect which in turn allows your nails to be filed. It is similar to that of sanding paper for wood.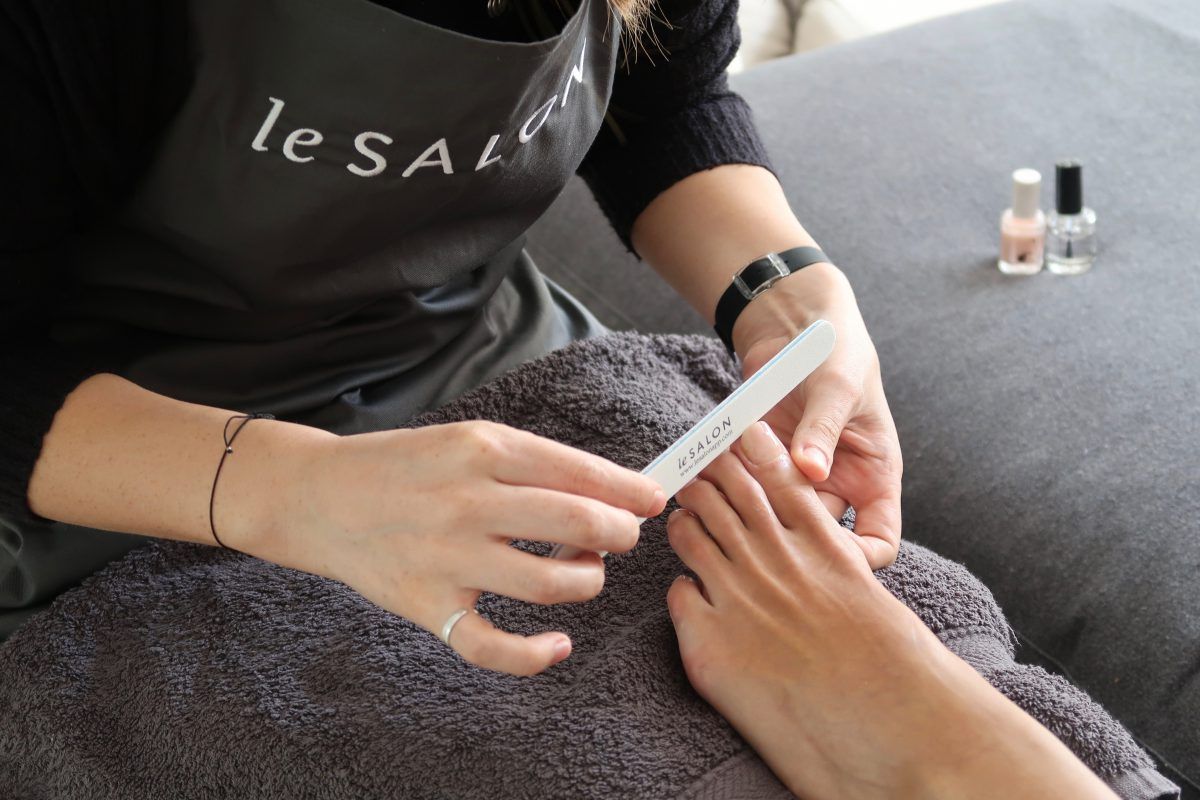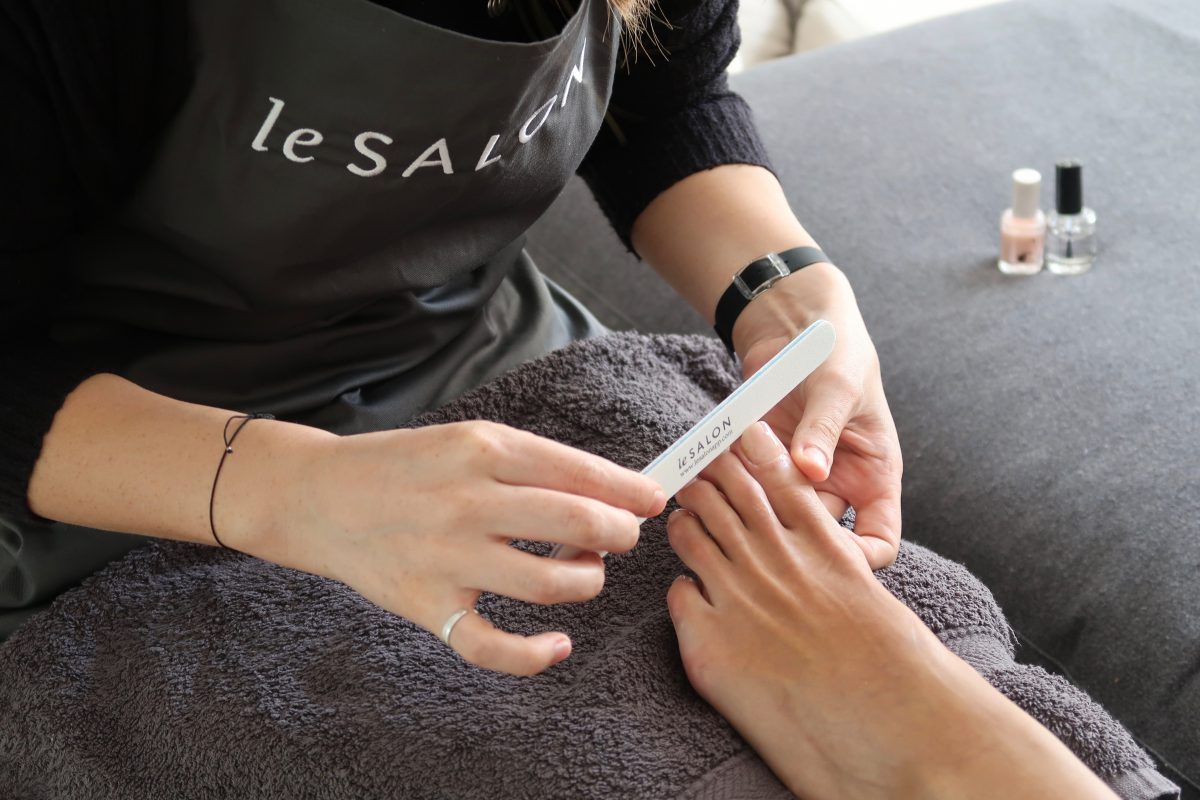 Cuticle Remover
Cuticle remover is then applied to the base of your nail to soften your cuticles. The chemicals in the cuticle remover that do the softening are sodium hydroxide and potassium hydroxide. These chemicals have a pH of over 12 which causes the dead skin around the nail bed to break down gently.
Cuticle remover isn't dangerous or bad for you, but the area in which you used it should be washed properly after application. This is why the nail tech will place your foot back in the water after applying it. The nail technician will then remove the cuticles with a cuticle nipper tool, which has been sanitised for your protection.
Foot File
The technician will use a foot file on the heel and the ball of your foot. This will soften the rest of the skin on your feet. She will do both feet this way, and if needed can add on a callus removal to your service.
Foot files are made out of the same type of emery boards. The only difference may be that some of them could be metal. Although most of our technicians use disposable foot files so that they can use a new one for each customer rather than sanitising it between customers.
Foot Scrub
Foot scrub is an exfoliator used to further soften the tough skin on the feet and legs. It helps to remove all of the dead skin still hanging around after using the foot file. This will also make your legs and feet extremely soft and fresh feeling.
Most commonly a foot scrub is made with Epsom salt or sugar, some type of oil, such as coconut oil, and an essential oil for the scent. These can be easily made at home in order to keep your skin soft in between pedicures. They also make a great homemade gift!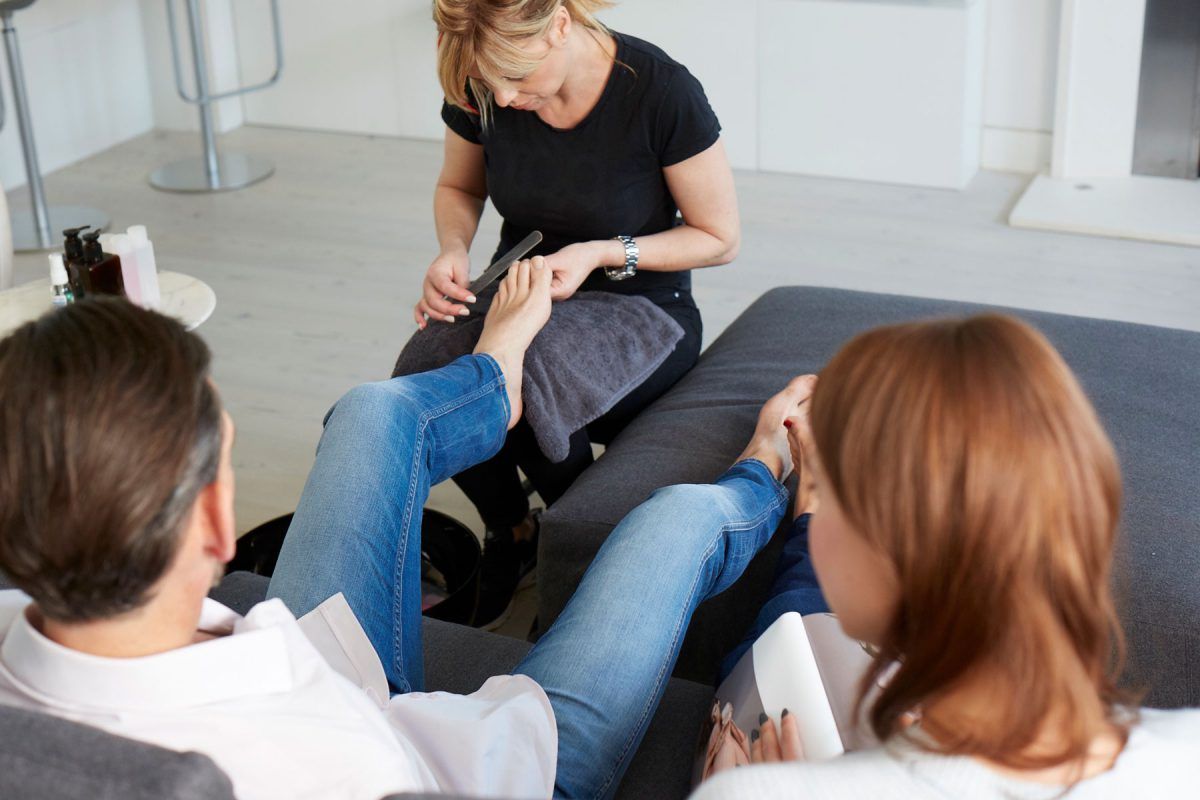 Lotion and essential oils
The last step of the pedicure before polish is applied is the massage. The massage is done with your choice of lotion or an essential oil. Most lotions are made from cocoa butter or shea butter, with some sort of natural oil such as almond oil, and then essential oils for a gorgeous scent.
You can choose which one you prefer or ask your technician to use a mix of both. Either of these products will help to make your skin silky smooth and nourish it with all of the right ingredients. If you have a preferred lotion or essential oil, you can let your tech know and they can use that instead.
Polish
The final step of the pedicure is to apply the polish. First, the tech will apply a base coat to your nail. Each technician uses their preferred brand of base coat, but we can assure you it is safe for your nails. Next, the polish you have chosen will be applied. Then finally the top coat will be put on top of the colour.
One of our favourites is Nailberry which is non-toxic and is 12-free. This means that it doesn't have 12 of the ingredients that most nail polishes have that make them toxic. Such as gluten and formaldehyde, and Nailberry is also Halal approved.
We hope that this has helped to ease your mind of what products will be used on your feet. If you have any further questions, feel free to contact us at hello@lesalon.com or give us a call at 02080501354!
For more articles like this, please visit our expert advice page to read more.