Meet Pip Durell: Founder of With Nothing Underneath & The Box
By Zoe Greenwood, April 17 2020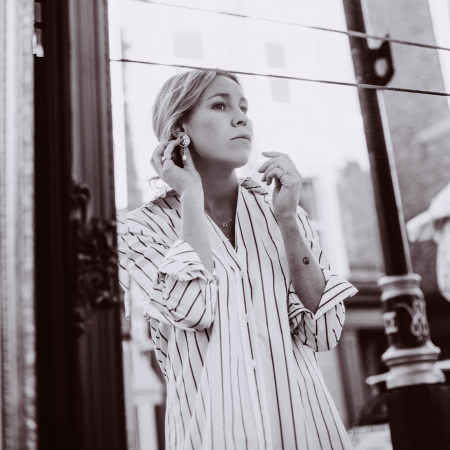 A timeless, effortless shirt is a staple in every women's closet as Pip Durell, founder of With Nothing Underneath and The Box might tell you. We spoke to Pip about her inspiration behind WNU & The Box Ldn; her journey into the entrepreneurial world and how she unwinds after a busy day!
What inspired you to launch 'With Nothing Underneath' and The Box Ldn? 
I've always been into style over fashion and WNU really came about when I was working at Vogue when I needed to be polished and put together and a shirt was always a great 'uniform'. The idea came about then and it wasn't until 2 years later when I finally thought let's see if we could make something cool, elegant, ethical and affordable – a piece that really could be for everyone.
The Box actually came second  – after Vogue, I became the Jewellery Editor at Tatler and it was the same thing – I didn't like the changing seasons and 'trends' but I loved the sentiment and meaning behind jewellery and so now help people create or find pieces they will treasure forever.
With Nothing Underneath currently only sells shirts – do you have any plans to expand? 
We won't be veering away from shirts though, I want WNU to be perfecting the world of women's shirting and giving back while we do it… that's the aim anyway! ☺
Where do you find your inspiration from?
Everything! I have always been drawn to the style of the early 90's – those Bruce Weber campaigns for Banana Republic, and Christy Turlington in just a blazer by Demarchelier – that kind of reference has always been my ideal style and influence. In more current times it's the Paris Vogue editors, they don't rotate trends they keep their jeans, shirts, blazers etc every season – it's just so effortless and elegant. 
Has your previous experience in fashion and jewellery helped with what you do now? If so, how? 
Oh, it has shaped it entirely. I would know nothing if I hadn't started from the bottom at a big company and learnt from those above me.
What's your favourite piece of jewellery? 
I have a few favourites that I wear every day… a gold vintage swallow necklace from my boyfriend, my signet ring from my parents and a little diamond pinky ring from my Mother.
What advice would you give to women who are thinking about starting their own business? 
Be ready to work harder than ever before! But go for it….. 100%!
Name a woman in business that you truly admire and why? 
Can it be a man? Yvon Chouinard, the founder of Patagonia. His book 'Let my people go surfing' is a must-read.
What's the most challenging aspect of starting your own business? 
Um, everything haha! I found it hard going from a team at a magazine to working for myself – self-motivation isn't easy !!
How do you unwind at the end of the day? 
A run and/or a bath. Baths are my greatest luxury.
What makes you feel powerfully beautiful? 
A great shirt, freshly pressed, and a new mani!