Meet Jasmin Thomas, Founder of Ohana
By Zoe Greenwood, November 13 2020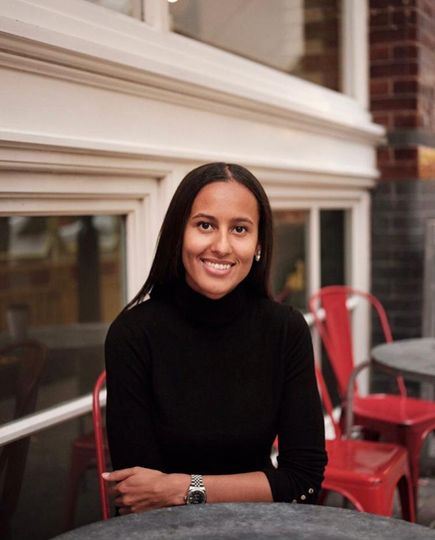 After being diagnosed with Multiple Sclerosis, Jasmin Thomas quickly discovered the benefits of CBD oil, from period cramps to the flare ups that she was having. After months of researching, she decided to take the leap to start her own company – Ohana – a plant-based skincare company with the aim of creating products that puts your wellbeing first. 
Today, we had the joy of speaking with Jasmin about the challenges of starting CBD-focussed company, how the beauty industry has changed and where she sees it going. 
Can you tell us a little bit about Ohana – where did your inspiration come from? 
Ohana is a CBD plant-based skincare company. We combine the highest-quality CBD with plant-based science to create natural skincare that puts your wellbeing first. Everything we do is rooted in science and backed by nature. We believe that skincare is selfcare. 
I was diagnosed with MS in 2015. In effort to alleviate the frustrating symptoms, I discovered CBD and started making our hero product (current version is the All-in-One Wonder Balm) in my kitchen. It helped with everything from period cramps to stress to flare ups that I would experience. The CBD and wellness sector have allowed me to embrace my passions for sustainability, women's empowerment and health and wellness. 
And, for those who don't know, could you tell us what exactly is CBD? 
CBD, or cannabidol, is one of hundreds of compounds found in the cannabis plant. It is psychoactive, but it is non-psychotropic (like THC). Meaning it doesn't make you 'high', but it does, like other cannabinoids, interact with the body's endocannabinoid system (ECS). 
The ECS maintains homeostasis in the body, which is all about balance. This is why CBD might help with the following: sleep, anxiety or stress, pain relief and recovery, inflammation and immunity. 
There are endocannabinoid receptors found in the skin. When CBD is applied topically, it is a localized and targeted response. CBD is a more powerful antioxidant than Vitamin E and C. 
CBD reduces secretion by skin-damaging cells, while boosting the ones that suppress inflammation. CBD addresses the root course of acne reducing activity of over productive sebaceous glands.
We use CBD isolate in our products, which is the purest form of the compound with no traces of THC.  
What's the biggest challenge you've faced since launching? 
There have been many challenges that launching a brand comes with and when you add CBD into the mix, it becomes a lot more complicated with payment providers, banks, Instagram, Facebook, Shopify, etc. Being compliant to all these different platforms was really a struggle, which required a learning curve in the beginning. 
I have also been on a massive learning curve as an entrepreneur. Anything that feels like a challenge now is less daunting because I have proven to myself I have the aptitude to learn and grow and navigate complicated situations and landscapes. 
What are your hopes for Ohana CBD in the next 5 years? 
My hopes for Ohana for the next 5 years is to strengthen our community of women who prioritise self care and feel empowered within themselves. 
How has the CBD industry changed since you launched Ohana?
The CBD industry has faced more regulations over the last 12 months, particularly for CBD products that are consumed. Fortunately, some of these rules and regs don't apply to CBD topicals. 
The regulations are helpful because there are a lot of products that are not compliant and branding that misleads consumers. There has also been an influx of new brands launching CBD ranges, and mainstream brands that have also introduced a CBD skincare range. 
I also co-founded entOURage Network, a women's empowerment network to engage and explore Europe's legal cannabis market. The number of women-owned businesses has definitely increased, which is great to see. 
I think the consumer habits and interest in CBD has also changed. Especially throughout lockdown, people seemed to be quite keen on adding CBD to their daily routines for health and wellness. 
What 3 pieces of advice would you give to someone who's looking to start their own business within the CBD industry? 
Be passionate, be patient and be confident.
What exactly is your personal attitude towards beauty and wellness? 
This journey for me has been about connecting with my roots, my family and my ancestors. It's been about trusting that there is nothing alternative about nature. With the development of science, we can now have access to results driven effective plant based beauty.
I believe wellness is personal and we should all have access to principles of self care at our disposal that allow us to live our best lives. 
Organic beauty is obviously a huge topic these days, do you think the beauty industry will ever be completely organic? 
It seems to me that we are heading that way, however this is a complex subject. Whilst there are lots of pro's to organic, such as farming, soil health, etc., this is not always affordable and accessible to all. If organic ingredients were made cheaper and more accessible, then yes this would be great, but what we don't want to do is cut off access to good organic skincare to consumers in the market that may not be able to afford. 
At LeSalon, we understand that beauty means something different to everyone and we want to empower people to feel their best possible selves. What makes you feel powerfully beautiful? 
My voice and feeling confident enough to use it makes me feel powerfully beautiful.