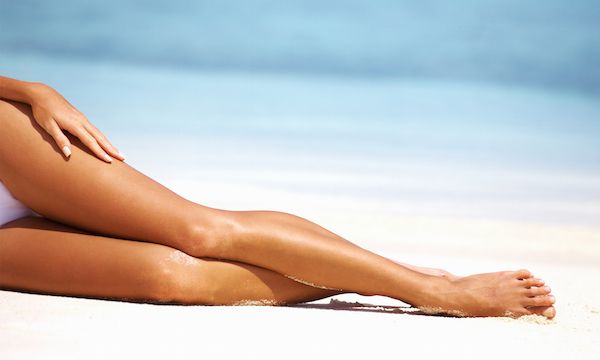 There's nothing worse than seeing pre-holiday diets plastered across all social media platforms to persuade people that they aren't beach-ready. When, in reality, we're all beach-ready even if we don't look like supermodels (and…let's be honest, we shouldn't have to change to enjoy our holiday). And, while, a lot of us may feel less confident when we're not dressed in our oversized jumpers and jeans, we definitely shouldn't feel forced to look a certain way that is socially deemed as "holiday-ready'. 
But, if you do need that extra boost, there are a few things that we can do that will leave us feeling that bit more confident when we step off that plane. 
If you can't tone it, tan it… 
One of the biggest promises most of us make to ourselves is saying we'll go to the gym every day before our holiday. In reality, this fails miserably and we find ourselves a week before we jet off having changed nothing about our lifestyle. Fortunately, at-home spray tans have become increasingly popular and are available in various beauty salons – even in your own home! A spray tan not only makes most of us feel all bronzed and glowing but in the words of the LeSalon women, it makes us feel more confident. More importantly, it means you can keep your skin safe by staying out of the sun for a bit as you're (technically) already tanned! 
Play it smooth…
Holiday calls for swimwear, shorts and dresses. In other words, your legs are out. While no one minds if your legs are waxed or not, you may feel more comfortable having had one done. But try and get one booked in for at least 2 days before you go off on holiday – your skin might be sensitive after just having a wax and the sun could cause some irritation. After that, moisturise and apply sunscreen daily to keep your legs smooth all holiday long. 
Up your skincare game…
After finding out how much damage the sun can do to your skin, you start to understand how important your skincare becomes. Using a moisturiser (for both your face and your body) that has a high SPF will ensure your skin is protected from the sun's harsh rays, as well as keeping your skin looking youthful and plump. The key to looking young always comes down to how well you look after your body. 
Put your mascara in the bin…
If you're a beauty addict, then fitting in all those products might prove to be a bit of a pain. One of the joys of going on a beach holiday, however, is that there's no major need of wearing makeup. Especially if you're going to be in the pool all day! Not a fan of going out with a bare face? These days it's super easy to get semi-permanent beauty treatments i.e. lash lifts, which are perfect for the holidays. These give your natural lashes a subtle curl which lasts for up to 8 weeks! 
Nail it… 
After months of the harsh winter, your hands and feet are likely to feel unloved; especially if you don't get a regular mani-pedi – who has the time, right? Treating yourself to a manicure or pedicure will not only ensure that your nails are in the best and healthiest condition, but it's also such a lovely, relaxing experience where you can just simply have some time to yourself. And that's something we all deserve. 
Need to sort out some last-minute bookings? We have availability from 6 am to 11 pm every day!