The Difference Between Gel, Shellac and Classic Nails 
By Jennie Waeland, July 8 2020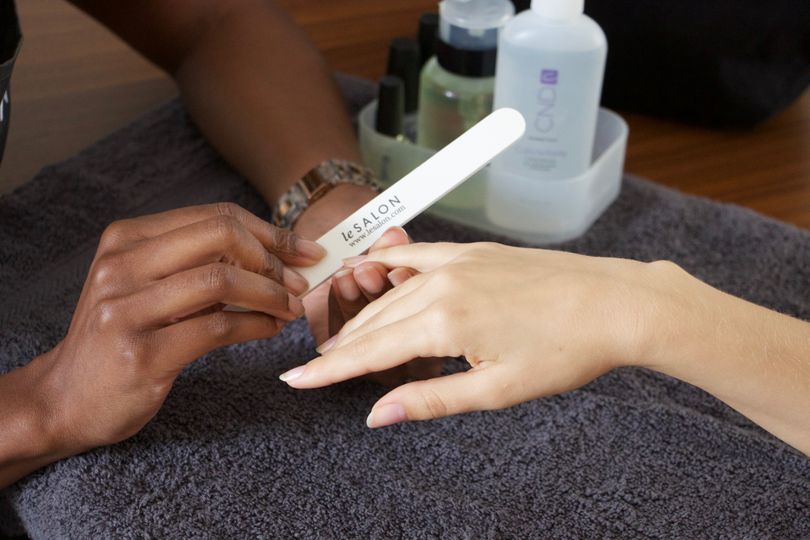 Keeping our appearances well-groomed and maintained can not only help us to look our best, but also feel beautiful from the inside out. A fresh manicure can help us to feel put-together and ready to take on the day. Feeling presentable can immediately boost our confidence. 
There are a few different types of manicure that you should be aware of before booking a treatment; these being Gel, Shellac and Classic. As such, we've compiled a list of all the differences for you below so that you can make sure you book the right manicure with confidence.  
Classic Manicure
What is it?
A classic manicure is the application of regular nail polish. During the treatment, your nails will be filed,buffed and shaped, with proper cuticle care as well.
A base coat will be applied first to ensure protection for your natural nail, then the colour and a top coat to lock the manicure in place. The treatment will be finished with some cuticle oil to keep your nails nourished and protected. 
How long does it last?
Unfortunately, a classic manicure doesn't hold the same lasting powers as the other two options. It often lasts up to a week before beginning to chip; however this can entirely depend on the health of your natural nails.  If your nails are weak, the polish won't stay put for as long. 
Cheap or expensive?
A classic manicure is the cheapest option. At LeSalon, we offer a classic manicure for £32 or, if you prefer a non-toxic polish, we have a Nailberry Manicure for £32. To read all about the Nailberry brand, click here. 
Will it damage my nails?
No, a classic manicure poses no threat to your nail health and is a good option if you are in between treatments and trying to regain strength in your natural nails. 
How long does it take?
The treatment should take up to 30 minutes. 
How do I remove it?
Either acetone or regular nail polish will remove a classic manicure. 
Gel Manicure
What is it?
Gelish polish came about in 2009, being the first bottled gel polish and being sold in 80 countries around the world. Gelish is a liquid gel formula, which requires either a UV or LED lamp to lock the polish in place. It tends to be a thicker consistency than other formulas. 
How long does it last?
Gel polish can last for up to 2 weeks, making it more durable than a classic manicure. Also, gel polish won't chip nearly as much as regular polish! 
Cheap or expensive?
Sitting in the middle ground of the treatment prices, a gel manicure is typically cheaper than acrylic but more expensive than a classic manicure. At LeSalon, we offer a gel manicure for £38. 
Will it damage my nails?
Fortunately not. There is no link between weak nails and gel polish. However, slight damage will only occur if you pick at your gel manicure, as this will strip off some of your natural nail leaving it weaker and thinner. We do recommend taking a break from gel manicures every 6 weeks to ensure your nails are in the best condition. 
How long does it take?
A gel manicure with one colour can take up to 45 minutes. 
How do I remove it?
It is highly recommended to return to the salon to have your gel removed professionally without any fuss. However, you can remove it at home. It is recommended to file your manicure down first, to thin the formula. Be careful not to file your natural nail. 
Cuticle oil or Vaseline can be applied to keep your nails and skin protected and nourished. Then, soak cotton pads in 100% pure acetone (instead of nail polish remover) and secure the cotton pads in place by wrapping a small square of aluminium foil around your nails. This should speed up the process. 
Use a cuticle pusher, or a wooden stick, and scrape off the remaining polish. If it's not coming off easily, soak your nails again in acetone for another 5-10 minutes. 
Shellac Manicure
What is it?
Shellac is a hybrid – half gel polish and half nail polish. It can be applied onto your natural nails, much like regular nail polish and cured via UV lamp, similar to gel polish. If regular polish takes too long to dry for your liking and gel is too much maintenance, shellac may be the right choice for you. 
How long does it last?
Similar to gel manicure, shellac can last up to 2 weeks. 
Cheap or expensive?
Shellac tends to be a similar price to gel manicures. We offer a CND Shellac Manicure for £38, the same price as our gel manicure. 
Will it damage my nails?
The formula itself shouldn't cause any distress to the nails. However, if incorrectly removed, your nails can be damaged and begin to peel. It's best to take a break every 6 weeks to help your natural nails regain their strength. 
How long does it take?
The shellac manicure process can take up to 45 minutes. 
How do I remove it?
As always, we recommend getting your Shellac professionally removed. If you start picking off the Shellac, you risk damaging your natural nails. Furthermore, if you need to remove it at home, follow the same steps for a gel manicure. 
We hope that this rundown of the different types of manicure helps make your decision process easier. Check out our other blog posts for more beauty insights!