CEO & Founder of Barrecore Niki Rein Tells All – LeSalon Edition
By Hannah Lloyd-Thomas, December 12 2018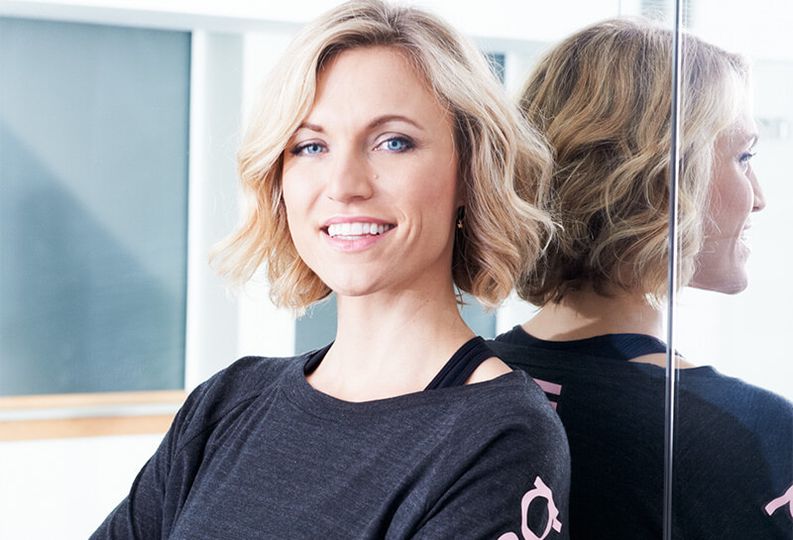 Barrecore founder Niki Rein brought the barre fitness revolution to our London shores and we absolutely love it. Niki is walking proof that barre fitness is one of the most effective body-sculpting activities we can undertake. As well as being our fitspiration, she is a fantastic female founder and CEO as well. LeSalon celebrates strong, inspirational women. Read on to discover more about the holy grail of all workouts and how Niki was inspired to make her dream of Barrecore a reality and a hugely successful business.
Why did you choose to go into the fitness industry?
I have always been a very active person and enjoyed exercise. Since I was a child, I loved sports and started out playing football. After that, I moved on to weight training and aerobics, which I did during my college years, but nothing seemed quite right. I am very athletic and had a bit of a "bulky' rather than a "lean physique', so I was constantly looking for the perfect workout that would strengthen and challenge my body, without the dreaded bulk. Naturally, I just moved on to yoga and became a trained teacher in 2000. I enjoyed teaching and seeing how much it benefitted people's lives and began work with Tracy Anderson in 2006.
You started out teaching yoga – how did you develop Barrecore?
I noticed that dancer's bodies moved in a way mine couldn't and I have always admired the strong slender bodies of dancers, so I began to develop dance-inspired barre classes and quickly realised that a combination of multiple workout techniques finally delivered the results I had always been looking for. I met my husband in London when I was here for work and it wasn't long before we decided to get married and I moved over.
I'd seen how popular barre classes were in the US and shortly after arriving in 2009, I decided to bring something similar over to the UK. I created a class called "barrecore' for some of my private training clients.  The response was overwhelming.  One class a week turned into ten, without even advertising, in what seemed like no time at all. It became apparent that I needed a larger studio so we opened the Chelsea studio in 2011. I was also lucky as when I started teaching barrecore there really weren't many boutique fitness studios in London and no one was promoting dance-based classes.
What would be your advice to those new to barre fitness?
Don't stress at being new to class! So many new clients are so nervous, but afterwards, they realise that all the worry was not necessary. There will be all levels of fitness in your class but the moment you start in the first exercise, everyone is just so focused on what they are doing there is no time to judge anyone else. All of the instructors are incredibly knowledgeable and friendly and will be giving you hands-on correction and encouragement along the way. Because you use your own body weight as resistance, you can easily rest and jump back into the exercises when you are ready. You will be pushed and challenged but you will have many successes along the way. Most of all, have fun and learn to feel great in your body!
What do you most enjoy about your job?
Our community at Barrecore, staff and clients! I love working with and meeting so many talented, positive and motivated people. We support each other and that is truly empowering. It's what makes us stand out and what makes Barrecore such an amazing place to work.
Who is your greatest inspiration?
The people I am surrounded with each day keep me going. The entire Barrecore team, clients and other incredibly inspiring people in the community make all of the effort worth it. It's also a huge boost each time I hear how pumped someone is when they see a positive change in their body!
How and why did you develop your nutrition programme, barreNOURISH?
A healthy lifestyle is not limited to fitness and working out. Clean eating and supplying our bodies with all the nutrients they need is an important aspect of our overall health. I started barreNOURISH because I find many healthy eating programmes to be unachievable and often geared towards achieving fast, but short-term weight loss. I believe that sustainable results are best achieved through balance and consistency, not crash dieting. Our health should be the main priority when it comes to choosing a diet. barreNOURISH helps clients to find out what is best for their bodies. The programme is always tailored to the individual client.
What do you think is the best way to kick-start a healthy lifestyle switch?
In terms of exercise, book yourself in for an exercise class. Don't overthink it and don't stress about the other people in class. Once you have booked it and are on your way to the studio, you will do it. If you don't want to book a workout class, buy a great piece of active wear, put it on and step through the front door. Once you are outside, it will seem much more logical to just go for a run instead of going back inside and changing back into your regular clothes!
How do you keep yourself in shape? What's your personal fitness and nutrition regime?
Besides teaching classes, I take about 3 Barrecore classes, one yoga class and do one or two 5k runs. I find the yoga and Barrecore classes create a perfect balance for staying lean, strong and flexible. The runs are more for clearing my head and getting outside! I also stick to a paleo diet 95% of the time and have for about 6 years. I am a celiac, so gluten is poison to my body. Essentially, the paleo diet means; no grains, no sugar, leafy greens, more good fats and healthy grass-fed meats. I love avocados, kale and nitrate-free and pastured bacon (yes, it's healthy).
What is your greatest indulgence?
Good dark chocolate (Akkesons 100% cocoa solids is unbelievably good, believe it or not!)
How do you unwind?
Unwinding is very important if you want to live a healthy life and for our ability to deal with stress. Personally, and it might sound peculiar, but I actually find chopping vegetables to be extremely relaxing. I can't sit down the moment I walk in the door and if I do I usually end up back on emails, so prepping dinner or snacks for the next day seem to be my favourite de-stressor. Generally, I think meditation, exercise, magnesium supplements and laughing with family and friends are great ways to deal with stress and unwind. If you need to unwind during the day, simply breathe. Take 5 or 6 deep breaths and close your eyes for at least 10 seconds. Do this at least once throughout your day. It's incredible how often people don't take this small "timeout'. It really does help.
Thank you so much, Niki. We've found no work out to be more results-oriented and stress-reducing as Barrecore. Give it a try for your body and soul.
For more on female entrepreneurs in London, follow our Ladies Who Launch segment on our blog!
While you're here, make sure to check out our services. There's never a bad day to get a fresh manicure!