The secret to a happy office? Welcome business wellness!
By Brid McNulty, January 7 2019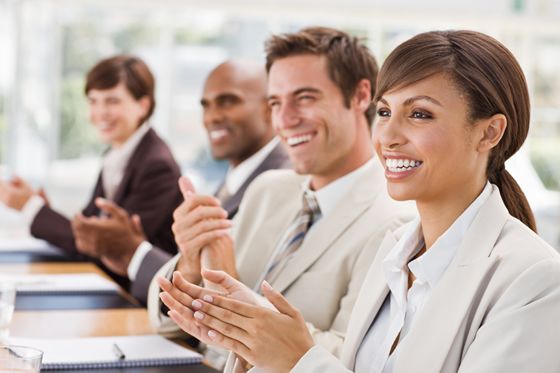 Could the end of the strict 9-5 day, stuffy office cubicles and inflexible hours be in sight? Over the last few years, we've seen an explosion of employers that are committing to offering a work environment that aims to increase well-being and, in turn, productivity. We've all heard about the utopia that is the Google Campus in Silicon Valley with its free gourmet canteen, massage rooms, nap pods, and a slide! Not to mention Facebook's infamous graffitied walls, video arcade and communal bicycles. While these are extravagant examples, so-called wellness businesses are now going mainstream.
This trend explosion has come in the wake of employers realising that while paying for top talent is important, money isn't the only thing that makes people happy at work – as studies consistently show. Employee happiness even goes beyond common benefits like healthcare, company cars and pensions; the savviest companies today are offering awesome perks and work environments to help get the very best out of employees. Now more than a third of employees admit perks and benefits are amongst their top consideration before accepting a job. Additionally, the traditional work-life balance is now being challenged. It seems that there's no better time as now for an employer to differentiate themselves from competitors by offering perks.
So, apart from the likes of tech-giant Silicon Valley employees, what kind of perks can mere mortals expect?
Workplace Features
You've probably heard about the revolution of open workspaces – they nurture innovation, creativity, team-building – you get the idea. The downside is that it can be a great source of distraction and can even lower overall productivity – sometimes you just need your own quiet space to focus on work. Wellness businesses are now introducing "balanced" workspaces. As the name suggests, balanced workspaces create a happy medium between open floor space and closed-off areas. We love how New York investment company Betterment has implemented their own take on this.
Other businesses, like Allen & Overy, are providing on-site GPs and dentists, while some are offering staff free food, healthy snacks, coffee and even beer on tap. Jive Software has fun with it by adding Bacon Thursday and Hot Food Friday to the mix.
Innocent Drinks decks out their office with a ping pong table, park benches, and even a library. Even cooler, staff get free breakfast and an unlimited supply of Innocent smoothies.
Flexibility
No, we're not talking about free yoga classes at work – though that does sound pretty good to us. We're talking about things like remote working and flexitime. With company intranets and Google Drive, the option to work remotely is becoming more common – and employees really appreciate it! For those with long commutes or young children, working a few days a week from home can make all the difference to well-being. Businesses like Visualsoft take flexibility even further by offering unlimited holiday time and unmonitored flexitime, allowing staff to take the time off that they need!
Staff Perks
Let's face it, perks can be expensive – doctors, fancy offices, holiday allowances, joining bonuses…They don't all have to be so extravagant though, sometimes the little things can make a difference too. Take a page from Skyscanner's book; they have negotiated employee discounts at the local pub and beauty salon – two thumbs up from us! AutoTrader UK has a wine club that gives employees discounted wine delivered monthly to their door. Rackspace even gifts employees with an extra day off for their birthday!
Some businesses, like Uber, book in a team of our LeSalon manicurists monthly for complimentary staff manicures, whilst other employers subsidise the service or simply endorse it. Is there a better way to increase employees motivation and making them feel valued than a little office pamper? We don't think so.
A perkier future?
Free food and ping pong tables sound great but are perks here to stay or are they just another workplace trend? Are wellness businesses really onto something here? It's important for employers to understand that perks are only additive – they aren't who you are. When it comes to having happy and productive employees, the underlying culture alone has to be satisfying. Joe Wiggins, Glassdoor career trends analyst, says perks might "get people in the door" but long-term employee satisfaction is another story.
Businesses that do want to implement perks might be scared off by the high prices or impracticality. The key is just to offer perks that are most important and suited to the employees, company and culture. A day off on your birthday or a free team breakfast once a month – we ain't complaining!