The Very Best Micellar Water For Every Skin Type & Budget
By Hannah Lloyd-Thomas, December 11 2018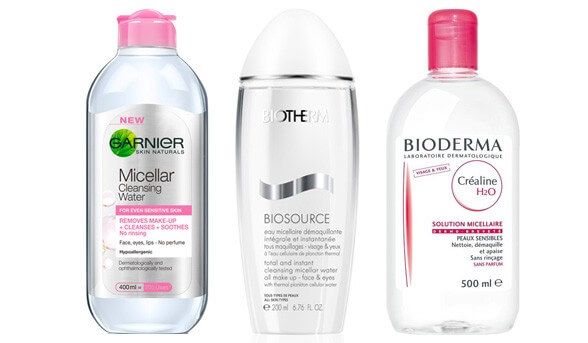 Models swear by them, every pro makeup artist has one in their kit. But micellars have gone from a backstage staple at fashion shows to a mainstream must-have. With their no rinse, 3 in 1 formulas Micellar Water is perfect for late nights and travelling.
What's the magic of Micellar Water?
According to dermatologist Dr Macrene Alexiades-Armenakas, it all comes down to little molecules called micelles. "Micelles are nano-sized, single-layer fatty bubbles," explained Dr Alexiades-Armenakas. "They are able to absorb other fats such as sebum and oils inside." Consider: though olive oil and balsamic vinegar separate from each other, two oils would blend together. So, by using a lipid to cleanse your skin, the oils on the surface join up and leave you squeaky-clean.
When applied to your skin on a cotton wool pad, these micelles attracts the oil and dirt on your face so you can wipe it off easily.
Where to use it?
Because the cleansing agents in micellar waters are very gentle, they're great for sensitive skins, but they still have brilliant makeup removing powers.
They're particularly good on eye makeup – the best micellars will make light work of stubborn mascara, without leaving you with red, sore peepers. They're also ideal for quick touch ups: just dip in a cotton bud to straighten out wonky eyeliner flicks or uneven lipliner.
Even for the laziest amongst you, we wouldn't recommend ditching cleanser all together, but for a pre-cleanse or to remove thick makeup they are perfect.
Our favourites for you to try:
Bioderma Sensibio H20
Decleor Aroma Cleanse
L'Oreal Purifying Micellar Water
Simple Micellar Water
Dior Instant Cleansing Gentle Water
For more on the latest beauty trends, make sure to follow our blog! We update weekly and have a great Ladies Who Launch column, where we chat with female entrepreneurs. If you're looking to treat yourself, why not book a fresh manicure with LeSalon!