Meet Anna Brightman, Co-founder of UpCircle Beauty
By Zoe Greenwood, December 11 2020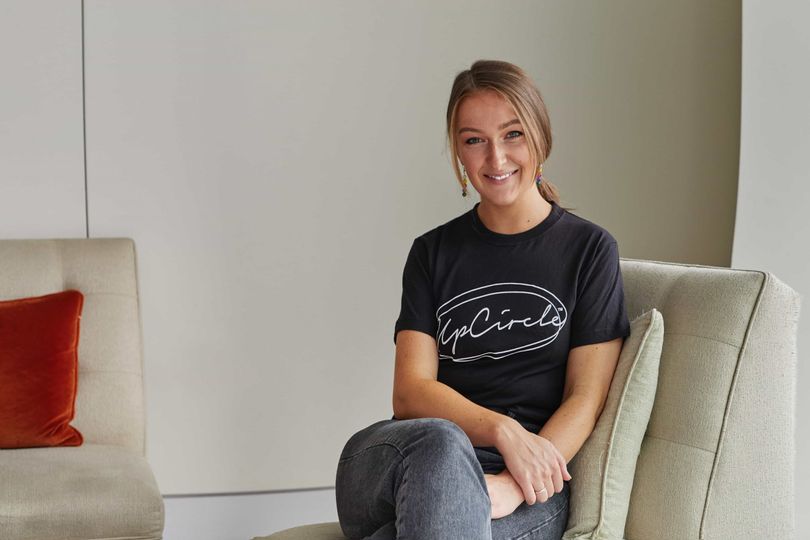 After discovering that hundreds of skin-loving ingredients ended up in landfill, Anna and her brother, William, decided that they had to do something about this waste. That was when UpCircle was born.
This popular, and organic, beauty brand has become widely known for sourcing natural ingredients (coffee grounds) and repurposing them into sustainable skincare products.
Today, we spoke to Anna, co-founder of UpCircle, about how she got into the beauty industry, her entrepreneurial journey and what she's learned along the way…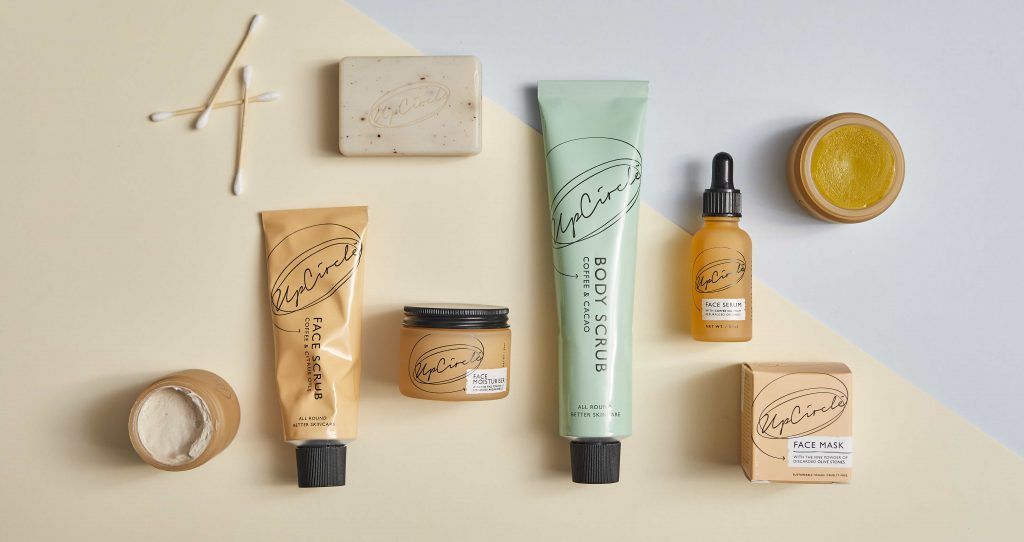 Hi Anna, it's great to have you here with us! Could you tell us a little bit about yourself? 
Sure! My name is Anna and I am the co-founder of UpCircle Beauty, which I launched alongside my brother William in 2016. Brand founders tend to wear a lot of hats, but I would loosely describe my role within the brand as "The Story-Teller". I came from fairly corporate background, but was left feeling ultimately unfulfilled. I wanted to start a business with a purpose beyond profit and to create products I could be proud of. 
I am someone who has always cared about sustainability and my impact on the planet and I think that the beauty industry has a pretty bad reputation for its environmental impact. I wanted to create a brand that would help to shake that reputation. If we can provide competitively priced, high performing products from upcycled ingredients then we are demonstrating that the beauty industry can become a lot less wasteful. 
Lots of skincare brands can claim to be vegan, natural, handmade, organic, cruelty-free etc. and so can we.. but I wanted my brand to go a step further. How many brands can claim that their products have saved literally hundreds of tonnes of valuable skin-loving ingredients from ending up in landfill?
I feel very lucky to have ended up in a job that is so well-aligned with what I truly wanted to be when I was younger.
And, how did UpCircle start? Where did your inspiration come from? 
It all started about four years ago now. William asked his local coffee shop what they did with their used coffee grounds at the end of the day and was shocked to hear that they were producing so much that they had to pay the council to have it removed and disposed of on landfill sites. 
He decided it was a great starting point for a business idea, but wasn't sure what that idea was – that's where I came in. Throughout my teenage years I wanted to be a makeup artist so always had a keen interest in beauty and skincare. I knew that coffee had loads of great skincare benefits, so… lightbulb moment! Why not repurpose the coffee into sustainable circular skincare products?
We began our journey collecting coffee grounds from one coffee shop, we now collect from 100 coffee houses across London – our list is always growing!
What would you say, if any, were the biggest challenges you faced starting up in the beauty industry? 
The pioneering nature of what we do is illustrated by the extent of the opposition to our idea at the start, mentors and investors alike told us that the industry was not ready, that tackling issues of waste in the "shallow" beauty industry would not work.
Whatever manufacturer that we work with needs to be totally behind our circular economy ethos. This is important because there has been a LOT of trial and error. We've faced a lot of hurdles and had to start over on numerous occasions, there have been highs but there have also been lots of lows! The most important thing is that we kept going and found solutions that work. I think there's definitely a reason that other brands haven't been able to scale this concept in the way that we have – it's not easy! 
We've worked with the same manufacturers since day one, they've been on the rollercoaster with us from the start.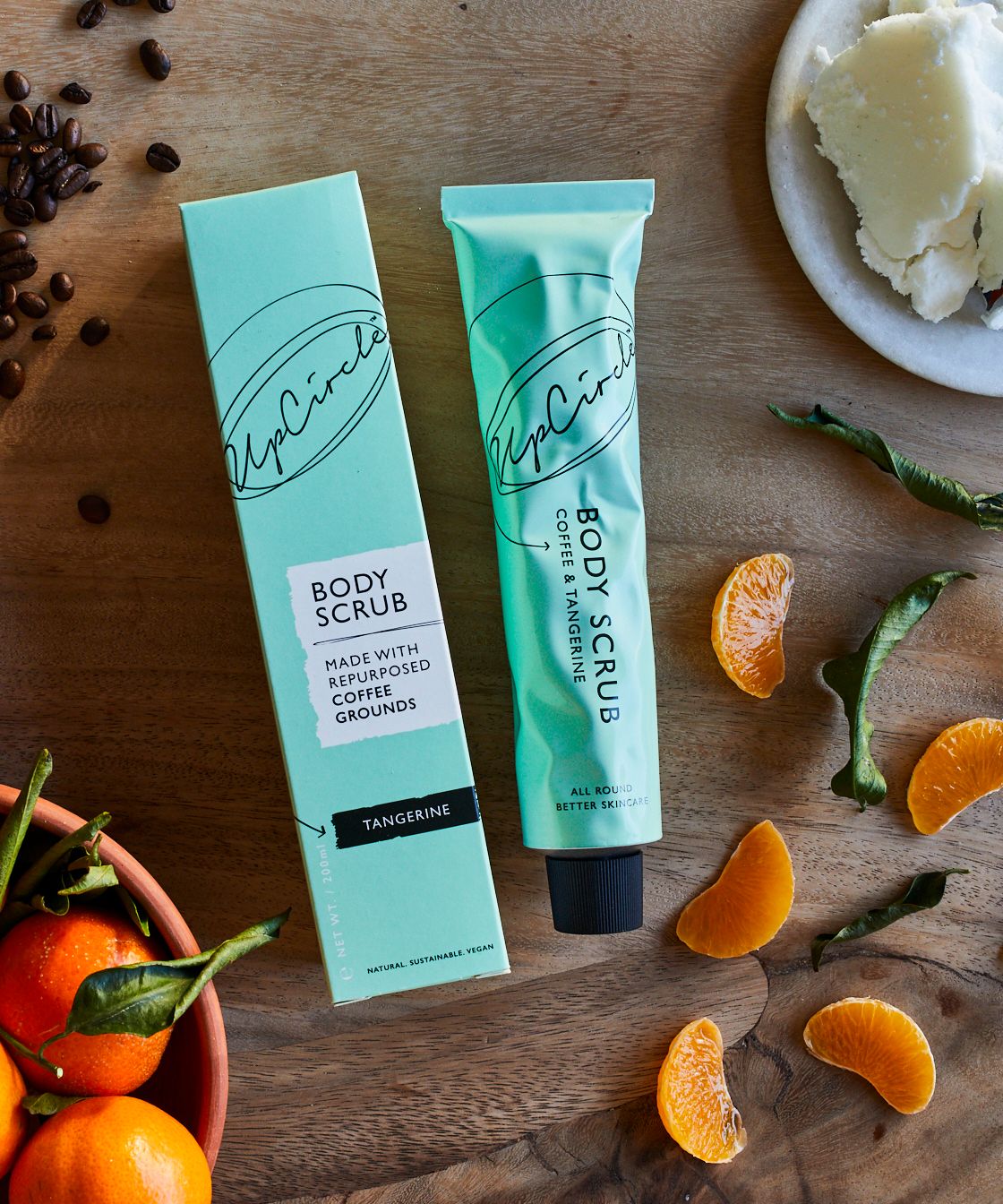 What are your hopes for UpCircle in the next 5 years? 
Our intention is to keep on innovating. At the moment we're looking at how we can begin rescuing flower petals from local florists to turn into beautiful fragrant bath products. Growing our team is also something that excites me greatly. With each new member we have a new wave of excitement, passion and personality. We hired our first ever staff member last year, and this year we became a team of eight – crazy!!
In the last 12 months we've expanded our repurposed ingredient portfolio to ten by-products from varied industries, including the argan, tea, juice, date, olive and wood industries. For example, this year we began repurposing residual fruit waters leftover after the creation of juice concentrates. Our product launches for next year include an ocean-friendly SPF, a Hand Wash, Hand Lotion and Hand Sanitiser Trio which we plan to launch widely into restaurants and hotels. We're also developing a Night Cream and Lip Balm – all set to launch in 2021.
And, what attracted you to the beauty industry in the first place? 
I'm inspired by knowing that I can actually make a difference. I used to work for a big corporate and I felt like I was a tiny cog in a big machine – like nothing I did really made a difference regardless of how hard I worked.
I also love the fact that the products that we make help people to feel good about themselves. We receive letters, emails and comments every day saying that our products have made an impact on people's overall happiness and confidence. What better reason to go to work every day?!
The organic and natural beauty industry changes every day. What do you think it'll be like in the future? 
Not so long ago, the gold standard for beauty brands was to deliver great products from natural ingredients. Now brands are expected to go much further, to stand for something beyond the ingredients they use. Beauty brands must prove that there is a reason for their existence, one that contributes in some way positively to the environment, to society, or to supporting individual expression. Just having natural or vegan ingredients has become an entry-level requirement. Brands need to take the next step!
We try not to analyse trends because they are fleeting. By the time you've identified a trend it's usually too late, as trends are backward-facing. As a brand you must be ahead of trends or setting them yourself. 
That said, it is our responsibility to ensure that we are keeping ourselves informed of the latest innovations so that our products are the best that they can be! The key element of this is seeing your brand, product or business as constantly evolving – that's very important to us here at UpCircle.
What are some small changes or habits that we, as consumers, can do to help tackle waste? 
At UpCircle, we try to focus on positive change and keep an "every little helps" mentality. If you're just starting out in trying to create a more sustainable beauty routine then just keep in mind that it will be a gradual process. Resist the urge to empty your cupboards and start all over again at once. There is no point in creating waste in an attempt to try to minimise waste! Use up what you have, and then next time, think about what improvements you can make in each of your purchasing decisions. Or even better, think about whether you actually need to buy each thing you've previously owned at all!
I get asked about my skin and makeup routine all the time – people are often shocked by how limited and simple it is. Quality over quantity is what sustainability is all about!
What advice would you give to others looking to start their own business? 
Ironically, to not feel obliged to take onboard everyone's advice. No one knows your business idea, your personality or your life like you do, so trust your instinct. There's no harm in listening, but you don't have to take everyone's advice and run with it!
 Also, on a practical level.. Stay in your existing job for as long as possible and save, save, save. Do as much of your research and resourcing whilst still employed, you need your ducks in a row as much as you feasibly can before taking the big leap!
We believe that beauty means something different to everyone – whether that's being able to work on your own terms, wearing that perfect dress, or being able to get your nails done whenever you want. Is there anything that makes you feel powerfully beautiful?
I believe that beauty is something that comes from within. We focus so much on beauty in a physical sense but I believe beauty is more about attitude… about spirit! It's the energy you give off and the way you impact the things and people around you. To me, this comes from personality, confidence, compassion and values.
As someone whose brand operates within the "beauty" industry it is extremely important to me that we promote inclusive skincare. The beauty industry that we DON'T want to be a part of can make women feel insecure, intimidated or like they are not good enough. Exclusivity is a social sustainability issue in the industry, and people need to see themselves represented to feel engaged and empowered. As a female-led business, with a predominantly female team, we want our brand to represent skincare for all. We're body positive, gender neutral, represent all ages, and encourage diversity in all forms. Our products are modelled by real customers, family and friends and we are passionate about using authentic visuals that are never photoshopped. We stand for authentic, real beauty in its many forms.