Is 2021 the year of the most bizarre nail art?
By Brid McNulty, April 29 2021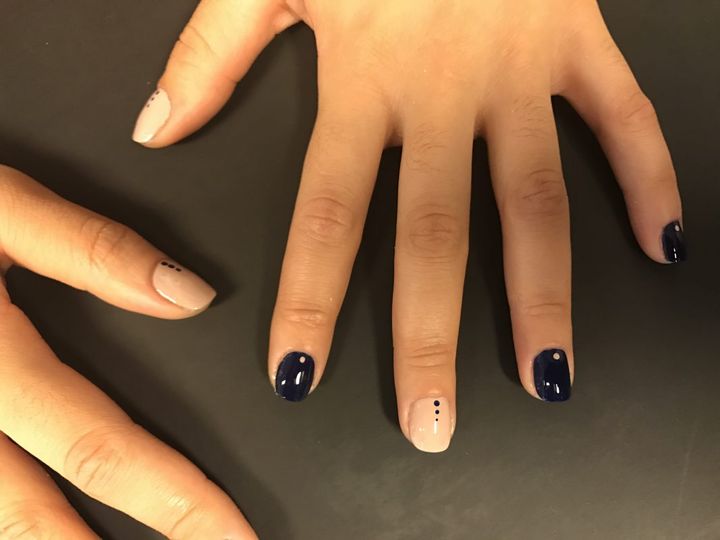 The nail art trends of now
Beauty and fashion trends come and go like seasons, but some are so obscure that they're often associated with a definitive year. Like the contouring and lip plumping of 2015, or chokers and baseball caps in 2016. Whilst it was only a few years ago that nail art went as far as a french manicure, in 2017 the nail art craze has reached unimaginable heights. Celebs, nail gurus, and beauty bloggers alike have been taking to social media to showcase their creative designs, and we can't help but stop and stare! We're sharing some of the weirdest and wackiest nail trends seen so far in 2017, ranging from completely OTT to the more wearable.
Gold Wire Nails
Korean nail art genius Eun Kyung Park, founder of Seoul-based nail salon Unistella, can be credited for this one. There was a time when chrome polish was pushing boundaries, but the wire nails trend takes metallic manicures to another level. Her designs range from complex shapes like faces, to more minimalist takes like golden cuticle cuffs. Park was inspired by the interconnected letters on neon signs and saying she was attracted by the idea of using "one long wire and bend it to create and connect the letters". Unistella's Instagram, which has over 210K followers, helped spread this trend like wildfire.
What we think: With hands that steady and precise, Eun Kyung Park's second calling in life might just be a brain surgeon!
How to wear it: Bring this trend to life by going for a gold cuticle cuff piece. Or take it down a notch and just replace the gold piece with gold polish.
Pierced Nails
Sticking with the theme of nail jewellery, pierced nails are exactly as they sound: piercing a hole through your nails and hanging rings and jewellery from them. The chains and hoops hang from typically long, square and acrylic nails. The pierced nails trend shot to fame recently when Kim Kardashian rocked hers on multiple occasions. But it actually dates back to the 80s and 90s hip-hop scene. It's only in 2017 that it has made an impressive reemergence. Designers and catwalks have taken a great liking to this nail art – we've seen it on Vivienne Westwood, Ryan Lo, Philipp Plein and Emerson runways.
What we think: We might stick to pierced ears, but that's not to say we won't be admiring these jewel-adorned nails from afar.
How to wear it: We think this one is perfect to glam up your look for a night on the town.
Vampire Fang Nails

Twilight might be a throwback to 2008, but vamp nails are so 2017. The vampire fang nails trend has emerged from the goth-grunge scene on Insta with @darkartistries leading the way. The sharper and pointier the better with this trend – not like your hands are used to do things, right? In terms of colour, initially the aim was to create a blood red ombre look, but the trend has since evolved and any colour goes. Even if you're feeling girly, but still want to emit a don't-mess-with-me vibe, vamp nails are accessible.
What we think: These nails might just fill the vampire void in our life since True Blood ended.
How to wear it: Skip the pointed shape and focus on a simple red ombre tip – kind of like a twist on a French tip.
Graphic Art Nails

The graphic art look is less obscure but still a hit on the nail art scene in 2017. Think less Monet (though, watercolour nail art is a thing too) and more Mondrian. This trend has been spotted on runways like Rebecca Minkoff and Jeremy Scott. It definitely has that high-end touch to it.
What we think: It's a wearable, summer look that also says "I spend Saturdays at the Tate'. Two thumbs up!
How to wear it: Go for a single vertical red stripe or random neutral squares to make this work-wearable.
Leap into nail art
What do you think about these trends? Have we sparked your interest in nail art? But you want something more elegantly understated? Why not try LeSalon's very own signature nail art. Book a manicure with one of our 5-star technicians and treat yourself to some chic and luxurious nail art add-ons! We do a killer diamante look FYI.
Just browsing? Head over to our blog to get inspired by more beauty trends.