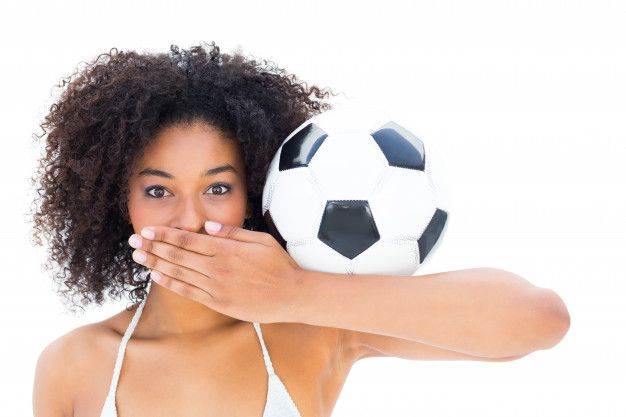 Everyone is talking about the World Cup, and as much as we want to get into the spirit of things, I think we can all agree that sometimes a football shirt just isn't the most flattering way to go. Therefore we have devised a guide on how to do a football inspired mani. Here at LeSalon we all think that it's the perfect way to show your support in style.
We have chosen some of our favourite looks that are bound to grab people's attention, no matter which team they support. We thought we would stray away from all the usual designs that you are bound to see, and offer more classic, wearable looks, because no one wants to walk around with a flag on each finger, right? So, carry on reading to learn how to achieve these goal worthy nails, and to ensure that you are looking your very best, just in time for kick off!
England
If you are supporting England throughout this World Cup, you're in luck (well, in the nail sense anyway.) This is one of the most simple looks out of them all, yet it still manages to make a statement! All you need is a white and a red polish, and a small makeup brush to apply the nail art with. To start, apply two coats of white nail polish onto the nails. Once both coats are dry, grab your red nail polish and a small makeup brush. Dip your brush into the polish and paint a red cross onto each ring finger. Once this is dry, go over with a top coat. Using just these three simple steps, you have yourself a mani to be proud of.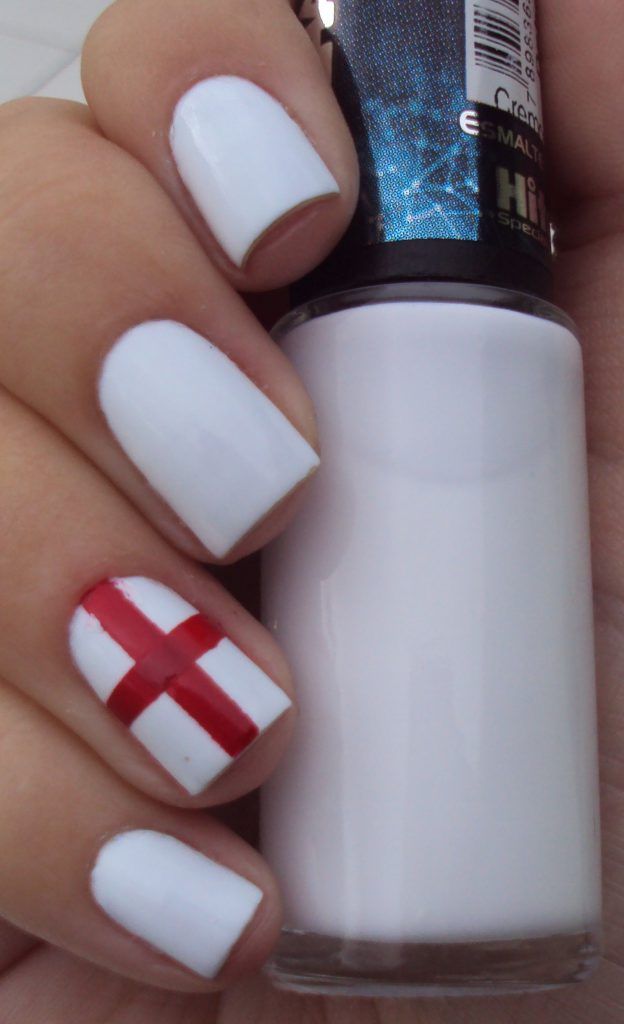 We tried out our own England themed nail art, and we love it! Book with us to get this look!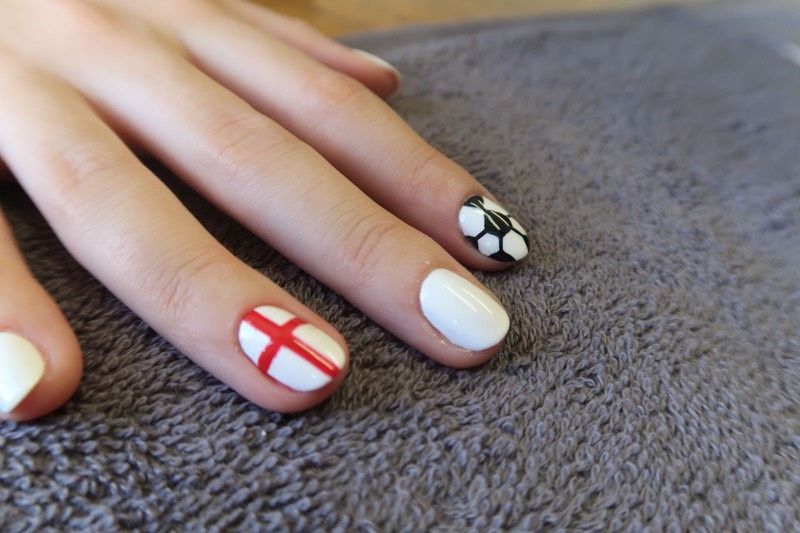 France
Another simple one, as we thought we would leave all the difficult stuff to the players on the pitch. For this look you will need three polishes; a red, white and blue. Start off by using the blue as the base coat, doing this on all nails apart from the last. Instead, use the red polish on this nail. Once the blue polish has dried, take your white polish and paint a stripe onto the centre of your nails. Do the same with the red polish on the tip of your nails, and finish off by applying a top coat once all the polish has dried. Voila!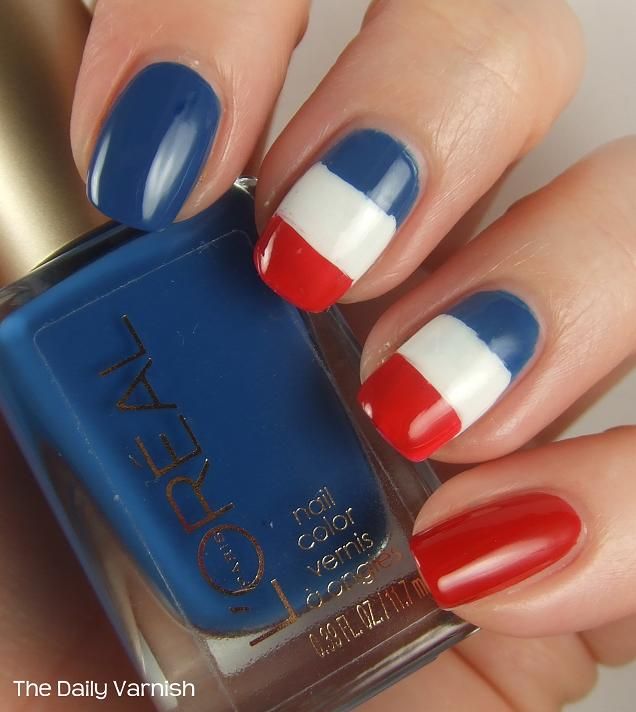 Germany
This manicure is one of the more difficult ones, however the result is definitely worth it. For this look you will need a small, fine tipped brush to apply the different colours with. Start off with a clear base coat. When that's dry, apply the black line of polish about a third of the way down from the tip of your nail. Let that line dry then follow with the red and yellow lines. Once all the lines have dried, finish off the look with a clear top coat, and you're good to go!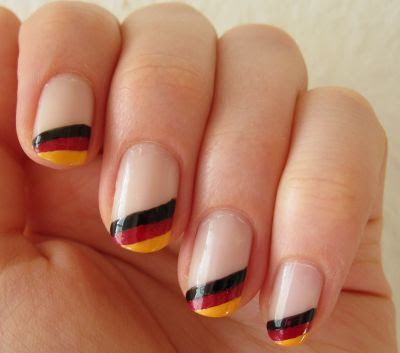 Argentina
Argentina's flag just happens to be the perfect pastel blue for summer nails, one of the main reasons we love this look! Start off by using a white polish as your base colour. Once that has dried, take a light blue nail polish and, using a small makeup brush, apply two stripes onto your ring finger. On your index finger, use a sponge to dab on a light layer of blue polish to achieve a similar effect to the one in the picture. Using a yellow polish, place a dot in the middle of your ring finger, to replicate the Argentinian flag! You can even take it that one step further by getting some football friendly nail stickers like the one in the picture!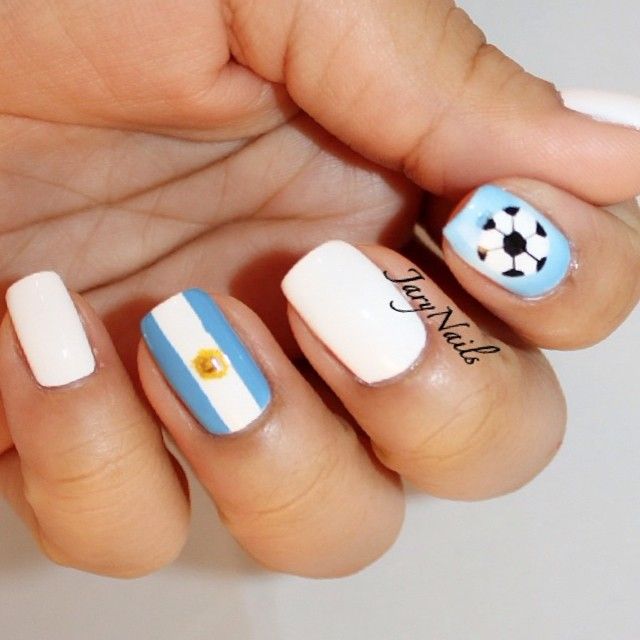 Brazil
Forget a Brazilian wax, this time we are all about the Brazilian inspired manicure! This look is one of our absolute favourites, as it manages to mix a classic nude with a bit of footy fun! Start with applying your favourite nude polish to every other nail, alternating with a green polish. Leave your ring finger blank whilst doing this. For the football design on the ring finger, start by using a white polish as the base. Once dry, use a small makeup brush and dip it into the black nail polish, and paint on the football design. If you don't fancy attempting to paint it on, you can also use a nail sticker to achieve the look. If you wanted to achieve the look of the Brazilian flag on one nail, use a yellow polish to paint the yellow shape, then finish off with a dot of blue polish in the middle.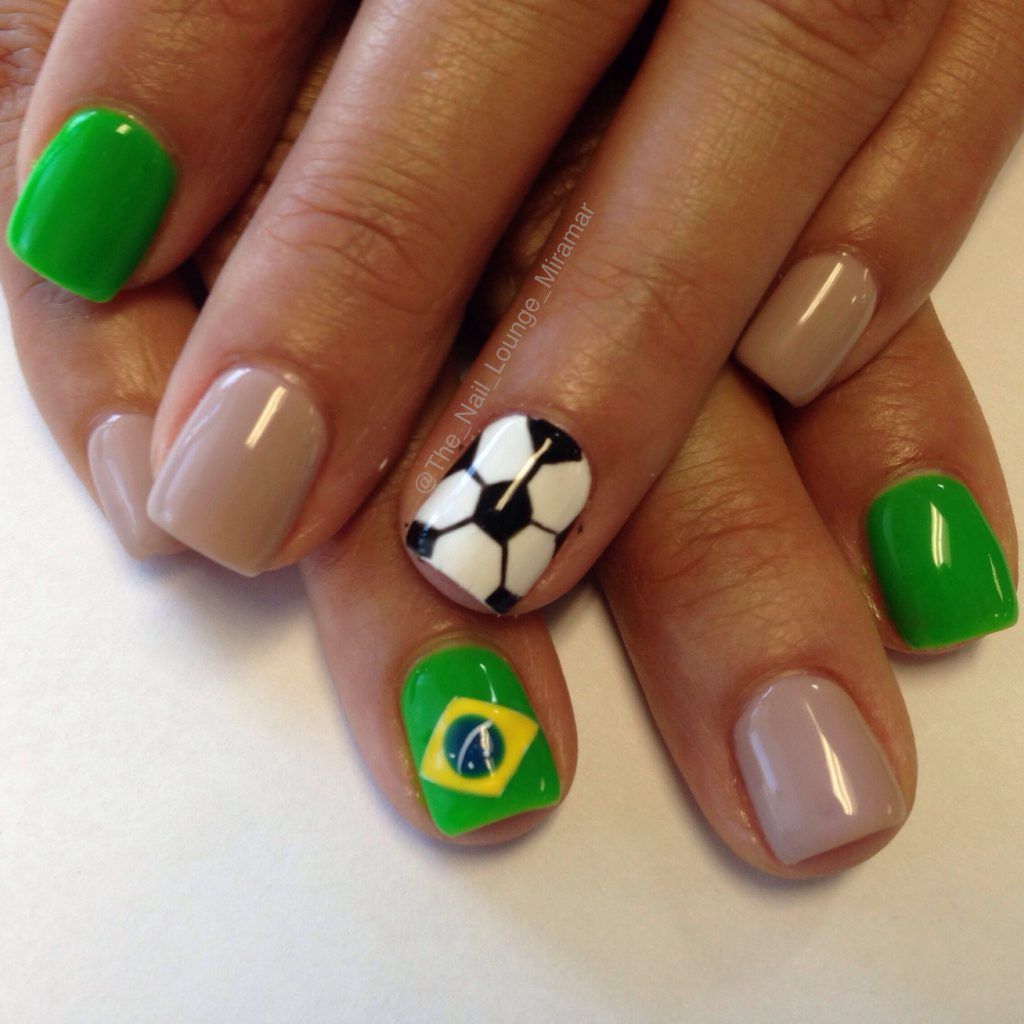 We also tried out our own look for Brazil, check it out below!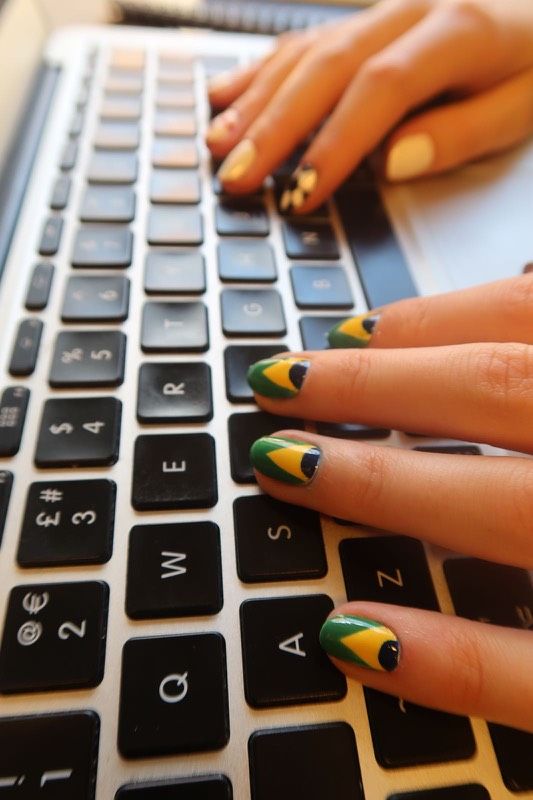 We hope you enjoyed learning how to recreate some of these World Cup inspired manicures! If doing it yourself doesn't appeal to you, why not book a manicure with us to get some football themed nail art done, so you can focus on the match and let us worry about the mani!