Meet Saasha Celestial-One, COO of Olio
By Zoe Greenwood, July 17 2020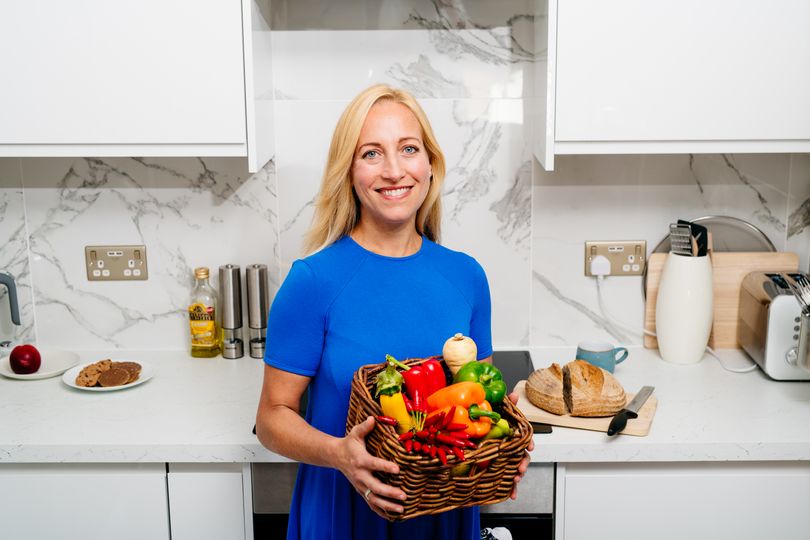 Saasha Celestial-One and Tessa Clarke joined together in 2015 to create the world's first food sharing app. Olio connects those who want to share food that would otherwise go to waste. Now Olio has grown from a small, local business to a company that has more than 900,000 users. We were very happy to connect with Saasha and talk about her journey into the entrepreneurial world.
Welcome Saasha, such a pleasure to have you with us! Tell us a little bit about you and Olio – where did your inspiration come from? 
Happy to be featured on Le Salon! The inspiration for OLIO came 5 years ago, when my best friend (and OLIO co-founder) Tessa and I were on the hunt for an opportunity to put our commercial skills and experience to good use for the planet. Whilst we were looking, Tessa had an experience which was the quintessential 'lightbulb' moment – she was moving house and on moving day found herself with some perfectly good sweet potatoes and a cabbage. The removal men said she couldn't pack them, so in desperation she went out on the street in the middle of winter and tried to find someone to give her food to. She couldn't find anyone, and rather than let it go to waste she smuggled the food in her packing boxes.
When she told me this story it was immediately obvious that there was an opportunity to solve this problem, by connecting people with spare food with people nearby who would love to have it. Boom! OLIO was born. Within the hour, we'd named the company and set up a 12 month plan.
How exactly does the app work? 
OLIO is incredibly simply to use. Anyone who has food or any other household items that they don't want (toiletries, kitchen stuff, toys, you name it) but which still have value, can give these items away to neighbours by adding a listing to OLIO (it takes 10 seconds).
People nearby receive alerts when listings are added, and the two parties privately message to arrange a collection (currently all collections are no-contact). We had nearly 300,000 listings added in June, and more than 75% of these were collected!
We all hear that starting a business is hard. Did you face any particular challenges or difficulties along the way? 
The hardest part is staying relentlessly positive in the face of extended challenge. That's why it's soooo important, if you start a business, to pick something you're incredibly passionate about.
With OLIO, I know that every share is making the world a better place – reducing the environmental impact of food waste (if food waste were a country, it would be the 3 rd largest contributor to the climate crisis), and connecting people in real life, strengthening community ties.
And, where do you see Olio going in the next 5 years? 
Over the next 5 years we'll be well on our way to our goal of 1 billion people using OLIO by 2030. We've already seen food sharing successfully take place in 52 countries, so in addition to achieving mainstream penetration in the UK we need to continue to drive adoption in markets outside the UK, whilst keeping costs very low. 
We've remotely 'activated' multiple markets so far, including Singapore, Mexico, New Zealand, etc, and will continue to refine this process so we can make OLIO more useful, to more people, helping to redistribute (and stop wasting!) our most precious resources all around the world.
Since starting up Olio, how have you seen attitudes towards waste change? 
This is a difficult one, because whilst in theory attitudes towards waste have changed (according to polls, etc), it hasn't actually resulted in less waste in the home (which is what we care about – 71% of food waste post farm gate takes place in our own kitchens – 2/3rds of which is perfectly edible when it's wasted!).
We certainly have seen consumer sentiment turn sharply against single use plastic waste, and hopefully food waste will become equally taboo in the very near future.
And, in your opinion, what has to happen for us, as a society, to be less wasteful? 
It needs to become socially unacceptable to waste food, or anything else which still has value. We need mainstream influencers to model waste-free (or waste-less) lifestyles. Living a more planet friendly life has to be easy, fun, and 'cool.' The decisions we make as individuals, in our homes, account for 60% of greenhouse gas emissions. So, we also have to believe that we can make a difference, and that small actions x lots of people = big change.
Olio uses modern technology to help the environment; and as a tech 

company ourselves we obviously believe that tech can be a force for good. However many people would argue that tech is being more harmful for the environment. What would you say to those who think using tech is doing more harm than good? 
I think 'tech is doing more harm than good' is a blanket statement and in general I am not a fan of blanket statements. There are endless examples of technology that is 'for good' and equally endless examples of technology that is 'for bad.'
It's important to evaluate technologies on a case by case basis, and also to remember that we as individuals and also as decision makers within businesses or other organisations (eg schools) have the ability to influence which technologies are adopted in our own lives, or the lives of our children, our colleagues, etc.
In these times, we have to mention COVID. Has this had any impact on your business, if so how? 
There were a few incredibly stressful days in early March, when we wondered if OLIO, as aa neighbour-to-neighbour sharing app, could continue during a pandemic. It turns out, however, that the need for OLIO has never been greater, and that safe sharing can and must continue.
We've seen more than a doubling of activity over the last few months, as people have become acutely aware of the value of their spare food and household items, and feel an obligation to share this with their neighbours, who may or may not be in need, rather than let it go to waste. The outbreak of altruism in our communities has been incredibly heart-warming to see, and I'm so proud of the OLIO team for responding quickly to make sure we could evolve our guidelines to ensure safe sharing could continue.
And, you personally, how have you been managing lockdown? 
I'm ok! At the beginning, I was a bit blue, if I'm honest. My son was sick a few weeks before lockdown began, so our self-isolation began earlier than most. However, once I figured out how to take Zoom yoga classes, integrate home-schooling into my work schedule (which meant I needed to pare back my work on OLIO, without feeling guilty), and to truly enjoy the gentler pace of life, a peace emerged and has stayed. I'm committed to keeping some of this newly acquired 'slowness' in my life going forward, too.
"Powerfully beautiful" is our motto at LeSalon, because we believe in beauty and selfcare that helps you feel more powerful to achieve your goals. We know beauty means something different to everyone, and don't believe in a vision of beauty that is imposed on ourselves. Is there anything that makes you feel powerfully beautiful?
At 43, I feel more beautiful than I've ever felt in my life. There's a self-acceptance, level of confidence, and hints of wisdom I never would have predicted in my 20's or 30's. I'm learning to be 'present' and enjoy life and my loved ones, and in this there is peace & beauty.