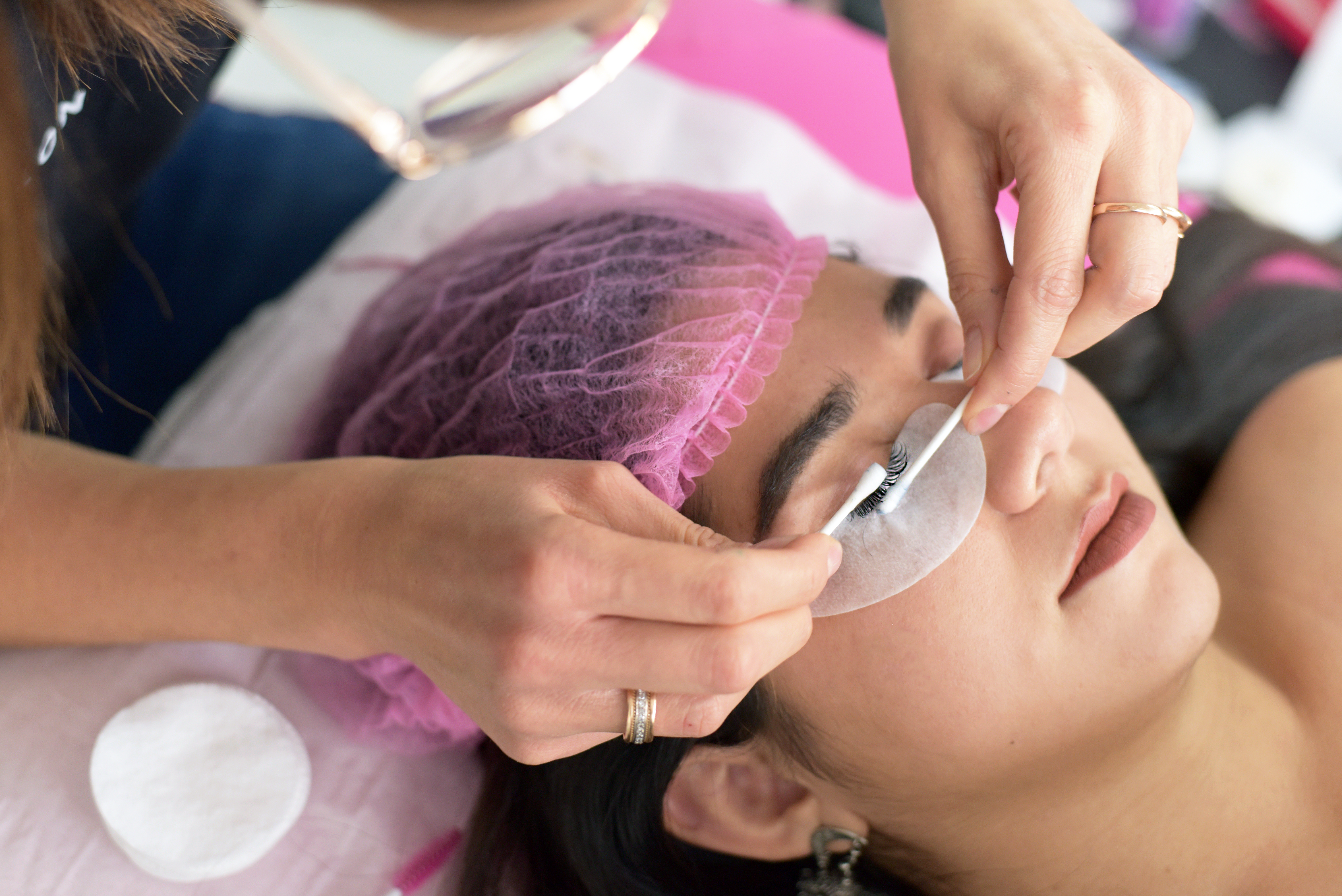 Lash extensions are one of those beauty treatments that, once you get them done, you're not likely to go back. In fact, you'll probably feel naked without them. If you're a pro eyelash wearer then you'll know what we're talking about.  If you're new to the whole extension process, we can guarantee that, after this, you'll definitely be thinking about getting some. Now, we have synthetic, we have silk and we have mink, but Russian lashes have changed the game by promising fuller and wispier extensions. If you're a bigger, the better type of girl, this treatment might be the one for you.  

So, what exactly are Russian lashes?
The application process for Russian lashes is similar to a classic set of extensions. The main difference is that they are extremely fine and soft compared to synthetic ones, which is how they give off a wispier and fuller look without weighing your natural lash down. Those with sensitive eyes often opt for these extensions as you don't really notice them.
Unfortunately, due to the skill involved in applying a Russian set, it takes a lot more time, but boy, will it be worth it once you see the results. When done correctly, the lashes create the illusion of having more natural lashes rather than looking fake and they often last 4 – 6 weeks with proper aftercare. While, with classic extensions, it's recommended to have regular infills every 2 – 3 weeks to ensure you always carry a full look, with Russian lashes, you can often wait until the 4th week before needing infills.
Why are they different?
Russian lash extensions essentially provide a fuller look because your mobile beauty therapist will be attaching more than one lash to your natural lashes. A classic set often involves one artificial lash glued onto one of your natural lashes. As a result, a lot of customers assume that as more lashes are being applied, it's more damaging for your natural lashes. This is not true. Your mobile beauty therapist is able to apply more because of the lightness of Russian lashes without causing any damage. Honestly, if you ask us, it's the best of both worlds.
We know we've spoken about how dramatic Russian lashes can look, but if that isn't really your look, don't worry. These extensions don't always have to look dramatic. They can be fitted perfectly to your eye shape and you decide how full you want them to be. The biggest perk of these lashes is the soft and wispy effect they have, so you will still be able to sport a natural look (just with a bit more oomph)!
Aftercare
Obviously, if you've had extensions before, then you'll know that the most important part is the aftercare. Lashes can last a good 4 weeks if you look after them properly. Essentially, your extensions will fall out when your natural lashes start shedding so rubbing them, sleeping on them and picking at them will reduce their lifespan. Avoiding any oil-based products is a given and brushing through them daily will be necessary if you don't want them to get all tangled up.

Cost
They are more expensive than a classic set of extensions. On average, they cost around £150 to £200 – if you're looking at a good salon, of course. And it's definitely best to avoid cheap salons for a treatment like this. While you might be thinking that this is quite a hefty price (and an expensive habit), after the first application you'll be looking at getting infills (if you decide to keep them) which will be a huge reduction in cost because it will take less time to fill in your lashes. If you're new to this, trust us when we say that this won't be a one-time thing because once you get your eyelashes done, you won't want to be without them.
If you're not ready to go full glam with Russian lash extensions, then why not think about getting a classic set of extensions. You'll have a natural set of lashes for cheaper the price and they are perfect the no makeup, makeup look! Book one of our amazing mobile beauty therapists today – you won't be disappointed! If you enjoyed this, take a look at our other posts here; we're always talking about the hottest beauty trends.