Meet Olivia Thorpe, Founder of Vanderohe
By Zoe Greenwood, August 13 2020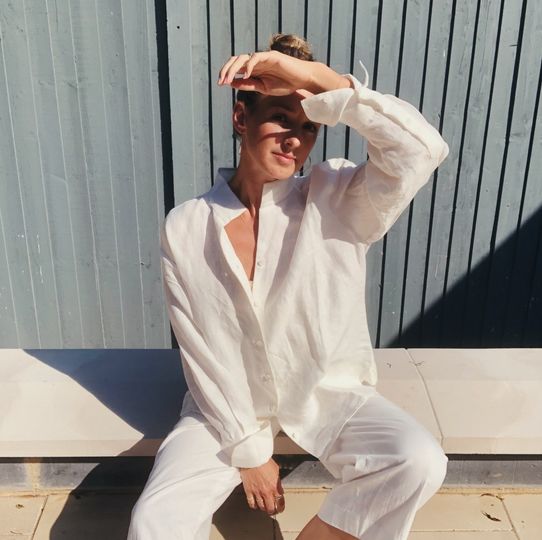 After pursuing a career in finance, Olivia Thorpe set up on a journey to create the clean beauty publication: Vanderohe. This eventually led to her formulating her own oil blend in the hopes of healing her dermatitis. Vanderohe has quickly become a well known brand with award winning products. We were very excited to connect with Olivia and talk about her successful journey into the beauty industry.
Hi Olivia, great to have you here with us! Could you tell us a bit more about Vanderohe – where did your inspiration come from?
After graduating from Oxford University, I pursued a career in finance, which I absolutely loved to begin with as I enjoyed the pace and the hard work, but after 7 or so years, I began to feel frustrated by the lack of creativity in my role, so I decided to jump into a different job entirely and I launched an online beauty publication, Vanderohe. We moved as a family to Singapore and about three months into moving, I developed severe allergic dermatitis. Nothing I tried seemed to help, until I ditched everything for a plain apricot kernel oil, recommended to me by Facialist Su-Man.
I was so amazed at the immediate calming effect this basic plant oil had on my skin (compared to the steroid creams and cosmetics I'd tried) so I embarked upon a period of meticulous research into the chemistry of organic plant oils and began blending. Vanderohe No.1 Nourishing Face Serum was an oil blend I created at a particularly difficult time and it not only transformed my skin, but had a noticeable calming effect on my mood.
Amazingly it then went on to help heal a whole array of people's different skin issues and as a result, launched Vanderohe as a skincare brand. The product scooped up 7 beauty awards in the first year alone and was featured in every major publication so it firmly set me on the path as a formulator. I still pinch myself that I'm able to create these beautiful products as my job – such a vast difference from what I started out doing at the start of my career!  
The beauty industry is growing everyday – what sets Vanderohe apart from other brands? 
We're so very different from your usual cosmetic brand. For starters, I am only ever concerned with creating one brilliant product for a particular step in your skincare regime (hence the No.1 name), but I also always take the product much deeper than skin level and create formulations that treat your mind whilst they're treating your skin, because it really is true that beauty comes from deep within.
Aromatherapy is integral to each of our formulations. We're also 100% organic and wildcrafted – one of only a very few number of brands who can state that – and everything is created by hand. We are deeply involved in our environmental credentials and believe we are leading the way in a "blue beauty" approach – supporting marine conservation.
We all hear that running a business is hard – especially when you're raising a family! What were the hardest aspects when bringing your company into the industry? 
I've never really had any childcare, so that's the hardest bit for me! I am literally juggling everything alongside three young children and it's been extremely difficult, not to mention exhausting. I've had to learn when the kids must come first and equally when it's important that I put the business first.
However, I'm used to working hard and working long hours so I'm ok working into the night when the kids are in bed and I've learnt to get things done in the moments when the kids are happy playing. The hardest aspects of bringing my company into the industry is that as a small, self-funded brand you are up against brands with a LOT of financial backing, who can aggressively invest in PR and try to silence your unique voice. That has been the hardest part – brands have stolen our content, even recently a very big brand stole our intellectual property and refused to answer us on the matter.
So there's this very aggressive, competitive side – even in natural skincare – that I never expected to encounter. Luckily I come from a banking background so I've got the backbone for it! But I can imagine other people wanting to pack it in in such a situation. 
The organic and natural beauty industry changes everyday. What do you think (or hope) that it'll be like in the future? 
I hope that a lot more brands will invest in organic farming. Not nearly enough do. I also hope that packaging suppliers can come up with better ways to replace plastic components, such as cleansing pumps.
At the moment there aren't enough options, especially for small brands who want to choose environmentally friendly but optimally functioning packaging. I also hope brands will be pushed into being more transparent about their credentials and their ingredients.
Are there any challenges the beauty industry faces which new brands should be conscious of? 
There are new challenges every day. Lockdown has also created a whole new set of challenges. I think my advise would be to stay true to your direction, but be willing to adapt.
How do you think the term 'organic' has changed in the past decade? 
Organic simply indicates a stricter form of farming where harmful pesticides and practises are avoided. Certified organic by a body such as one of the COSMOS group is even better as it indicates that farming is being monitored by the strictest standards.
I think that a few years ago when people were becoming more interested in a cleaner form of beauty, the term "organic" was bandied about for products that had very little organic ingredients in them.
I also see that now, but I think customer are now more aware of greenwashing and will look a little deeper into the brand's ingredients and claims, to make sure that organic applies to the entire formulation. It's no use having 0.1% of an organic ingredient in a product that otherwise contains harmful ingredients.
Your website talks about giving back – could you tell us a bit more about how you support a green planet? 
Every detail in our production method has been considered with the environment at the forefront. Hand-crafted in small batches, all of our formulas are 100% natural and we only ever use certified organic or wildcrafted ingredients sourced from their native soils, where they grow optimally.
We work with trusted producers, certified by the strictest standards of organic farming, involving frequent monitoring and inspection. We pay a high price for this, but it is a worthwhile investment to know that the farming of our ingredients is not only creating the purest product, but is having a positive impact on the environment.
We only use recyclable and biodegradable products in our packaging and we avoid plastic use where possible. We also have introduced options where people can reuse and refill. Our bottles are made from recyclable Miron glas; a unique, dark violet glass that uses the science of biophotonics to maintain and proloing the potency of the ingredients – so our products last longer. We also work with a Carbon Balanced printer – a print organisation who has mapped their operational carbon footprint to defined boundaries, 3rd party veriified, and has then balanced these impacts with the World Land Trust. This is the highest statement of integrity in sustainable printing.
And lastly, we give back to marine conservation by donating a proportion of our profits to Marine Savers: a world-leading marine conservatio team working out of the Maldives on coral reef propagation, turtle rehabilitation and much more. Giving back to this programme from the start has helped to reinforce the efforts we make on a daily bassis to ensure that our practises are as sustainable and eco-friendly as possible. 
I understand that your nose led you to create the oil blend that healed your dermatitis. Can you tell us a little more about the importance of smell for you?  
I have an extremely strong sense of smell – I stopped using all synthetic fragrances about 9 years ago now and that really served to heighten my sense of smell. Pregnancy taught me that our sense of smell is there for something much more animal than simply cosmetic; a scent can have a therapeutic effect on our whole being and works instantly.
The benefits of aromatherapy have been scienfically proven. Our sense of smell, when engaged properly, can also sense danger. When I was pregnant I felt that I could smell if a product contained synthetics that might be harmful to my baby. I know that that sounds crazy, but I had a physical repulsion to some products that I've since learned contain some really dubious ingredients.
A lot of the time we don't live engaged with the signals our body sends us on a purely animalistic level. When I set about creating an oil blend to help my skin, I was pregnant with my second son and extremely sensitive to smell. We were going through a really turbulent time personally and I was under so much stress. I completely lost myself in this formula – I just let my nose lead the way and I stopped when I realised the scent was so beautiful.
I bottled the formula and started using it that night. It was like magic on my skin, but smelled just so incredibly good and so unlike other natural products I'd used. It was so deeply calming for me. That formula became No.1 Nourishing Face Serum and since that moment, I've received literally hundreds of messages from people who've used the product saying how it has not only transformed their skin, but helps them sleep, keeps them calm etc. and that for me is the driving force behind everything I do with Vanderohe.
To have a customer engage with your skincare product on a deeper, more personal level is really special. I even heard that an editor at Harper's Bazaar is currently using it as her hypnotherapy birthing scent!
We know everyone is different, but in your opinion, what's the best way to truly look after your skin? 
Use less. Cut it all back so that you're relying on a handful of really good, healthy, natural products that you trust. Don't switch things up. Your skin likes consistently good products. Get more sleep, drink more water, take vitamins and exercise.
The great thing is that our skin sends a message if our body is struggling in any way. Listen to your skin – it will tell you to cut back on the alcohol, or increase your fruit and veg intake! 
"Powerfully beautiful" is our motto at LeSalon because we believe that beauty and self care can help you feel more powerful to achieve your goals. We know that 'beauty' means something different to everyone, and don't believe in a vision of beauty that is imposed on ourselves. Is there anything that makes you feel powerfully beautiful? 
The love and laughter of my family – my husband and our three children – makes me feel powerfully beautiful.