Minimalist vs. Graphic: The Battle of Nail Art
By Brid McNulty, January 9 2019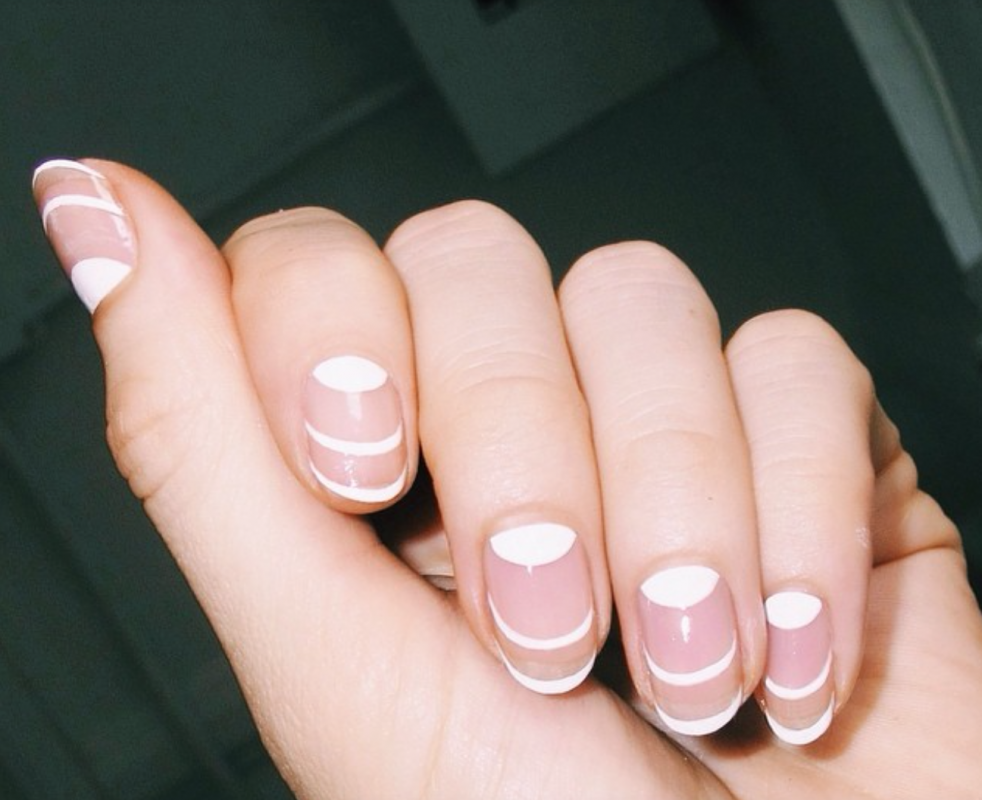 We've all seen the nail art explosion over the last year, from nail art fans sharing the latest craze on Instagram, all the way to models rocking the runways with flashy designs. There are so many designs to try out, but in 2017 we've seen two overriding themes: minimalist and graphic.
We've seen some of the coolest and sometimes complex designs from these two themes such as the ombre and pop art effects. Both include designs that are simple enough to try at home, yet stylish enough that models test ride them on the runway. The question is, though, which style will win this battle of nail art? We've gathered a list of our favourite designs from the minimalist and the graphic – which side are you on?
Minimalist nail art: back to basics
In one corner, we have minimalist nail art, which has grown in popularity in the last year. The nail art-sphere was once solely dominated by busy and sometimes over-the-top designs. As a result, many women were put off by nail art as it wasn't work-wearable and was time-consuming to apply. With this new wave of minimalist options, nail art is making a huge comeback that's accessible to the masses. Three popular minimalist looks we love are the single dot, the twist on French tips, and the ombre effect.
Single dot nail art
A look that is as minimalist as it gets when it comes to nail art. The single dot adds an eye-catching pop to your nail without going overboard. We think it's the perfect first step into the nail art world. The idea is to choose your favourite nail colour as a base coat, and then layer a single dot on each nail in a different colour. The dot can be bright and contrasting, or a subtle shade. You can even go as simple as applying just a black or white dot without any coloured main coat. If you're doing a DIY manicure, the single dot is often applied by using the tip of an ear-bud or bobby pin head. New York's nail artist of the moment, Madeline Poole, did a black-dotted manicure for Adam Selman's models using the head of a nail. As in the ones you get at the hardware store!
We love the adorably chic pink and red colour combo. It's a look that is both suitable for work or play and adds a pop of personality into your manicure.
French twist
While a classic French manicure is technically nail art, the 2017 minimalist nail art trend takes it a step further by adding some modern charm. A French manicure is characterised by a light pale pink polish with bright white tips. The twist can be a different main coat colour and/or tips colour. It can even be a double stripe along the tips. Jazz it up with gold, shimmering tips or scale it back with a thin red tip and a natural base coat. The variations are limitless.
Our favourite is the half moon mani seen below. This double French tip with a half moon remains classy by keeping it crisp in all white with the neutral negative space. You can't really ever go wrong with a French manicure, so we're definitely big fans of this updated version. It's great for those sophisticated ladies looking to experiment with nail art.
Ombre effect: not just for hair
Ombre had its moment in the hair world a few years ago and has made a comeback in the nail art world. It's another eye-catching yet elegant looking minimalist nail art design that we adore. The most popular colour combo is a light pink blend to all white at the tips – sort of a French hybrid.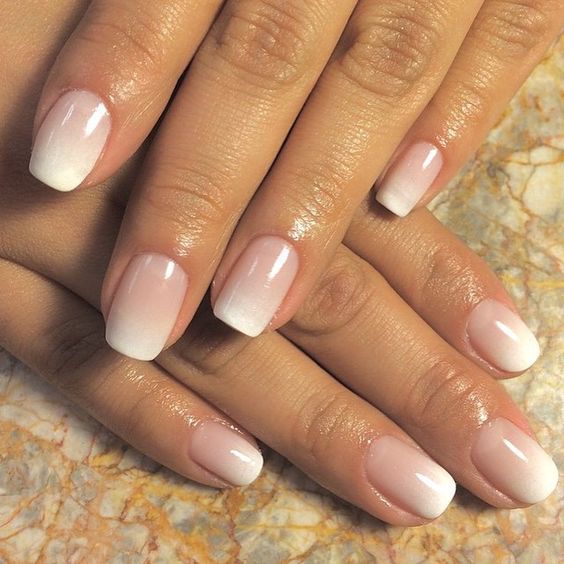 We like the more striking blends, too, like red to black for a gothic-grungy vibe. Some nail artists are getting even more creative with tricolour blends and even ocean-inspired ones!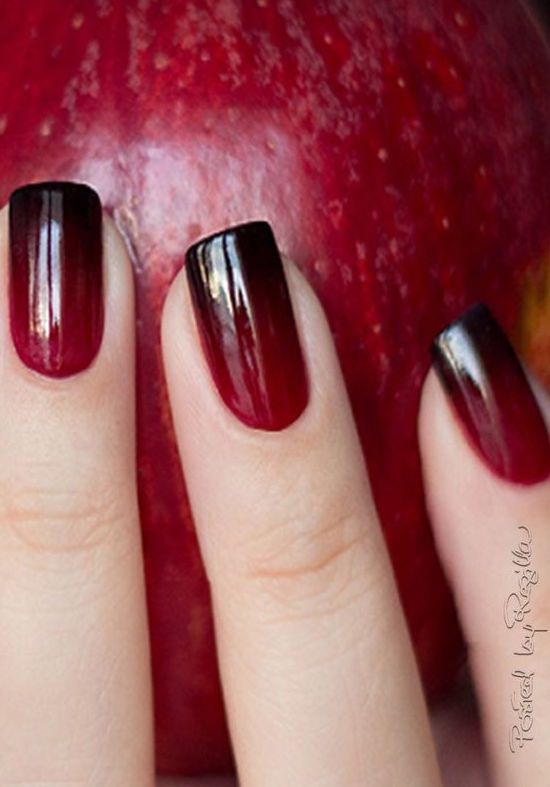 Graphic Nail Art: Make a Statement
Graphic nail art incorporates geometric shapes and symbols to create exciting designs. This can be as busy as Aztec-inspired looks or as simple as a solo lightning bolt painted onto a bare nail. Graphic looks can overlap into minimalism but for the most part, they are more daring. We're fans of the cubist, plaid and logo designs.
Geometric accents
Popular with designers this season, geometric accents inspired by pop colours are all the rage. Think less geometry from school, and more Picasso's Cubism from art class. We saw these graphic nails from Christian Siriano, Novis and Opening Ceremony. Nail artist Naomi Yasuda "took inspiration from pop colours and motifs from the collection" to create a graphic nail at Opening Ceremony Spring 2017.
We particularly like the playful blue hues that Novis combined with the negative space trend, sort of a nod to Mondrian's cubist paintings.
Plaid Nails
For a girlier look, plaid nail art might be your cup of tea. It's exactly as it sounds, a plaid print on your nails. It looks like a complex design to achieve, but a DIY plaid nail is doable with practice! Of course, in the meantime, you can always get one of our pros to help you out.
Plaid nails are a perfect look for a summer garden party, very Hamptons-esque, we think!
Logo nails: are your nails designer?
Branded tees have been big this year, and now you can rep your favourite brands on your nails. From Nike and Supreme, all the way to LV, Chanel and Balenciaga, everyone's getting in on the trend. Our favourites? Match your nails to your Nikes like New York nail artist Jessica Washick.  
Or go upscale and get your Guccis like below.
And the winner is…
Choosing the winner of this nail art battle is a tough decision! While we're usually into sophisticated, low-key designs at LeSalon, doesn't every girl want a bit of Gucci and Chanel, even if it's just on her nails? The minimalist designs are all suitable for the workplace while allowing the wearer to show off a bit of personality. We love how much personality and creativity can be expressed through the graphic designs – although your boss may disagree! It's a close fight, but we think we'll hand it to the graphic nail art!
What do you think? Minimalist or graphic nail art – who deserves the crown? Vote down below and share! If you liked this article, you'll probably love this article about bizarre nail art trends. Give our blog a visit as we post all the latest beauty, wellness and nail trends and talk. 
And, hey, fancy a manicure? Get one with LeSalon today!