Meet Vicki Frost: Founder of Sign Connect
By Jennie Waeland, May 7 2020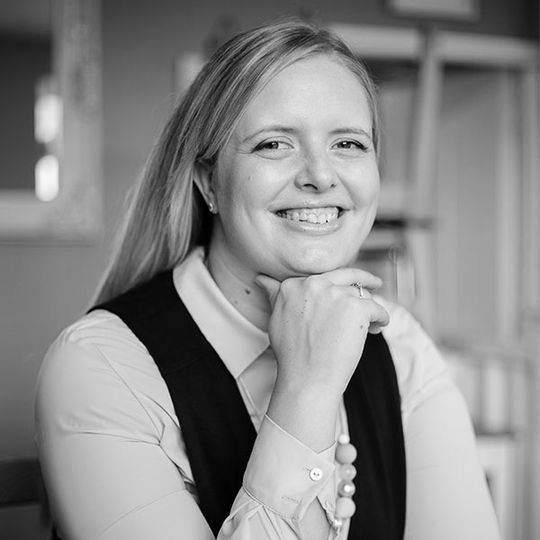 Communication is at the forefront of all relationships. Especially during this lockdown, we are all finding new ways to connect with each other. For many of us, we are lucky to be able to converse with ease, without worrying about misinterpretation. In light of Deaf Awareness Week, we had the pleasure of talking to Vicki Frost – the founder of Sign Connect. We chatted about all things communication, representation in the media, and more.
What is your personal connection to British Sign Language and the importance of communication?
I love BSL and I use it pretty much every day. I did my degree in BSL/ENG interpreting and have always found the language fascinating. People by nature want to communicate. Speaking the same language is an advantage but not a necessity. People will always find a way to communicate whether that be by speech, sign, gesture, pen, and paper or symbols, and pictures.
You set up your business, Sign Connect. Tell us how it works.
Sign Connect's aim is to make people's written content more accessible to those who struggle to read or cannot read. There are a lot of people who are Deaf, blind, autistic, dyslexic, have dementia and find it hard to access content in a written format. We take that content and we film it in Sign language. We then add a voice over and subtitles and then store the video as a QR code. This QR code is then attached to the original letter, website page, training pack, etc but has now raised the bar on accessibility. Your customers that see your content now know you want to communicate with them and include them. Once scanned this content will be able to be read, watched, or listened too.
How do you feel about the way disabilities are portrayed in the media and do you believe representation has improved in recent years?
I do think that representation has improved in recent years, but I still think there is a long way to go. We are starting to see more storylines and characters written that have disabilities, but there is still a tendency to have able-bodied actors play them which I think does the role a disservice. I think there has been a significant push to improve equality and diversity and I hope it continues to push forward over the next few years.
What challenges have you and your family faced in terms of communication?
I think we all struggle to communicate now and again, it's only natural. I think having family members with OCD, ADHD, Asperger's, and Dyslexia has given me the advantage of being able to phrase things in a number of ways until I identify which way is working best for that specific person. When someone has atypical behaviors it can be different to understand the perspective that person is coming from and sometimes a lot of reflection is needed to see things through a different lens. However, by taking the time to do this it can help you become much stronger together.
What advice would you give to a business looking to expand to a wider audience with specific communication needs?
Whenever a business is started they will have their specific audience in mind. A good rule of business is to always keep this focus in mind so that you stay on-brand with the services you deliver and who you deliver them too. I would say expanding the way in which you deliver this content is also a good thing to do. Your business for example may focus on working mums that require a certain service, but making sure you have subtitles on videos or sign language options helps include those working mums that need information in a different format. If in doubt do your research, who are you targeting? Contact the community and ask them directly.
Regarding COVID-19, how has it affected your business?
I would say that Covid-19 is definitely something that most businesses were not prepared for. I can work from home in terms of meetings and admin. However, this now needs to be balanced around homeschooling two children. Face to face interpreting has reduced as most people are not attending appointments or going into work. We do have some that will be held over skype or zoom but not many. I am taking this time to be with my family. We laugh, we play, we craft, we walk and I prepare what I can for what I will need when we are al back to normal.
How do you balance being a businesswoman and a mother?
This is a question I get asked a lot and I have to say that for me everyone's balance will be slightly different. No-one has the perfect balance as I don't think that really exists. I do the best I can. It's like a game of spinning plates. Home work, admin, work, children, play dates, school plays you can try and do as many as possible but ultimately you must come first. If you are exhausted you are no use to anyone and the plates will start to fall. Put one plate up at a time and see how you go. For me, I enjoy a very busy schedule with a thousand things going on at once, but for me that is comfortable. For some this is comfortable and for some this would be overwhelming. You can be a good mother as well as a good businesswoman but it does take planning. A plan that works for you, not the plan you think you should have because someone else does.
Where would you like to be in 5 years, both personally and professionally?
In five years both my children will be in secondary school and I will have completed my MA in Interpreting. I hope within the next 5 years to also complete a course on professional supervision so that I can supervise new interpreters and businesswomen coming into the industry.
In 5 years I hope for my company Sign Connect that many companies are using or QR technology as standard practice. Making sure content is available in sign, speech, and subtitles is only a positive addition to a companies content. It ensures more people can access it all at once without having to complain or ask for an adjustment. I hope within the next 5 years there will be some legislation that helps support this.
If you could go back in time and talk to your younger self, what advice would you give her?
I would say to just have faith in your ideas and run with them. There will always be someone there to support you, you just need to find the right people. I found the Prince's trust to be very supportive. Always think your idea through. Sketch it out, draw it, write notes, and then ask other people what they think and see what perspective they bring to the table. 
What makes you feel powerfully beautiful?
I love that I own my own businesses and that I achieved it on my own. I worked hard to get to where I am and I wouldn't change it for the world. It's a powerful thing to be able to provide for your family, especially when it's a business you made yourself.
Follow Sign Connect on Instagram, Twitter and Facebook.
Sign Connect Website: https://signconnectuk.com/