Meet The Team: Rich Edwards, Chief Growth Officer
By Jennie Waeland, February 12 2021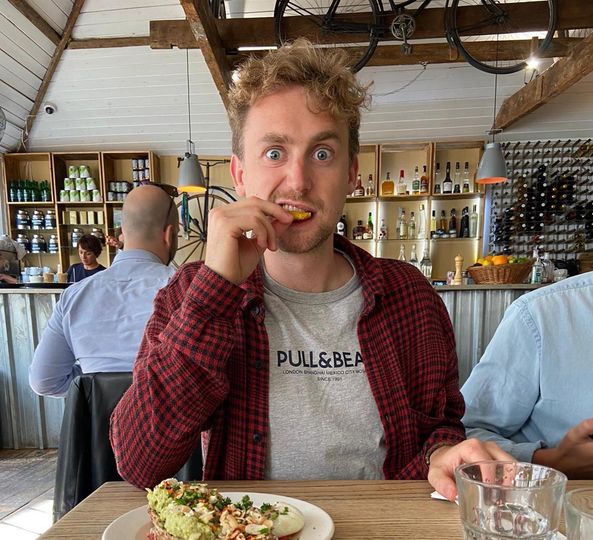 Adventure seeker, start-up enthusiast and Pitbull admirer (you'll have to read the article…), Rich is LeSalon's Chief Growth Officer. He spends the majority of his time speaking to our customers and our therapists to understand what they want from LeSalon and how we can bring these ideas to life.
Having always dreamed of being an entrepreneur, Rich has started two companies: Repairly and a tipi glamping site (@whitehouseglamping) back in his home county, Herefordshire (it's a great spot if you fancy some time away from the hustle and bustle of London; not that we're biased or anything…).
Soon after, he joined forces with LeSalon and has been with us ever since.
This week we asked Rich all the questions we know you've been dying to hear – check out his answers below!
What did you want to be when you were younger?
For as long as I can remember I wanted to be an entrepreneur. I remember always going with my Dad on trips to go look at properties and businesses. This had a really profound effect on me and started me off on a route in business
What does your day-to-day job entail?
I drive the development of our services and product so I'm constantly interviewing and speaking to our customers and therapists to understand what they want. I use these insights to help us develop new features and services that help our users.
I also look after the operations of the business, making sure that we're keeping customers and therapists happy and that we have enough therapists to fill appointments.
What's the best part about your job?
I really like building something from scratch. My job enables me to create growth within the company, which is exciting!
What's your favourite thing about working at LeSalon?
I joined LeSalon because I saw a team that I would love to work with. Two years on and I still love working with everyone at LeSalon. I also like that we are a young startup company meaning that we work on new and challenging things which is exciting to me.
What's your favourite treatment?
A nice relaxing massage. There's nothing better to loosen up and relax after a days work.
What's your favourite quote?
"There is no losing: only winning and learning" – I'm not sure who said that (Google tells me Pitbull but it would be rather embarrassing of me to post a Pitbull quote) but it's a great quote that helps remind me that even when things go wrong or I don't get the result that I wanted there is still something I can take from it.
I also like:
"There is only one success – to be able to spend your life in your own way" – Christopher Morley
What's your favourite LeSalon memory? (off-sites, parties, etc)
The LeSalon Olympics. One afternoon we all went to Shoreditch park to compete in a series of obstacle courses and team challenges – great fun!
What are your top 3 favourite podcasts/books?
Favourite podcast: My First Million
Book I'm currently reading: Buffett: The Making of an American Capitalist
What do you enjoy doing when you're not working?
Hiking, cycling, exercising and generally being outdoors or with friends and family. I'm also really into food and cooking.
What's your background? How did you get into your current role/the path etc.
I started by working for Hassle.com, an online marketplace for booking cleaners, where I helped them launch in new cities around the UK and grow the business. I learned a lot there, especially about marketing and what it's like to work in a fast growing company.
After Hassle, I started my own company called Repairly. Our start-up helped people with broken phones, our couriers would collect, repair and return a device in under 2 hours anywhere in London. This was a really formative experience for me. Building and growing a company was a lifelong dream. During the Repairly days I was good friends with Jean-Michel and after Repairly ended I joined forces with LeSalon.
Finally, I also run a company that I started back in my home county of Herefordshire. White House Glamping is a tipi glamping site in some of the Wye Valley's most beautiful countryside, if you're ever in the area, check us out 😉
What makes you feel 'powerfully beautiful'?
Exercise, eating well and a decent nights sleep make me feel at my best.