Meet Olivia Ferdi, Co-Founder of TRIP
By Zoe Greenwood, November 20 2020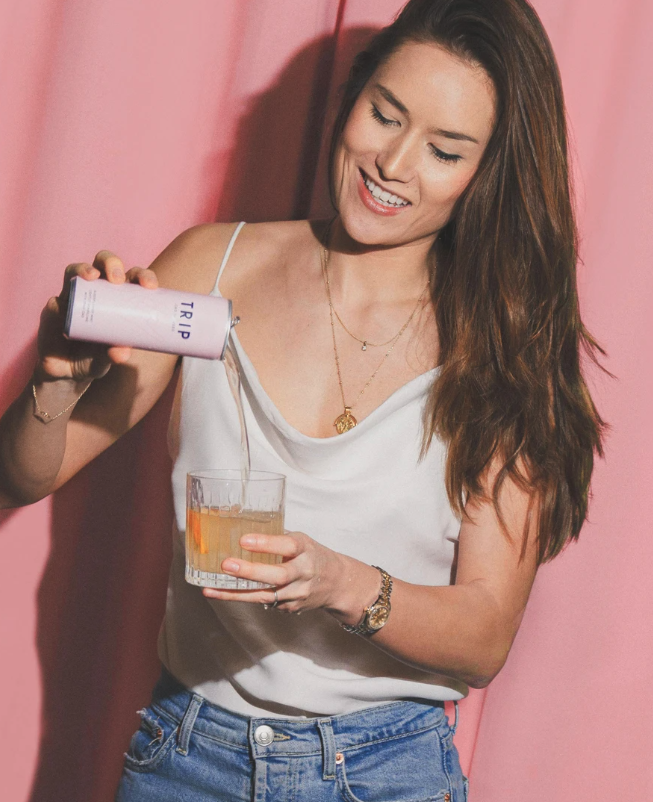 After a year full of stress and the unknown, there's no better time to introduce TRIP. Originally a lawyer, Olivia was introduced to the wondrous effects of CBD when her husband and co-founder, Dan, was recovering from knee surgery.
Olivia soon began incorporating CBD oils into her routine to eliminate the stresses of life in the city. Since then, she has transitioned her work to build a CBD infused empire, with oils and beverages designed to alleviate both physical and mental symptoms.
Today, we spoke to Olivia about the challenges of entering a start-up business, maintaining balance during the pandemic, and much more!
Hi Olivia, it's great to have you here with us! Could you tell us a bit more about yourself? 
Hi! Thanks so much for having me (virtually!), super honoured to be part of this! I am the co-founder of TRIP, along with my husband Dan. We created TRIP to share a bit of calm in the everyday chaos. Creating CBD experiences that are just as enjoyable to taste as the feeling after. I previously worked as a lawyer in the City, so this year has been a huge transition period for me, equal parts scary and unbelievably exciting.
And how did you get the idea of TRIP? 
We discovered the benefits of CBD back in 2018, when my husband (and co-founder) Daniel was recovering from knee surgery, just weeks before our wedding. He tried CBD oil to reduce pain and inflammation, and credits it with getting him down the aisle, and dancing all weekend! I then began to use it to alleviate daily anxieties while working as a lawyer in the City. We both then began reaching for CBD more and more but at that time couldn't find a product we loved, or that spoke to our personal values. The options were typically inaccessible in terms of branding, price point and quality, or just something you didn't feel comfortable taking in public or having on your desk at work. Tired of compromising we left our jobs in the City to create TRIP drinks, a convenient, accessible and delicious way to enjoy CBD and introduce thousands more to the CBD's incredible benefits.
Being a start-up entering into the beverage industry must pose a lot of challenges. What, if any, did you encounter when launching the brand?
One of our main challenges is education, we want people who have never tried CBD to be able to understand what it is and how to use it & to feel comfortable in doing so. Not all CBD is created equal, so at TRIP we work hard to ensure we only use ingredients of the highest quality and purity, taking the stress out of our consumers' hands. We made our drinks so that everyone could have an accessible entry point into exploring the benefits of CBD and we have seen an incredible reaction to them, and the space that they create for conversation and education surrounding CBD.
Along with these, both myself and Dan were completely new to the FMCG world, having worked in law and finance, so we are very much learning as we go. We tackle new challenges everyday, but have built a great network of other entrepreneurs to share ideas with and are so thankful to many people who have taken time to share their experiences and expertise with us. We have found that the support system between brands and entrepreneurs in this industry has been fantastic.
If you had to give one piece of advice to other women starting their own company, what would it be?
It is hard to pick just one bit of advice, but it all starts with the initial product or service. Is there a need for it? Test it out on friends and family, take feedback on board and be flexible to adapt. Be prepared for a lot of people to challenge your mission, especially with a disruptive product, it can get pretty tough at times. So make sure to have a strong support system, both professionally and personally; be kind, be open and build your network.
How has the CBD industry changed since launching TRIP and where do you see it going? 
We launched back in 2019, as there was nothing in the UK market that matched our needs. Since then we have seen an incredible response to our products, it has only become clearer how much demand has grown and continues to increase. The CBD industry is going from strength to strength, and has become a frequent topic in mainstream media where it is reported on almost daily, given the important conversation happening around wellbeing, mental health and the on-going pandemic creating new pressures at home and work. With TRIP features in Vogue, Forbes, The Guardian, The Evening Standard and more, we're keen to lead this important conversation amidst wider discussions on everyday wellbeing and burnout – given how much we've found CBD to help us navigate the daily grind.
We look forward to further growth in the industry, as the UK population reach for CBD more than ever.
This year has been a struggle for many businesses – what impact, if any, did lockdown have on TRIP? 
The past year has been a tough time for everyone, and especially our partners in the hospitality and fitness industry – so we are hoping for a better year next year! For the CBD industry and TRIP specifically the coronavirus established new routines, as more and more people turned to CBD to relieve stress  TRIP's own e-commerce saw over 400% growth within the first month of lockdown. During this period we even brought forward the launch of our CBD oils, as our community was asking for them. We make a lot of decisions based on our community and launched them to overwhelming pre-order demand.
This demand has only grown, leading TRIP to launch the first CBD store on Deliveroo, delivering CBD to customers within 30 minutes across the UK. The current challenges include managing supply with demand, and continuing to partner with our retailers to engage with consumers looking for information and education in this space.
What are your hopes for TRIP in the next 5 years? 
We created TRIP to share a bit of calm in the everyday chaos. CBD experiences that are just as enjoyable to taste as the feeling after. Products with amazing flavour that leave you more productive, less stressed and more you. TRIP has already brought thousands of new users to CBD, to enjoy its benefits. Long term, we hope to continue to provide those products to our customers, and continue to build our community – our new products will be created when we see a clear need for them!
What's your personal attitude towards beauty and wellness? 
I started taking CBD back when I was working in the City as a tool to help me feel more calm, balanced and to look after myself during the chaos of everyday life. Since leaving that role, founding TRIP and becoming part of the wellness space, wellness has gone from just being part of my personal routine to a core part of my life!
Wellness and beauty become part of a daily ritual for me, whether that is taking a few drops of CBD before a big meeting to help me feel calm or getting all dressed up for a dinner at home to make lockdown more interesting!
And, how do you, personally, maintain balance in these unsettling times? 
We made TRIP to help people find calm in the everyday chaos – and encourage our community to create new rituals, mark the moments and reset. That might be taking a break from work, relaxing with friends after a long day, or finding quiet time for yourself before sleeping. It's different for everyone.
For me, my rituals for maintaining balance have changed multiple times over during this strange period but generally we'll stroll to the park everyday to exercise, and try and enjoy time outside and closeness to nature. I have been starting my day with our TRIP Cold Brew Coffee and finding it really sets me up for a productive morning. We make sure we end the work day by putting on a favourite playlist and enjoying a TRIP cocktail while we prep dinner. With home/work increasingly blurred, this has become our evening ritual to help us unwind and mark the end of the work day.
At LeSalon, we understand that beauty means something different to everyone and we want to empower people to feel their best possible selves. What makes you feel powerfully beautiful? 
I feel my best self, when I have had a moment to check in, reset and prepare for the day ahead. Whether that is sipping on a TRIP CBD infused Cold Brew Coffee, my morning shower or spraying on my favourite perfume, having that space in the morning is so important to set the mood for the day, and to enable me to be my best self.