If you're going to get a wax, you're going to do it right. No one is ever in the mood to get a wax, but it's always worth it once it's been done. So, just for you guys, we've put together a list which includes 5 of the best places in London to get a wax, and hopefully all with minimal pain. There's nothing worse than having a waxer that doesn't agree with ripping it off like a band-aid.
A salon purely made for waxing. If you can't find painless, perfect waxing here, then we don't see much luck for you anywhere else. They are known for their speedy waxing (30 minutes flat) and providing you with the ultimate baby smooth skin. Having tested and experimented with countless new techniques, Ministry of Waxing has determined the best Brazilian techniques to provide a less painful and more elegant waxing experience.
Where: Salons based in Chelsea, Holborn, Islington, Mayfair, and Neal Street.
Delivering a relaxed and luxurious environment where you're certain to unwind and get a gorgeous wax while you're at it. The salon gives off country vibes and tranquil settings meaning beauty on the go has never been easier.  Known for its variety of beauty treatments, Cowshed offers relaxing and painless (well as painless as they can be) waxes and whether you're in for a quick stop-off or you want to take your time and eat some cake, Cowshed brings you friendly surroundings.
Where: Foubert's Place, Soho, London, W1F 7QG
With specialist waxing therapists and a range of post-wax products, you will be provided with the best possible experience. Strip Wax Bar focuses purely on waxing – whether that's brows, Brazilian, legs or even pregnancy waxes, customers are always pleased with the services. Even better, high-quality Lycon wax is used for each treatment to ensure you have the most pain-free wax ever…no wonder it's raved about by beauty enthusiasts.
Where: Salons based in Soho, Chelsea, Notting Hill, and Loughton.
Since 2001, Aveda Institute has been providing customers with exceptional services and therapists. Their expert beauticians use plant-based healing treatments during services which helps restore our inner balance meaning you're bound to leave in a relaxed state. While this may seem hard to believe, – we mean, "waxing' and "relaxed' don't really go hand in hand, Aveda Institute strive to do as much as they can by offering soothing rooms, uplifting environments, and calming candles.
Where: 174 High Holborn, Covent Garden, London, WC1V 7AA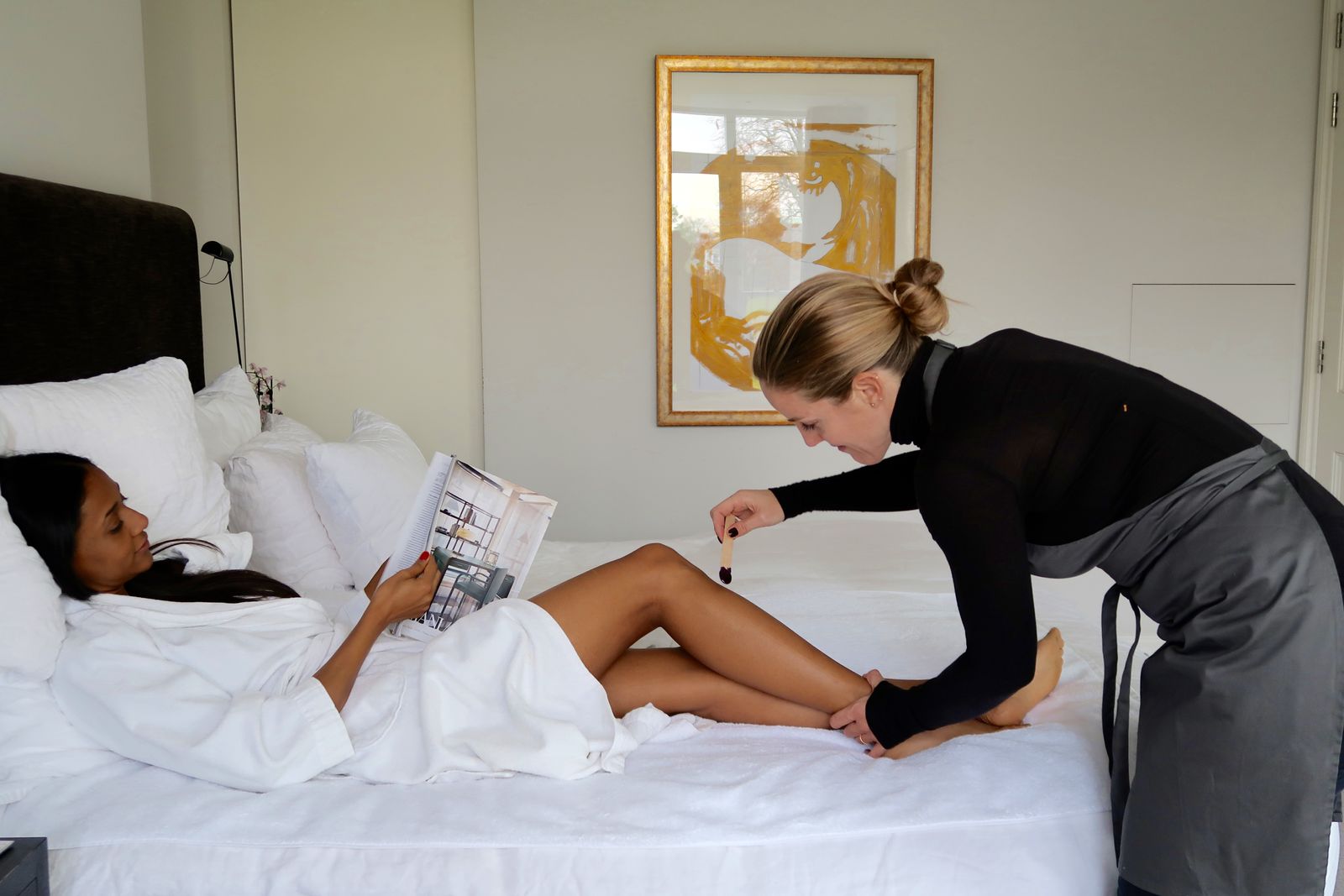 It's getting colder and it's starting to rain. It's Winter. Not everyone fancies going out to get a wax. In fact, you're probably thinking that it's not even worth it. Fortunately, LeSalon brings the waxer to you, so you don't have to worry about getting out of bed…well, maybe once to open the door. With LeSalon, you can get a variety of wax treatments: full body, arms, legs, bikini, and all in the comfort of your own home.
Where: Your home, office or hotel within London zones 1 – 5.
Hopefully, after reading this, you've found the waxing salon that is right for you. Obviously, when you're looking to get a wax, you want to least painful experience available which might sound impossible. But, with constant updates to waxing techniques, beauty therapists have been able to provide treatments that help mask the pain.