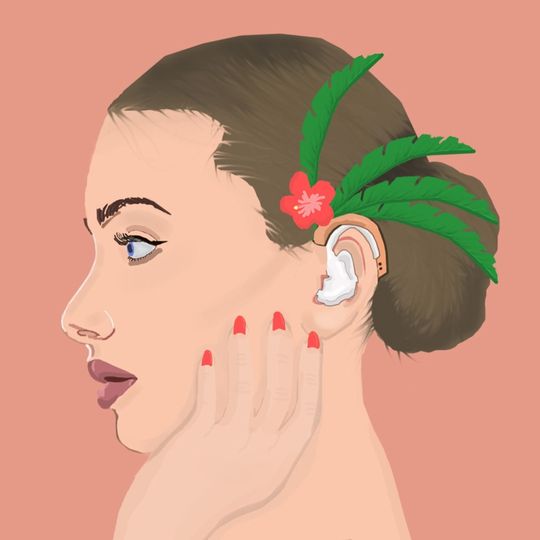 As you may be aware, this week is National Deaf Awareness Week. Over on our Instagram page, we have shared some of our favourite tools, apps and beauty bloggers that cater to deaf and hard of hearing audiences. We have condensed this information into one blog post to highlight our favourites. 
Did you know that, according to totaljobs.com, 56% of deaf or hard of hearing employees have experienced discrimmination during their career. That resulted in:
62% from colleagues

53% from management 

37% during an interview
What's more, 19% haven't even told their employer that they are deaf. 
Fortunately there are many companies that cater to deaf and hard of hearing audiences. Here are some of our favourites. 
Companies that cater to deaf audiences
Sign Connect –
Sign Connect is a company that specializes in creating accessible content. If written documents are hard to understand, you can send your document to Sign Connect and they will create a video for you, using British Sign Language, subtitles and voice over. They send this video back to you in a QR code format. 
You can access them via Facebook, Instagram and their official website. 
BAMMakeup –
Bath Academy of Media Makeup offers a Bridal makeup course to deaf and hard of hearing students, as well as anybody with a level 3 in British Sign Language. The course is taught by deaf professional makeup artist Kellie Moody. 
You can access more information about the course here.
It is a company that connects deaf people with deaf-friendly businesses, events and activities. 
An organization that brings deaf communities together, recruiting for jobs and sourcing general information which is useful for deaf individuals. 
A job searching website, which has a category for disabled individuals to find suitable jobs. 
A charity supporting individuals with hearing loss, tinnitus and deafness.
Deaf Makeup Artists and YouTubers
In the online industry, there are more beauty and content creators than we can imagine and yet only a fraction of them are deaf or cater to deaf audiences. Louie Jenson, a deaf makeup artist on Instagram, stated in a Bustle article "As of today it can be hard to learn about makeup whilst being deaf due to many things, such as vast majority of beauty videos not having captions, bloggers forgetting to show the names of their products or even just the hassle of trying to get help from professionals". 
We can easily take for granted watching a video without thinking about subtitles or not understanding what is being said. In fact, YouTube used automatic closed captions which can be completely incorrect, therefore it is important for more content creators to create their own subtitles. Here are a few of our favourites:
Jazzy Whipps 
Going by the name 'Jazzy' on YouTube, she is a British YouTuber who has amassed 205k subscribers. Her videos are mainly focused on informative, deaf-centered content such as 'Deaf Chinese Whispers… lipreading only', 'My Mum goes deaf for a day' and 'Can my hearing family understand my deaf voice?'. Jazzy communicates on her videos via optional subtitles and British Sign Language, she does not tend to use her voice. Jazzy also uploads makeup tutorials, advice videos and testing products. She was diagnosed as profoundly deaf at only ten months old. 
You can find Jazzy on YouTube and Instagram
Kellie Moody
Kelly is a profoundly deaf professional makeup artist, having worked for Charlotte Tilbury, Mac. She has since become a makeup artist for BBC and Sky TV. Kelly has worked all over the world from Ibiza to Bath and doesn't let her hearing disability stop her from living her dream career. She is also currently teaching 'Bridal and Editorial Makeup Course for the Deaf' at Bath Academy of Media Makeup. She stated "Like many young Deaf people, I was told that I could not pursue this dream job because of my deafness and 'difficulties with communication', so I was encouraged to pursue a career with minimal contact with the public."
You can find Kellie on Instagram and via her website.
Jessica Kellgren-Fozard
Jessica is a British YouTuber and content creator, known for her vintage beauty and fashion. She is deaf and has both MCTD (an autoimmune disorder) and HNPP (a nerve disorder. Jessica uses her social media to educate on her disabilities and how they don't hold her back. She has a mixture of advice videos such as 'I followed a 1950s skincare routine for a week', 'Being 'the disabled one' in university' and '10 disability misconceptions'. 
You can find Jessica on Instagram and YouTube.
Advice for communication 
Conversations can be quite different so here are our top communication tips on how you can improve your conversational skills and what to avoid. 
Do:
Enunciate when speaking to make it easier to lip-read

Include hand gestures, even if they are not BSL. This may help with understanding

Speak slowly

Use eye contact when speaking

Repeat or rephrase if necessary

Make sure you have attention before speaking

It is advisable to choose simpler words over complicated words, especially for older people

Incorporate subtitles on videos where possible 

Provide multiple options for customers to contact your brand – eg, video call
Don't:
Turn away when speaking 

Give up or say 'never mind' if there is communication confusion
Charities
There are a number of organisations and charities that can help you if you have hearing disabilities. Many of these organisations have a deaf-based community. 
We hope that this information is helpful to you and wish you a happy National Deaf Awareness Week.