The Eyeshadow Palette That Is Giving Us All The Vibes
By Zoe Greenwood, January 10 2019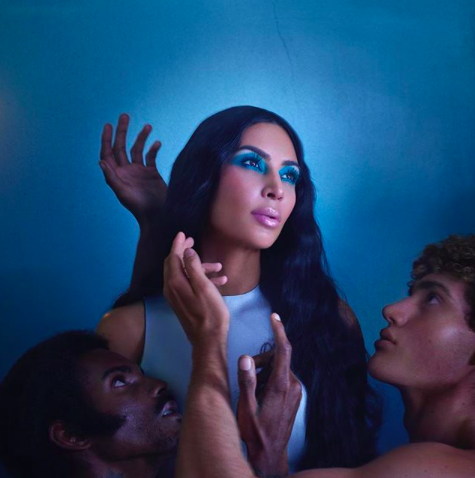 Unless you've been living under a rock, you'll know that Kim Kardashian's new makeup collection is all the talk. Whether it's about her steamy photo shoot, Chicago's first modelling appearance or the gorgeous and glittery shades in the collection, you will have heard anything and everything about it. After all, all publicity is good publicity.
The Flashing Lights collection features 14 fabulous colours in both pressed powders and loose powders and can be bought separately or in sets. Now we're all aware of Kim Kardashian's love for neutral shades, but this collection takes us all by surprise. Giving off major festival vibes, the eyeshadows are full of blues, golds, pinks, and purples – a huge contrast to previous collections, but we're definitely not complaining.
And it wouldn't be a Kardashian collection without some fun names for the eyeshadows…
Pressed Powders:
    

Freaky – Metallic Scarlet

    

Big Bank – Metallic Warm Gold Bronze

    

New Drip – Metallic Royal Blue

    

Flashy – Metallic Bright Pink

    

Bands – Metallic Teal

    

Extra – Metallic Bright Purple

    

Glass – Metallic Bright Silver shade
Loose Powders:
    

Fire – Fuchsia with a hot pink flip

    

Rollie – Hot pink with a yellow gold flip

    

Ice Glaze – Blue with a pinky red flip

    

High Key – Blue pink with a champagne gold flip

    

Guap – Teal green with a gold flip

    

Floss – Pinky purple with a pink flip

    

Grill – Bright silver
Eyeshadows can always be a tricky purchase, especially with Kardashian price tags attached…is it worth it? Will I use it? But, whether you're new to the eyeshadow world or you've been an eyeshadow queen for years, we're here to help you decide whether this is a worthy purchase or not.
Unless you're one of those people who makes an effort all day every day, then you're unlikely going to be opting for bold eyeshadow looks daily. But that doesn't mean the palette doesn't have any use.
How to use loose powders…
The collection features a group of loose powders which is the ultimate way of getting that glow we've all been searching for. Simply use a brush or even your finger (we're not all MUA's after all) to sweep over your cheekbones and body for your desired glow. The best powders, in our opinion, for a natural (but blinding) highlight will be High Key and Grill, but if you're feeling fun why not add a hint of blue or purple to your look?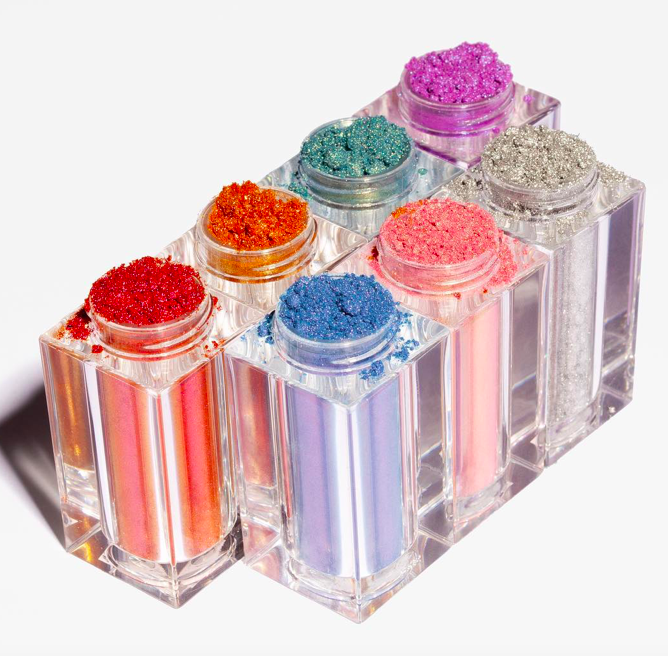 How to use pressed powders…
Also, remember that just because these are bright, pigmented colours, it doesn't mean you can't create a natural look with them. When it comes to dramatic eye looks, they usually involve a lot of patting on a colour, blending, patting on some more colour and blending again. Instead, with a brush or your finger, lightly pat the colour you want and swipe over your eyelids – this will create a colourful and shimmering, but subtle look. You have full control over the intensity of your look!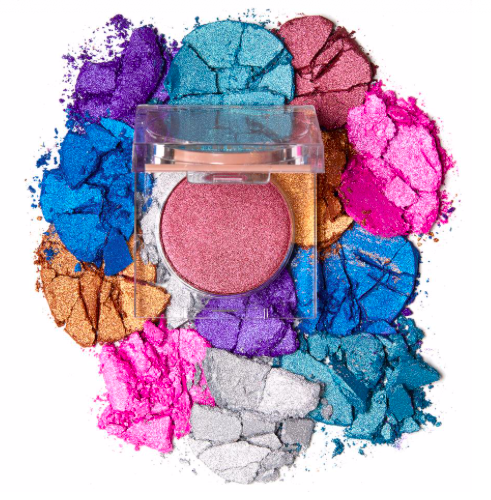 As you see, we're all for these makeup collections, especially comes to bright colours because we're always looking to make a statement. And shimmering shadows is one of the biggest trends this season, so get creating!
To make it even cuter, Kim K's youngest, baby Chicago, made the most adorable appearance during her shoots. Now that's definitely one way of getting publicity – who can ignore a cute baby?
If you liked this post, make sure to check out our blog where we talk about all things beauty! Also, check out our services for a fabulous at-home treatment.