Meet Joanna Montgomery: Founder of Little Riot
By Zoe Greenwood, May 29 2020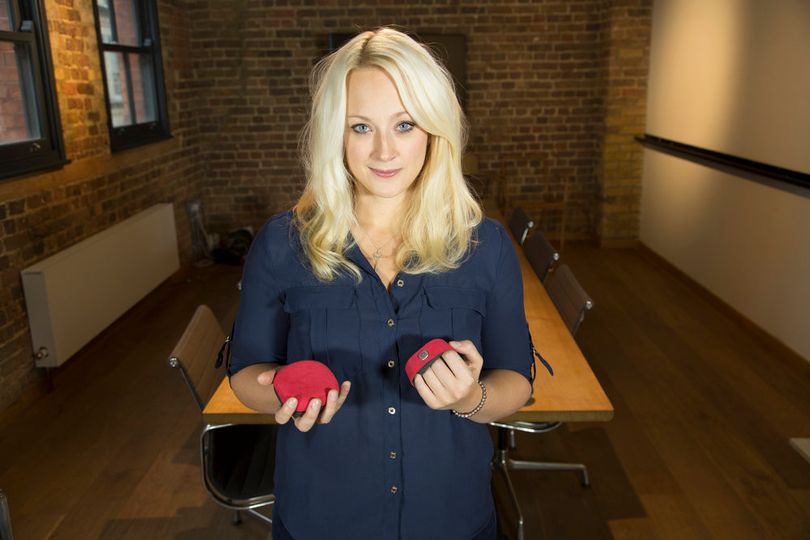 We live in a digital world. We're constantly checking social media, replying to friends, looking at our emails that we've become so disconnected from the real world. In a lockdown, this only becomes more visible. Joanna Montgomery founded Little Riot to make technology more human, to help people feel more connected without having to constantly use their devices. We were very excited to connect with Jo to talk about Little Riot and her journey into the entrepreneurial world.
Welcome Joanna, great to have you with us! Tell us a little bit about Little Riot – where did the inspiration come from?


Our aim is to make technology more human. We make a product called Pillow Talk which connects you with a loved one when you can't physically be in the same place as them. We do this by picking your heartbeat using a sensor, and then we play the sound and feel of your heartbeat into a small device the other person has. It means if you're away from your partner, or your child, you can have an ambient sense of their presence, and still feel close to them. We sell a consumer product into about 55 countries, and over the last couple of years, we've been working with children's hospitals to connect sick kids with their parents.

It all started back when I was studying interaction design at university. It was a really exciting time to be working on human-computer interaction – the first iPhone had just come out, and everyone was really excited about our new, super-connected world. I was more hesitant – sure, smartphones were cool, but what was our world going to look like in 5 or 10 years' time when we were all face-down in devices most of the time? I wanted to build technology that was more in line with how we naturally communicate and spend time with each other as humans. I set out to make something that would give you a sense of a loved one's presence – helping you feel connected without having to constantly engage with a device. And so Pillow Talk was born.
And, the name – how did you come up with it?


It was titled Pillow Talk when it was my university project as it was initially aimed at couples in long-distance relationships, and then it ended up going viral on the internet, so the name just stuck.

We gave the business a different name – Little Riot – to act as a platform from which to launch other ideas and products. As it turns out, we've never deviated too far from the core product! 
Tell us about the journey. Did you face any difficulties in starting up your own business and challenges along the way?


Where to start?! My business is almost 10 years old, so a lot has happened along the way. I guess the earliest difficulties were just due to being 'ahead of the curve'… in some ways, it was great because we got a lot of attention for the 'innovation' aspect of things, but it was harder in other ways. For starters, the technology wasn't really there for what we were trying to build – Bluetooth wasn't mainstream and batteries were still big. We were fortunate in that our potential customers were loyal early adopters of the concept, but often trying to convince funders or partners was a whole different conversation. We were building a heart-rate wristband 3 years before the first Fitbit launched. I remember an investor telling me that "people would never wear technology on their wrists"…!

And then along the way, there were many, many other challenges. One year my investors tried to shut me down on Christmas Eve, or there was the time I got sued by a company claiming my product infringed their 'Sex Machine'… trust me, I've seen it all.
Little Riot is all about connecting people through technology. Where do you see the industry going in terms of human-focused technology?


I think the silver-lining of the pandemic is that the world has had an awakening on a lot of fronts. More than ever we are realising the limits of technology, the way it disconnects us from ourselves and each other, not to mention the negative impact it can have. For example, if you've been self-isolating and spending all of your time on social media, you're probably not feeling too good. So I think the industry will be under pressure to do better as a whole. We need calmer, kinder technology.

The world is suddenly appreciating how much we need human connection and how existing technology doesn't really cut it. I think that a video call is fine if it's just here and there. But when that's your only means of connecting with someone you love, it's not enough. For example, we've seen a huge increase in inquiries from hospitals because you have people there who are literally dying alone because their friends and family are not allowed in the COVID wards – and that's just horrible. Our product is helping in situations like that, for both sides: the person who is alone, but also the loved ones who are able to do something for them.
Let's talk about Covid-19. Obviously, there are people who can't be with their loved ones at the moment, but there's also those who are maintaining relationships while they're locked in the same room – what advice would you give to people during these times?


Well, I'm not a therapist but in my experience, the key to any relationship – romantic, family, friendship, work – is always communication. As long as you can continue to communicate properly, everything is fixable. If you can make it clear what your needs and expectations are, or tell someone when they have hurt or offended you, as long as that person also has the skills to meet you in a non-conflicting way, you can work through anything. Although I appreciate that's often easier said than done, especially in a situation where people are stressed and locked into a house together for weeks on end!
I feel that this could be great for your business. Has it had any impact on your business?


It has definitely increased demand. Our market used to be mainly couples in long-distance relationships, or parents that spend time away from their kids, but now millions of people around the world are in situations where they can't physically be with each other. Many key workers aren't going home to their families after they've been in a COVID ward all day, a lot of elderly people are isolating alone, and a lot of people are in alone in hospitals. Hospitals are a really important one; not only people who are battling COVID, but things like new parents who are having babies and their partner is not allowed in – the only way they can see their child is through a glass window.
And you, personally, how have you been managing lockdown life?


Honestly, I really like it, and I know I'm really privileged to like it. I'm a massive introvert so I'm really comfortable in my own company. I usually travel a lot, so this has been the longest I've been in one place for about 6 years which has been strange but good. It's nice to properly live in my house!

I've always run my own business which means I'm pretty good at managing my time. I've been more productive than normal, and I enjoy having time to read, to learn, to grow some vegetables. I know a lot of people aren't having a good time, so I feel very grateful to be okay with it.
We hear that having a good routine is important when staying at home. Do you have a particular routine that you follow?


After the first week or so of lockdown, I realised that I hadn't gone outside at all. I would get out of bed in the morning, shuffle from the bedroom to the living room, make coffee, open my laptop, and just sit there – sometimes for 18 hours a day. I ended up wondering why I had to wear my glasses all the time, and then I realised it was probably because I was staring at my screen constantly, in a way that just doesn't happen in normal life. We maybe THINK we spend all our time on our computers, but it's broken up by commuting to work, going to meetings, popping out for lunch, grabbing a coffee, the journey home, etc.

Now I have a list of things I try to achieve every day: hit 10,000 steps, read a chapter of a book, do 100 push-ups, practice a language. Having a 'task list' helps break up my day and stops me from sitting like a zombie. I have a timer set for every hour to remind me to get up and move.
What's the beauty treatment you miss getting the most?


Like most people, I'm long overdue a haircut, and my gel nails have grown out almost to some sort of tragic version of maroon French tips. Although it's probably been good for them to have a break.
We believe that beauty means something different to everyone – whether that's being able to work on your own terms, wearing that perfect dress, or being able to get your nails done whenever you want. What makes you feel powerfully beautiful?


I compete in weightlifting and I think feeling strong and healthy is very empowering. If I've been travelling a lot or work has been busy and I've missed too many training sessions, I really notice a change within myself. I enjoy it for various reasons – the training helps me clear my head, and I like my physical self a lot better when I feel athletic and healthy.