Meet Helene Guillaume, Founder of Wild AI
By Zoe Greenwood, December 1 2020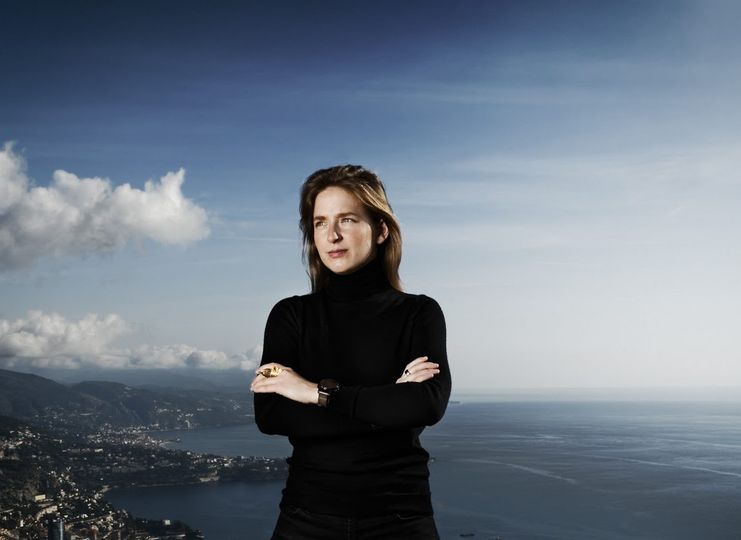 "Women are not men. But the world didn't know". Something that seems to be obvious to the majority of us, but has been ignored by many fitness companies. Helene Guillaume, founder of Wild AI, went on the mission to challenge the current fitness market by creating technology that serves women; that understands the needs and changes that females go through daily. This week, we spoke to Helene about her journey into the femtech industry.
Welcome Helene, great to have you with us! Tell us a little bit about WILD.AI – where did your inspiration come from? 
I couldn't deal with the messaging commonly used for my gender – moody, bitchy, fragile… I didn't recognize myself in those terms, and was not OK with the status quo: seeing women with issues – such as IBS, endometriosis – ignored. If there is an issue, there must be a solution. 
So we went into groundwork exploration mode. We conducted extensive research on "what a woman is", translated that into an app, helping women train, fuel, and recover based on their menstrual cycle (and for menopause too). We are now getting ready to be able to plug that knowledge into any service, product or device women are using – that are effectively today "mentech".
And, the name – how did you come up with it? 
Ha! I love the name. I was called a wild child, and guess just became a wild woman. WILD.AI seem to oppose two contradictory principles – the structure of the AI, data science, tracking, rules; and unleashing your wilderness. 
But actually, if you know the rules, you can go beyond. It's the idea behind the company. 
As a society, we haven't understood the female body, which means we've been caped in terms of using it at our full potential. Through our research, by using the app, tracking your body, you learn about it – and how to push your boundaries. It also teaches us to be in harmony with this incredible machine that is the female body: go with it, not against it. 
Unleashing the beast in women.
Tell us about the journey – did you face any difficulties or challenges in starting up your own business?
Of course. From investors not understanding our "niche" market, to the months of iterations on the product to get it right. A dream investor pulling out, the demo not working, a big launch aborted due to COVID19.
Getting tackled, and standing up again. And again. But keeping sight of the north star. Sports taught me resilience. As we were surfing, a friend told me an analogy I particularly like. Surfing is most of the time paddling, hoping for that wave, attempting, and failing. But you know, you remember, that feeling of sliding on a perfect wave – that lasts a few seconds. 
It's like the founder journey. You paddle, really hard, and fail. Again, and again. And eventually, you get it. For a bit. Then it's hard again. 
We had some breakthroughs, we now have members who love our product, a team who is passionate, investors who back and trust us, some of the best researchers and athletes in the world who know that what we are doing will change the status quo. That is worth all the paddling in the world.
How exactly does WILD.AI differ to fitness trackers that are currently on the market? 
There are sports. 
And female sports.
Health, and female health.
Fitness apps. And female fitness apps. 
What it means, is that the other products are not for "everyone". There are for men. We are for women. This makes us entirely different. 
To give you some examples of how the body and needs change: before our periods, a female body may be bloated – she needs increased hydration; at ovulation, her body opens up to get pregnant, every month; ACL is a typically female injury, correlated with ovulation. We metabolise carbs and fats differently depending on where we are in our menstrual cycle. By not understanding those, we have constant instabilities – which we don't need to have.
You've obviously been a huge part in challenging the status-quo and creating technology that thinks of the differences in a female body. How do you think the fitness industry has changed over the past decade?
Mike LaVigne, our CPO, was the co-founder of Clue – they invented the word "FemTech". If now investors still call it "a niche", back then it was way worse. We've come a long way, and Mike has played a big role in that. We're incredibly lucky to have assembled the team we have, with leaders in their field – another one being Dr. Stacy Sims, whose research is at the crossway of female physiology and sports. Things have changed, but not fast enough. 
When I pitch, most of my time is still on educating the crowd. People usually have never heard the examples I gave you above. I think it's everyone's responsibility to educate themselves on what girls, women are going through. It's part of our mission, but a lot of people still believe that ignorance is ok. 
What has changed though, is the willingness to change this. We've seen it by being sponsored by Adidas for instance, who has a real pro-active willingness to change the face of sports.
Is Wild AI beneficial to all women, or is it specifically for female athletes? If so, how? 
As Nike founder said,"If you have a body, you are an athlete". It is what we mean, too.
Our aim is to serve women at all age, life stage, and ethnicity. This is work in progress.
We were helping women train, fuel, and recover based on their menstrual cycle – this was excluding a huge and very active part of the population – menopausal women. They call themselves "the forgotten athletes". They were asking us to serve them, too. And we have now done the research and are able to serve them.
If we sit back here in 5 years, where do you see yourself with WILD.AI? 
There was a great tweet from a Oura ring user, asking them to fix the readiness scoring for the female body. If you look at all products, services, devices women use – Oura ring, Apple watch, Weight watchers nutrition plans – those are all made based on male physiology.
Our app is the first use case using 3 underlying blocks: female physiology knowledge, our algorithms, and data. 
In 5 years time, we aim to serve all the products, services and devices out there, with those 3 building blocks, through an API.  
If there are 500 million women using smartphones with health and fitness apps on it, we want to serve every single one of them. We are creating a future where every woman on the planet can access the knowledge, support and power to perform.
Let's talk a bit about COVID-19. How should female athletes approach fitness and training during the current pandemic? Is there anything that should be done differently seeing as many sports venues/clubs have had to close? 
Absolutely. It's particularly interesting as our immune system fluctuates with our menstrual cycle. 
We have adapted WILD.AI to help women build a strong underlying immune system – as important training loads can reduce immunity. 
At ovulation for instance, our immune system lowers (we are basically opening to external elements) – so it is best to keep cardiovascular work to low intensity; but estrogen is high so it's optimal to hit resistance training to maximise the anabolic stimulus of estrogen. 
Just before our periods – the fifth phase of the menstrual cycle – immunity is anti-inflammatory, but hormones are at their highest, leading to potential premenstrual symptoms: this is the deload time from a training perspective, where focus should be on technique and movement efficiency. These are some high level insights on how we fluctuate and can best prepare our bodies. We cover this in more details in the app – including nutrition and optimal recovery recommendations. 
And you, how have you been managing lockdown life? 
I'm good. It's been interesting and weird times. I tried to keep Churchill's moto "never let a good crisis go to waste" in mind. 
I built a fortress in my flat to be able to stay there for months if needed. The team was incredible; business wise it was good for us, as women are more than ever keen to work on their health. 
Personally, I also focused on being healthy, trying to reduce stress related to all external factors and divorcing a week before lock down. I've been extremely prudent early on. I'm in a privileged situation compared to many people, with no kids home for instance. Creating a healthy environment and routine – no devices in the bedroom, often intermittent fasting. In London we have always been able to go outdoors – I missed swimming, a lot – but otherwise I've been on my bike and running. 
Now that we have a little bit more liberties, I started surfing again, training martial arts. Not travelling abroad means I have more time to sleep well, and reduce speed overall. A welcome break. But far from my family. But many people around are suffering, and that is hard. 
Here at LeSalon, we have a motto which is "Powerfully Beautiful" because we believe that beauty and self-care can help you feel more confident in achieving your goals. We understand that beauty means something different to everyone and it can be anything from flexible working to getting your nails done. Is there anything that you do that makes you feel powerfully beautiful? 
It's really interesting – as an athlete, I always thought that "beauty" was somehow the antonyme. But building our body to perform is a form of beauty. Our body is the best asset we'll ever have, and I – try! – to take good care of it. When I'm in training season, I love feeling my shoulders pumped and tired after a strong swim session, or my legs hurting after having conquered some hills cycling. It makes me feel strong and powerful. 
As women, we often have a weird perception of ourselves and confidence issues – if you tell a 12 year-old girl who has her periods for the second time to run like the other kids, and that's she's just moody and bitchy; she won't gain confidence in herself and her body. 
A woman who is active, who is racing, suddenly has this incredible boost of confidence. I love talking to our members and feel this. A confident woman entering a room is so powerful. By helping women understand their body, and unleash the power from it, we aim to increase this confidence and power.