Halloween nail art takeover: 5 of our favourite looks
By Kate Dooley, January 2 2019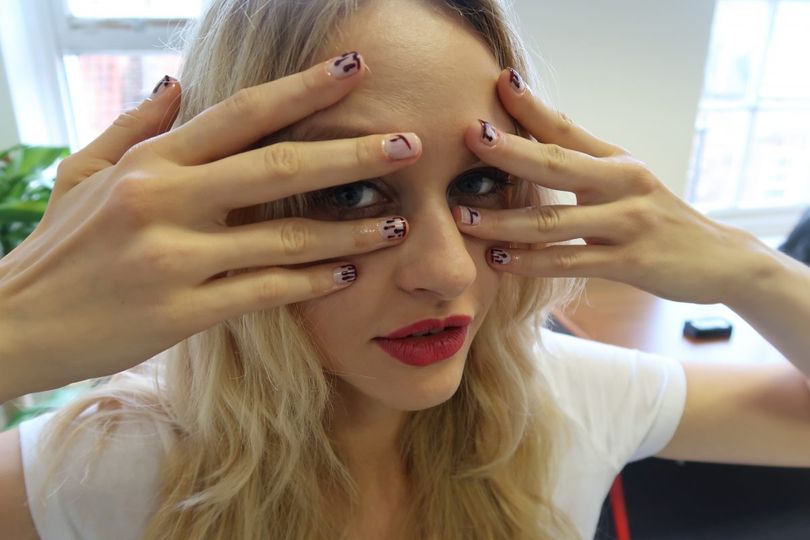 When posed with the age-old question "trick or treat?', we think it's always better to opt for the latter. So how about treating yourself to a Halloween inspired mani this October? Whether you're celebrating the holiday with your children, attending a spooky soiree with friends or you just want an excuse for frighteningly fabulous nails – we've got all the inspo you need. From minimalistic nail art looks to more striking seasonal spectacles, we've got something to suit everyone.
The Blood Splatter
If you want to give off that "fresh from a crime scene' kind of vibe this Halloween, you could incorporate some dripping blood into your manicure. The beauty of this option is that it's pretty adaptable; you can keep it understated by making it a feature on a couple of nails or go all out horror movie with a bolder look across all of the fingers. Either way, you're sure to shock any unsuspecting acquaintances.
Handy DIY tip: Use a toothpick to create the drips of blood.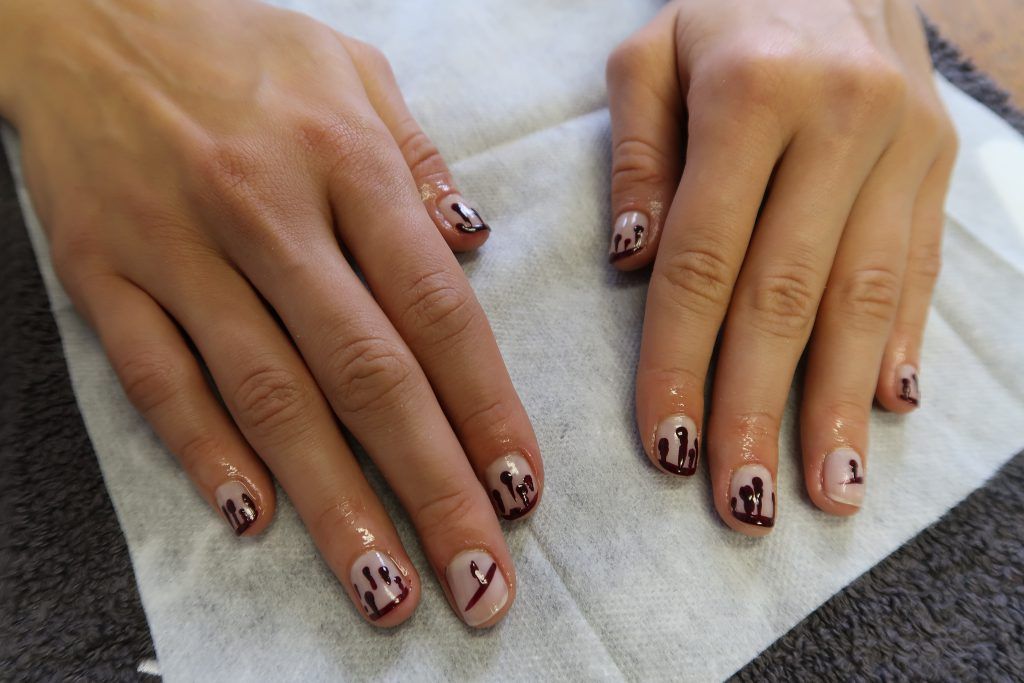 This look was achieved by a Le Salon technician.
The Frankenstein
Just like Frankenstein's monster, this look is far from flawless with its uneven colouration and random stitching, but that's what makes it brilliant! An easily achievable yet captivating creation, this look makes the perfect spooky statement this season. If you happen to be going to a fancy dress party, this option works particularly well with a zombie themed costume.
Handy DIY tip: Use a makeup sponge with the green nail paint to create texture and use a thin polish brush for the free hand stitches.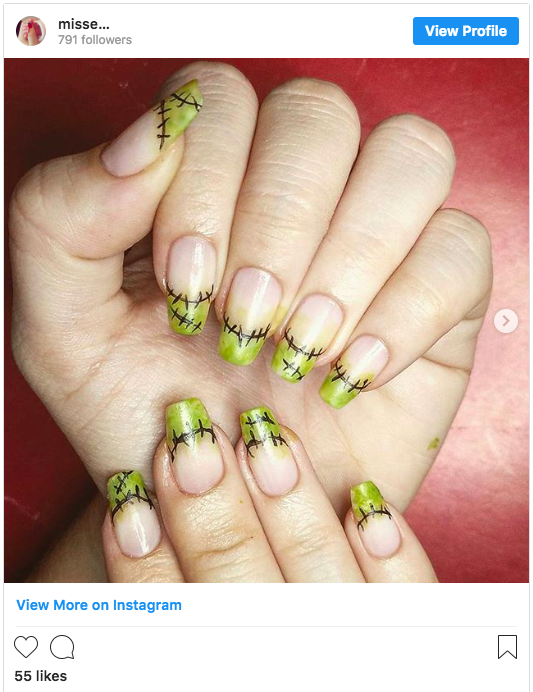 The Googly Eyed Monster
This devilishly cute design has bags of personality but remains subtle enough to compliment any outfit. Charming and cheeky, this option is one of our favourite looks for this time of year and thankfully it's really simple to recreate!
Handy DIY tip: Use cotton buds for the whites of the eyes and a toothpick for the pupils.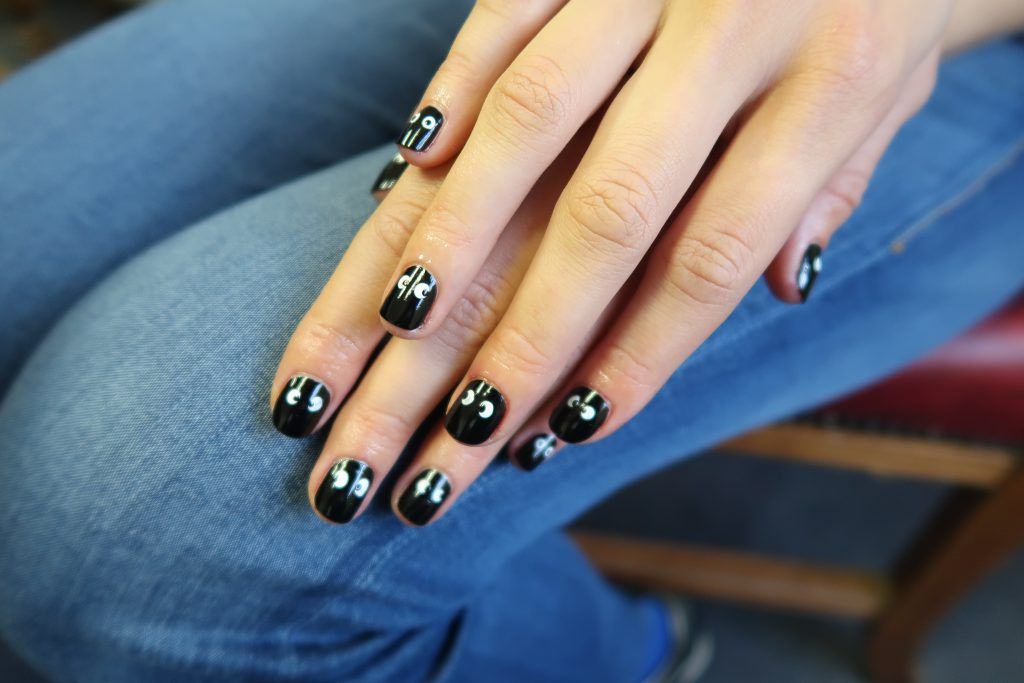 This look was achieved by a Le Salon technician.
The Vampy Ombre
For a more sophisticated take on the Halloween nail, try a gothic ombre design like the one below. The ultimate accompaniment to a little black dress and beehive bouffant at dinner, this style is outrageously sassy and feminine. You may find it's slightly tricky to achieve on your first attempt but fortunately, there's a tonne of ombre nail tutorials on Youtube to help you!
Handy DIY tip: Use a soft make-up sponge to blend the two colours.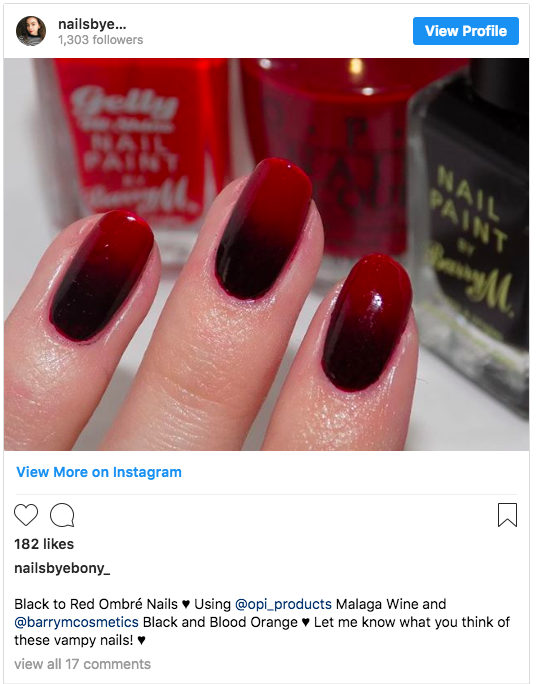 The Simple Spider Web
Another one for the minimalists out there, this design may not elicit screams in the street but it's certainly scary enough to creep people out on the daily commute. Though, if you are planning to dress up this Halloween, the ominous black base and distinctive white web make the perfect complement to a witch's hat and broomstick.
Handy DIY tip: Use a thin polish brush to achieve the white web.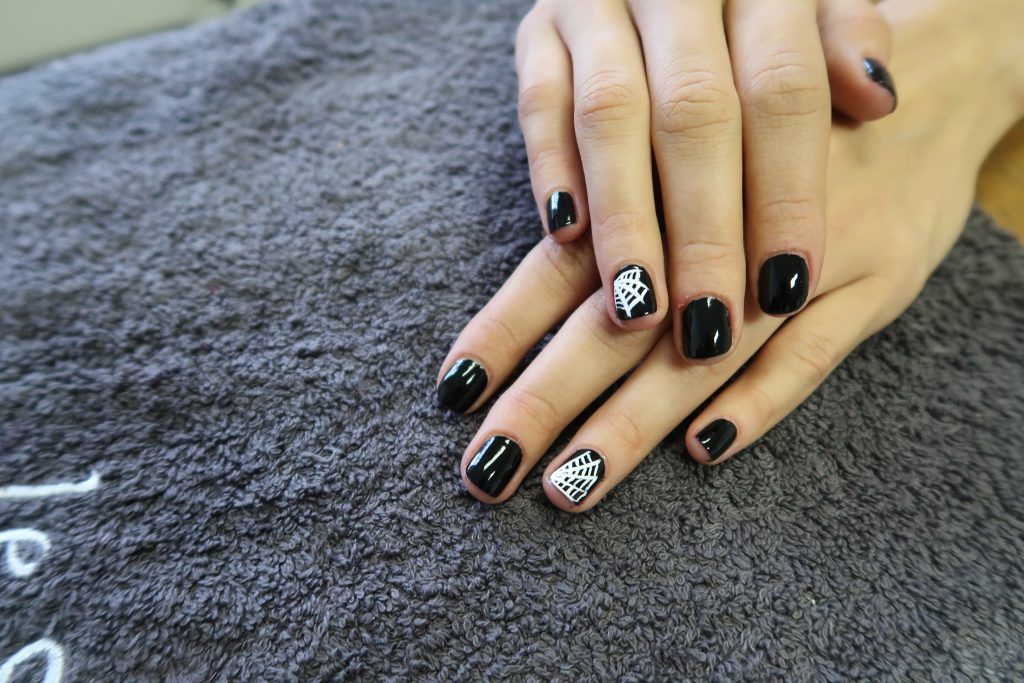 This look was achieved by a Le Salon technician.
Got a favourite yet? Feel free to follow our handy DIY tips or if you'd rather let a professional work their magic then book your manicure with Le Salon this Halloween. Just let us know what design you want and we'll make it happen. For more nail art ideas feel free to explore our blog here.