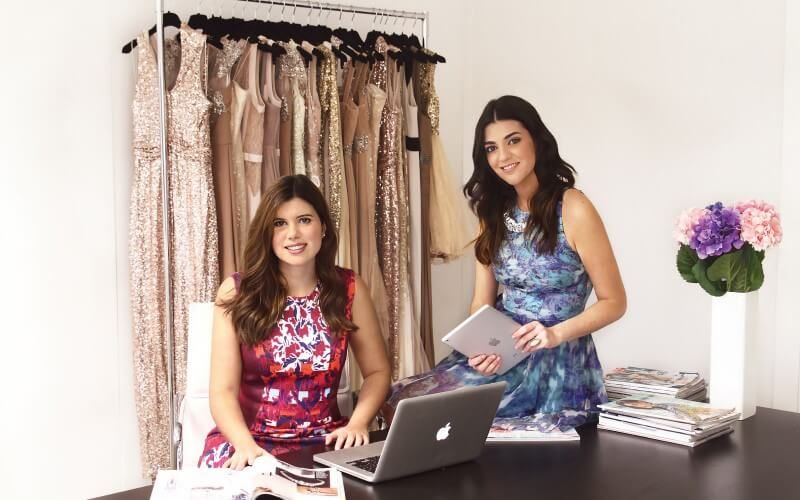 We are starting a series of interviews with female entrepreneurs we are inspired by, and this month, we had the pleasure to interview Filipa Neto from Chic by Choice.
The behind Chic by Choice is allowing women to affordably access designer dresses that they always dreamed about. They allow women across Europe to hire designer dresses for a special occasion at a fraction of the retail price. Their motto is "spend smart, look amazing, hassle-free". There's no longer a barrier to access that exclusive designer dress you've always dreamed of.
They see renting as the new fast fashion for designer items where you can have the thrill of wearing fashionable, luxury items  without the astronomical price tags and you can always try a different style on every occasion – weddings, cocktail events, birthday parties or galas.
Chic by choice sounds amazing Filipa, is it an idea that came out of your personal need, or did you identify a need and went for it?
The idea emerged when we noticed women were investing too much on fashion items they were only wearing once or twice for a certain special occasion. While studying business and administration in Lisbon, we had a gala coming up. We wanted to feel and look beautiful on that special event, without spending too much on a dress that we knew we would only wear once. We talked about the opportunity to get designer dresses we love without paying a huge price. But it wasn't only about finding one dress, we wanted to provide a place where women could find a huge variety of dresses.
We entered the biggest entrepreneurship competition in Portugal and we won second place – among 3,000 other projects. This led us to a £390,000 seed funding investment. From that moment on, Chic by Choice was born, and it has evolved into a marketplace that hires luxury products to all European women. We are focused on continuing developing an innovative platform for customers to rent dream designer dresses and retailers to better manage their inventory.
Chic by Choice is an enormous success what does it take to create a successful company? 
I believe the team you work with is everything – from investors to employees. It's all about finding the right people with the right strengths and ambitions. I hope to continue working with great people and with a team that continues to challenge themselves and myself every day.
I really believe you need to have a certain sense of curiosity to be able to learn in every moment of your life, read a lot about different subjects and be able to bring out the best that other people has to offer you. It's incredible how much a great mentor can help you.
How do you think your personal life has helped you get to where you are, and is there a particular woman that inspired you?
I've always been a very curious person, always keen on learning about distinct areas. I also love to challenge myself and I'm not afraid to ask for help or advice when needed. I think these are all factors that will help you build and develop a great start up.
Right now, one of the women that inspires me the most is Sheryl Sandberg. In her book "Lean In: Women, Work, and the Will to Lead", Sheryl reminds you should fight your internal obstacles and pursue your ambitions. I recommend the book to every women who are just starting out in their careers, as it has a powerful message, but it's also filled with anecdotes of personal vulnerability.
You must be extremely busy but you still find the time to have a beauty regime, how do you manage that?
I am really passionate about my work, but I also think it's extremely important to make time for ourselves. You have to feel good and comfortable about yourself. I believe it's not only about the way you present to others, but the way you see and feel about yourself too. I try to have 20 min of "me time" every day, this can mean getting a manicure or just making a great ceviche on a Sunday.
Companies like LeSalon helps with that, they send manicurists directly to your home or office so I can truly multi-task!
Can you walk us through your daily beauty routine?
I'm a big fan of french beauty products. Gentle Foaming Cleanser with Cottonseed by Clarins and Fluid Velvety Matting by Decleor are my absolute favourite face products. The best beauty product for body is Creme de Corps from Kiehl's.
When it comes to make-up, my favourites are Clinique's Superbalanced Makeup Teint, a product that I have been using for years, and Mac Cosmetics' Mineralize Skinfinish for a natural look. On top of this, I apply a Chanel blush – Healthy Glow Sheer Colour Stick is my favourite – and an eye mask from L'Oreal Paris.
What is the ultimate beauty product we can always find with you?
I think it has to be a red nail polish! You never know when you may need to retouch your nails, before an important meeting or a business lunch. It's always important to keep your hands well treated and beautiful because it's one of the first things other people notice about you.
When you are stressed, is there a particular beauty routine that helps you feel better?
The best therapy for me is taking a warm shower, there's nothing that can make me feel better after having a hectic day. On a weekend I pamper myself with a Collistar's Talasso-Scrub, a revitalizing exfoliating with salt, cane sugar, spices and essential oils – perfect for a relaxed bath at the end of your day.
What is the one piece of advice you would give our readers that want to start a company?
I would say "Listen to everyone, but follow your own instincts" because everyone will give you their own opinions, but no one will give you the right answers on how to create a successful company.
We have to have curiosity to learn in every moment of our lives. We have to be available to work hard for our goals and have interest to accept the best that others have to offer us. In the end, we just have to be confident and follow the path we believe in.
Thank you to Filipa Neto for taking the time to chat with us. We love hearing female success stories. Empowering our Salonettes is important to use which is why we give them the freedom to choose their own hours and finances. Check out some of the services they do here!