The Festival Beauty Trends You Have To Try This Summer
By Grace Lindsay, January 10 2019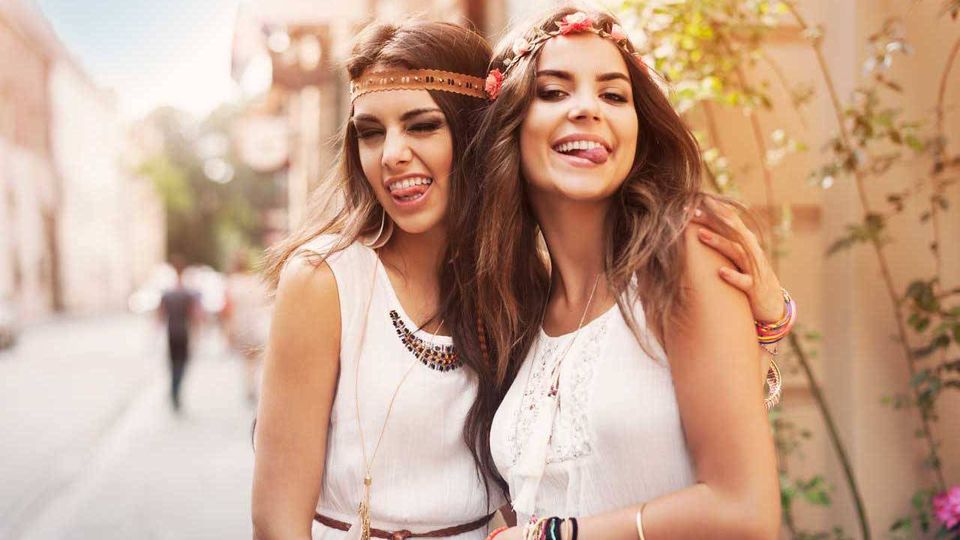 Festival season is upon us, and over here at LeSalon we couldn't be more excited. There is so much to look forward too; the music, the food, the fashion and the beauty. Oh, and the Instagram pictures, we can't forget about them. Our feed has been flooded with all kinds of inspiration for this festival season, and we thought we would round up a list of our favourite beauty trends, so you can try them out for yourselves and be sure to achieve the perfect look. Get your bum bags and wellies at the ready girls, it's time to hit the fields!
Graphic Eye Makeup
It's 2018, and we are ready to say goodbye to glitter being the only festival beauty trend we hear about. This year, it's all about the graphic eyes. Jeremy Scott showed us all how to nail the trend at Fashion Week, with the likes of Gigi Hadid sporting an orange, 3D design on her lids. We understand that not everyone can pull this off (we certainly can't), so we thought we'd give you a few easier ways to do the graphic eye this season, thank us later!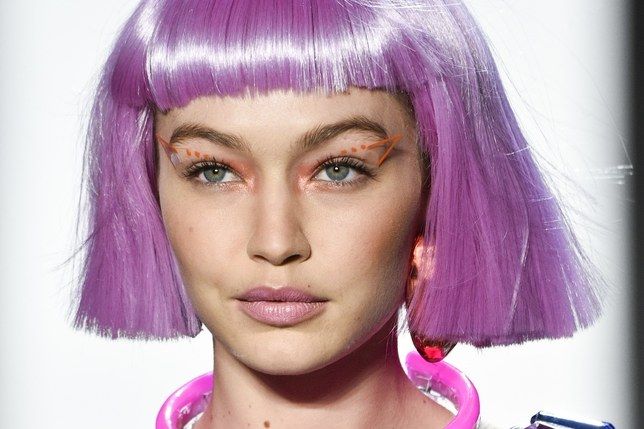 1. Instead of staying between the lines, try changing up the shape of the shadow on your lids. The rectangular lid has been a popular choice, and all you need is a brightly coloured shadow to pull this look off. Plus, people will be so focused on your bold eye makeup, that they won't notice how tired your eyes look after attempting to sleep in a cold, wet tent all night (oh, the joys of being British).
2. Colour blocking is another way in which you can easily create a graphic eye look. Try taking two or three brightly coloured eyeshadows, and applying them in blocks across the lid. We recommend starting in the inner corner, then applying a different shadow to the centre of the lid, finishing off with one last colour in the outer corner of your eye.
3. Now, we all love a cut crease, but have you ever tried doing it with eyeliner? This might sound a little crazy, but this stand out look is bound to grab people's attention when you're fighting for space in the crowd. Who knows, it might just help you get that spot you've had your eye on, so you can enjoy your favourite musician from centre stage. Use a coloured or glitter liquid liner to create this look, and sweep it across your crease in a fluid motion. We recommend winging it out at the end, to elongate your eyes and to give the look a more dramatic feel, because if you can't be dramatic when singing your heart out in the pouring rain, when can you be?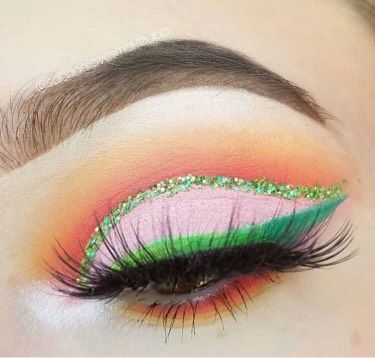 @sabrinalovesmakeupp
4. Polka dots aren't just taking the fashion world by storm, but the beauty world too. Many people are loving the look of placing a dot in the centre of their lower lash line, as this can emphasise your lower lashes and also help to bring attention to your eyes. For the festival season, get experimental and consider using a brightly coloured eyeliner to apply the dots with, rather than your usual black. Feel free to put more than   one dot onto the lower lash line, as you know what they say, the more the merrier.
5. Fancy adding even more colour? We know we do. Try a coloured mascara to finish off your look and to really make your eyes pop. Rihanna sported a bright pink coloured mascara at this year's Coachella, and it's safe to say that it looked amazing. But then again, she is Rihanna, so anything would look amazing on her. We love you Rhi-Rhi.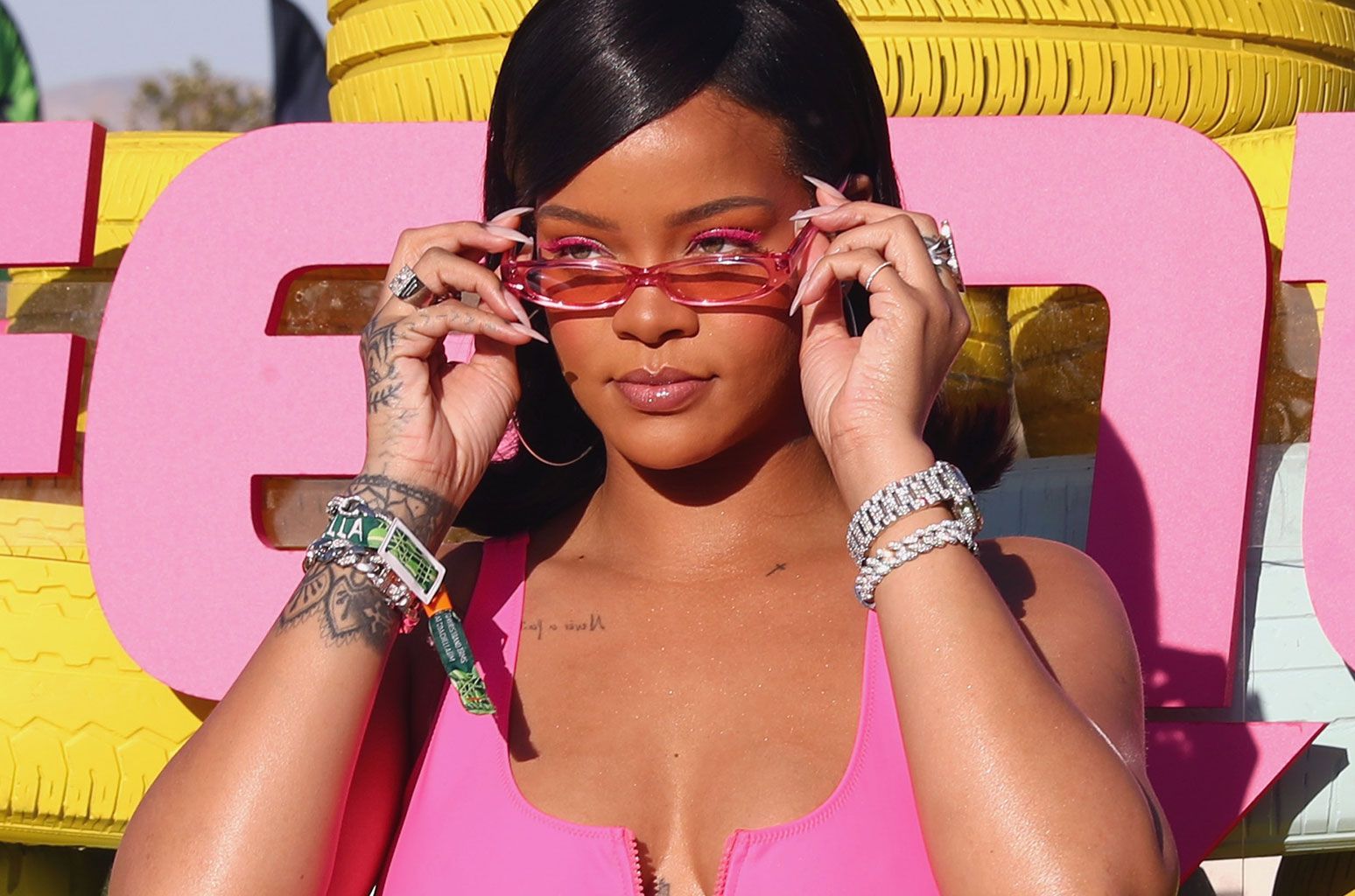 This being said, if you don't fancy attempting to put on multiple layers of mascara without a decent mirror in sight, why not opt for eyelash extensions? They are great as they can last for up to 6 weeks, meaning your lashes will be looking good no matter what mishaps you get up to over the festival period. At LeSalon, we offer half sets and full sets of eyelash extensions, so book with us to be festival ready in no time.
Nail Art
If you're like us, you could look at pictures of nail art all day, and for this festival season, we are seeing a whole range of new nail art trends. From bright tie-dye designs to monochrome aztec patterns, the world is yours when it comes to what you want on your nails. However, if you'd prefer to keep the tie-dye prints to your t-shirts, and are looking for more low key nail art ideas for the festival season, we have listed a few of our favourite, simplistic designs. Because at the end of the day, is there any better feeling than looking down at your nails and seeing a piece of art right there at your fingertips? We don't think so, just try to ignore all the mud that is threatening to ruin your mani, and remember that you and your nails will be returning to civilisation soon!
1. Our first favourite is this minimalistic look, and all it takes is a nude nail polish and a bit of glitter. We recommend using a stencil for this design, or taking a thin makeup brush and using this to paint on the lines of glitter on top of the nail polish.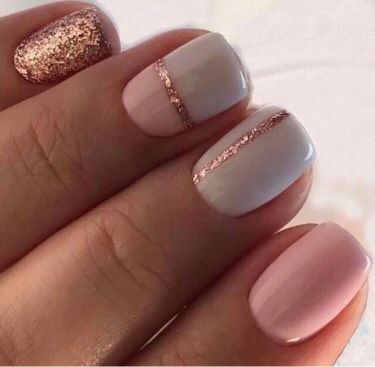 @studio10makeup
2. Holographic nails are a great way to to get your nails looking festival ready, without the hassle! There are loads of holographic nail polishes available, all you need to do is apply a few coats and then you're good to go.
3. Want an easy way to make it look like you've spent HOURS doing your nails? Of course you do. We have one word for you, gems. Nail gems are the easiest way to get that glam look without, you know, having to do anything. All you have to do is apply a base colour, and then go in with a top coat. Whilst the top coat is still wet, apply the gems anywhere you like. The only tricky part to this look is that the gems have to be applied whilst the top coat is still drying, so be sure to work fast!
4. Ombre nails are a nail trend that may never go out of fashion, and we are totally ok with that. This look can be worn all year round, but along with all the ombre hair that we are bound to be seeing this summer, we think it's a perfect accompaniment for the festival season. You will need two different colours for this look, one lighter than the other. The easiest way to create the ombre effect is to paint the lighter colour onto a makeup sponge, and then dab it onto the tip of your nails once the darker colour has dried.
Don't fancy attempting festival nail art yourself? Don't worry, we are here to help. When booking a manicure with us, just let us know what sort of design you want to go for, and we will ensure that all your nail art dreams come true!
Glitter Roots
Ok, so we know we said at the start of this post that the glitter trend had been and gone, but this year we have seen a whole range of new ways to incorporate a little bit of sparkle into your festival beauty regime. Plus, have you really been to a festival if you're not finding glitter in numerous places for weeks on end after? For the last few years, it's been all about the makeup, but this time around people seem to be favouring their hair as the place to add that shine! Celebrities such as Lottie Tomlinson have been seen showcasing this glittery do, which involves parting your hair in the middle and applying the glitter straight to the roots. As well as it looking super cool, it's perfect to cover up that greasy, third day festival hair!
If you want to take it that one step further, why not try putting your hair in space buns. To do this, part your hair down the middle and tie each side in a ponytail. Twist and wrap the ponytail onto the top of your head to form a bun and secure it in place with a hairband. Once this has been done on both sides, loosen each bun and pull some strands of hair out to give it that relaxed vibe, because who really has perfect hair at a festival? Place the glitter down the middle parting and you're ready to go! With both the glitter and the space buns, it's fair to say you and your hair will be looking out of this world. (We're sorry, we had to).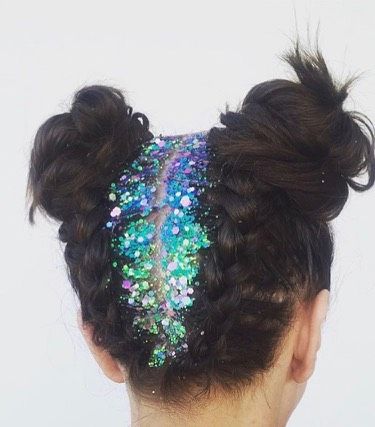 @charlheaneyibizahair
If you want to find out more about the treatments we offer in order to get you festival ready, head to our website. Also, check out our blog for more articles about all things beauty!