Everything You Need To Know About A Face Wax
By Zoe Greenwood, August 26 2020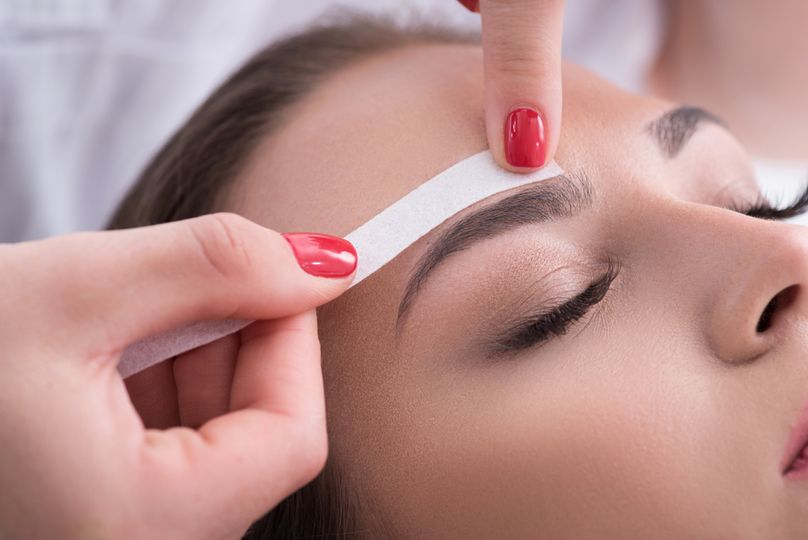 Only a very small percentage of women are blessed with naturally fuzz free faces, despite the media portraying this aesthetic as the norm. Just look at the likes of Frida Kahlo who donned her famous brows proudly. However, while we're all for owning what Mother Nature gave us, many prefer a smoother and softer look. For that reason, we are going to give you the lowdown on the basics of a face wax.
So, how does facial waxing work?
A professional therapist will begin by heating up the wax. Then using a knife or spatula, will start to spread it across the desired area for removal. The therapist then lays a fabric strip on top of the wax and presses it down. 
At this point, the wax sticks to the hairs and is ripped away from the follicles in the opposite direction to hair growth. This pulling motion removes the hair directly from the root, thereby delaying regrowth. And voila – it's that simple!
Traditionally, professionals are trained to wax most areas of the face. At LeSalon we offer full face waxing which includes the upper lip, chin, cheeks, eyebrows and sides.
How should you prep?
Days before treatment…
If you've plucked or shaved the area before your treatment, you'll need to allow for enough growth for the waxing to work effectively. Experts suggest a hair length of between ¼ inch to a  ½ inch for best results.

It's also advised that you stop using any acid products or skin peels around 3 to 4 days before your waxing appointment. This will help to prevent post-waxing skin irritation.

With waxing treatments, the softer the skin, the better the result. For this reason, experts recommend that facial waxing clients moisturise well the night before.

For upper lip, cheeks and sides:
Generally, it's preferred that the face is as free of cuts and blemishes as possible, but experts advise clients not to over exfoliate. This could aggravate the skin, actually making it more sensitive to a waxing treatment. Instead, just make sure you're cleansing your skin properly in the build up to your appointment.
On the day…
-Avoid exposure to the Sun or sunbeds since this will increase skin sensitivity.
– You should cleanse as normal in the morning but
avoid
applying any creams and wearing makeup over the area you are having waxed. 
Who is the ideal candidate for facial waxing?
Most people with unwanted facial hair are suitable candidates, however, you might want to avoid it if you have sensitive skin or are prone to breakouts.
Additionally, if you're currently taking/using any of the following…
Blood-thinning medication

Oral medication for acne

A medicated facial exfoliant
…you may want to consult your doctor before booking an appointment, as these can all interfere with the skin's sensitivity.
What are the benefits of waxing?
Targets large areas
Firstly, waxing is great for targeting large surface areas, which is good news for those of us with hair on the sides of our faces. Unlike other methods such as threading and tweezing, waxing can get rid of lots of hair in one go which means minimal time and pain. 
Precision
Though it has the ability to remove hair from a large surface area in one go, waxing is also a very precise technique. When it comes to more elaborate areas like the eyebrows, waxing allows for intricacy and precision meaning that the perfect shape is easily achievable. Waxing is also more effective than any other method, at removing dead skin cells and fine hairs from the brow area. This prevents any little bumps or ingrown hairs from popping up.
Long lasting results
The results of waxing tend to last between two to six weeks but varies from person to person depending on their individual hair growth cycle. Regardless of individual differences, waxing is guaranteed to last longer than the results you'd get from bleaching or shaving where regrowth happens relatively quickly.
Leads to less regrowth
One of the best things about waxing is that it can actually prevent hairs from growing back after long term treatment. With each treatment, a small amount of damage will be done to the hair follicles and over time this can result in the termination of regrowth altogether! Many people notice that regrowth is finer and less visible than once they've started waxing, so you may decide you no longer need to remove the hair.
Low cost
Due to it being such a quick form of hair removal, waxing tends to be notably cheaper than other methods like threading or lasering. This is particularly true of facial waxing which is super speedy as it requires little preparation or use of materials. If you're trying to be economically savvy it's worth noting that a professional facial wax is almost always less pricey than a professional threading treatment.
What are the side effects of waxing?
No pain, no gain
As well as some amazing benefits, there are also some side effects to facial waxing. Everyone's pain threshold is different so some may find that they are more sensitive to waxing than others, but a mild stinging sensation during the treatment is totally normal. 
The face is a lot more sensitive than the rest of the body, so a bit of discomfort is to be expected. However, if you think your skin has been burnt during a treatment or you continue to experience severe pain afterwards then you should seek medical attention.
You should also be aware that your pain tolerance is lower around the time of your period and during pregnancy. In this case, it may be best to book your treatment around this.
Skin irritation and redness
From breakouts to skin allergies, some people may find their face reacts badly to a wax. If you have particularly sensitive skin waxing may not be the best method of hair removal for you. Redness is quite normal after a wax though so don't panic if you experience this. It should go down within 24 hours. 
If you do notice any irritation, aloe vera gel is great for soothing the affected area. It's also recommended that you moisturise the face as often as possible after the first 24 hours post-treatment has passed.
Ingrown hairs
Some clients experience ingrown hairs after a waxing treatment due to the hair lining being disrupted and the regrowth consequently having no lining to guide it out of the skin. However, this can be prevented if you follow a few steps. Firstly, avoid direct sunlight, excessive heat, harsh cosmetic products and makeup for 24-48 hours post wax. In addition, try to gently exfoliate the area once the initial 48 hour period has passed.
Hopefully, now that you're armed with all the facts, you'll know whether or not facial waxing is right for you. If you'd like to test it out with us, you can book a treatment here.  
For more information on our waxing services, check out this recent post. If you want to see more of our beauty content have a look at our blog.