Eyelash Extensions: Everything You Need To Know
By Zoe Greenwood, April 6 2020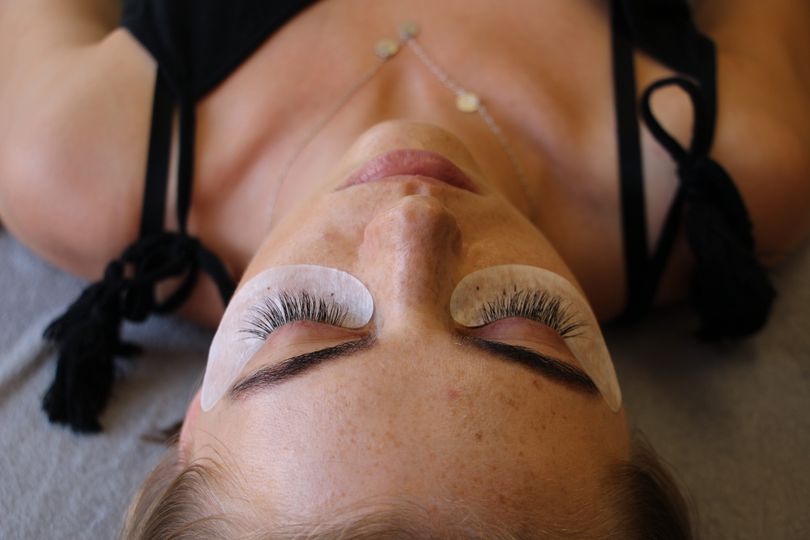 Are you a newbie to eyelash extensions? The thought may not have even crossed your mind, as this treatment is often associated with celebrity life. But honestly, this is an increasingly popular treatment that women are going for more and more often.
In fact, once you've tried out eyelash extensions you'll wonder why you didn't go for it sooner! You're in complete control of the look that you want – whether it's a subtle half set or a glamorous full set of lashes. Read our eyelash extension guide to get the full deets on what eyelash extensions are, how to look after them between treatments, the removal process and so much more. Let's get started!
What are eyelash extensions? 
There are two types of eyelash extensions we use at LeSalon are mink and silk extensions. You can get a full set of lash extension done which entails having one lash added to each individual lash. A half set would entail adding a lash each alternate natural lash.
Eyelash extensions are individual, false lashes that are attached along the top lashes with a semi-permanent glue that will not irritate or damage the natural lash. They are applied with thin ended tweezers for extra precision.
The eyelash extension treatment – the LeSalon way
Your Salonette will prep her kit as you lay down on a bed or sofa.
Consultation: Lash technicians will ask what type of look you're going for. Natural? Glam? Curvier lashes or less so? Dark/thick lashes?
She will then gently clean your eyelashes and eye area.
She will place a sticky pad on your lower lashes so they don't interfere with the lash work (this should not be uncomfortable)
For a full set, your Salonette will then glue individual lashes onto each natural lash. This will take 1.5-2 hours so get comfortable! A lot of clients end up falling asleep so don't be embarrassed if you do!
For a half set, she'll apply lashes to alternate natural lashes.
At the end, your Salonette will make sure no eyelashes are tangled or stuck together as you open your eyes, she'll then brush through them so they look neat and beautiful!
How long do they last?
Typically, eyelash extensions have a lifespan of around 50 days, the same as your natural lashes. Like all hair, lashes shed naturally with a cycle of 50 days. So as long as the extensions stay connected, they'll fall out when your natural ones do. Some may fall out earlier than that but the majority will last many weeks.
The main thing to remember is not to fiddle too much with them, though it is tempting to do so. Plus, pulling them out may damage your natural set of lashes, so it's really a lose-lose!
A few more contributing factors can be:
Your therapist's expertise – how well she glues on the lashes can make a big difference to longevity.
The type of lashes you choose – the quality of the lashes can make a difference.
Do I need to prep my lashes before the treatment?
It would be really helpful if you could ensure that your lashes are squeaky clean! So that means free from mascara or any oils, but even if they aren't in this condition our Salonettes will take care of this. She will use a pre-lash primer to ensure that the lashes are clean. Traces of oil or makeup, especially mascara, can create a barrier between the lashes and adhesive, so they won't hold to the lash line properly.
Who are the best candidates for lashes?
Our therapists ideally need a strong, straight lash to act as a host for the extensions so that the lashes can be attached properly. If your lashes are sparse or thin, this is not an issue as the extensions are there to 'fill in the blanks' so to speak. Lashes that have severe bends or if they are particularly sparse and fine, these may not be the best canvas for extensions.
Does it hurt?
No! Definitely not, in fact, most clients fall asleep during this treatment because it's so relaxing. It's quite a lengthy procedure and can last for up to two hours. With your eyes closed all the way and with 0% of pain, falling asleep is bound to occur. So sit back, relax and enjoy your pain-free treatment: we can guarantee that you will!
Can I wear makeup with them on?
You may ask yourself if wearing makeup is ideal for extensions. Less is best – so, ideally, wear no eye makeup on lash extensions. But if needs be,  stick to a minimal look applying mascara only to the tips otherwise it can clump. Waterproof eye makeup is not ideal as it's tough to remove and can pull out your lashes prematurely.
It is to be expected that makeup can sometimes collect at the base of the extensions. To remove this, simply take a cotton bud dipped in micellar water or makeup remover and wipe the eyes. Remember to use different cotton buds for each eye so there's no chance of passing underlying infections from one eye to the next.
If I do wear makeup with eyelash extensions on, how should I remove it?
The micellar water should be oil-free as oil can loosen the extensions causing them to fall out. Avoid substances such as PEG, hexylene glycol, butylene or propylene glycol as they can break the bonding glue.
Makeup wipes work well too, as you won't get clumps of cotton from a large cotton pad sticking to the lashes. We totally recommend Garnier's Micellar Water and for wipes, Simple is a sure winner also. You can find links to these products and find out more here.
Help! Some of my extensions are falling out, what shall I do?
We recommend getting infills 3 weeks after application and then complete removal a maximum of 3 weeks later. Infills are basically replacement lashes to make up for the ones that fall out. Then give your lashes a break for another few weeks. Constantly wearing extensions will gradually cause your natural lashes to become thinner, weaker and more sparse.
What about getting rid of them, can I just pull them off myself?
Whatever you do – don't pull them out! Always have them professionally removed. It's normal to see 1-4 lashes come out as time goes on, so don't be startled by this.
If you want to get them replaced as they fall out, it may be a good idea to get infills done after about 3 weeks. Both infills and getting the eyelash extensions removed are simple and painless procedures.
So there you have it, a guide for eyelash extensions! You're probably thinking "wow, painless and pretty" and we don't blame you. Though they may be slightly finicky to take care of, it's definitely a beauty treatment that everyone should have the privilege of trying at least once in their lifetime!
What better way to have this relaxing treatment than in the comfort of your own home? Book at-home eyelash extensions with us at LeSalon today to see just how effective this cosmetic treatment really is.