Financially empowering women everyday: Emilie Bellet, Founder of Vestpod
By Jade Attwood, October 4 2018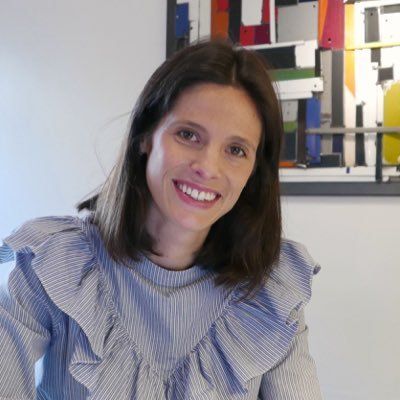 Emilie Bellet is a woman on a mission to empower one million women financially. She has created the ultimate educational and informative platform Vestpod which makes dealing with money easier for women. Vestpod fills the gap in the market by giving women a much needed online space to source trustworthy information about finance and gain knowledge on money and careers in general. The site also boasts the amazing service of delivering a weekly newsletter with finance tips straight to your inbox with a simple free subscription. We are truly inspired by Emilie's vision and were lucky enough to find some time in her busy schedule to find out more about her story, and hopes for the future of women in finance.
Vestpod is a fantastic platform for women, but what was your background before starting your own company?
My background is in finance! I studied economics, business and a masters in management in France, Spain and the UK. I worked for about seven years in private equity. My job was to make investments in companies, working with them over a long term period of around five years. It was great to get exposure to all the different areas of financing, strategy, marketing and management.
What drove you to go out on your own rather than working for another company?
Whilst my job in finance was great, I always knew that I wanted to build something meaningful. Although I worked in finance, I didn't have anyone to turn to for my own personal finances who could give me advice. I actually met with a financial advisor from my bank a few years ago, which was very awkward as the first question he asked me was, "Where is your husband?". This made me realise that there weren't many options for women when it comes to their finance, and it was time to do something about it. Also, if you look into the financial advice industry, it is highly male dominated which makes it hard to find a female advisor.
I decided to quit my job and build a platform to house a community, where you can find like-minded women and trustworthy information.
What is the sole purpose and driver of Vestpod: why do you think women need to get smarter about money?
Our mission is to help women get smarter about money. Using a cool and friendly weekly newsletter, we help women to better understand their personal finances so they can reach their financial goals.
It is difficult to find someone trustworthy to talk to about money. I started educating myself reading into financial media and explored the internet, but the amount of information and financial jargon was often overwhelming.
It certainly didn't help that talking about money felt like a taboo. Money is a very personal and emotional topic and culturally is not something we share with friends and family. This is why I created the company specifically designed for women.
There are two very interesting statistics that are worth mentioning here to give you some context on why I feel targeting women's financial education is important:
Women are family breadwinners, and the proportion of women who carry the main financial ­responsibility for their family has increased by about 50% since 1996;

The other interesting number is that

by 2028 women are due to inherit ⅔ of the world wealth because of the great wealth transfer from baby boomers and the fact that women outlive men.
If you had to pick one financial lesson to teach, what would it be and why?
Start now! The key is to have the life you want and make everything possible to achieve it. Write your goals and start planning. There is never the perfect time, but start saving and investing your money — even small amounts. Because it is invested, your money can grow over time.
Have you come across any challenges when starting your own company or prior to this?
When starting a new business you face challenges every day. First of all, when you are building a business, you try to do everything yourself, but the problem is you don't know how to do everything. You need to get help on technology, marketing, human resources, strategy and finance, whilst at the same time, you are networking and making sure people know what you are doing and why you are doing it.
What does a typical day in your life look like?
I am up usually very early with my son who is a morning person! We read books, have our breakfast and I drop him at nursery. I work from my office in Camden or from home. My day is usually full of meetings, but I also do some writing and plenty of emails. Evenings are spent with the family, or often at events in London.
Do you have any mistakes which you regret?
I don't think you should regret your mistakes, as I try to learn something from them. Maybe a regret I have is not starting out earlier. I was waiting for the perfect time to launch a business but you can do as much research as you like, iterate on your idea or product, but you have to get it out there. Ideas are one thing but execution is everything.
Are there any sacrifices you had to make working from full time to self-employed?
I don't think so, just trying to juggle everything at the same time! When it is your own business there is always a fine line between work and lifestyle.
What has been your biggest achievement so far in terms of business?
For me, taking an idea and actually transforming it into a product is an achievement already. The other achievement is receiving feedback. I began Vestpod by sending the weekly newsletter to my friends, and they started sharing it with their friends. Then I started receiving feedback from people I didn't know, telling me they loved what we were doing at Vespod and that we should continue with the work. Getting something back from our customers is very encouraging.  Vestpod is at a very early stage still and today we try to celebrate small achievements.
How do you see Vestpod growing as a business?
Our mission is to empower one million women financially. I would love to see the women that are part of Vestpod actively managing their finances, and see how this impacts their lives.
How do you juggle family and running Vestpod: is there a work/life balance?
Waking up early and working after the little one is asleep —days seem to be always too short!
I am very lucky to have some help at home during the day. I actually have proper office hours, but I also love having this flexibility. I don't think there is a work/life balance when you have your own business as the problem is, your mind is constantly thinking about something. I enjoy the time I spend with my family. But there is a very fine line between work and home life when you are an entrepreneur.
Finally, if you could pick one colour to adorn your nails with, what would it be?
Sorry but I have to pick a few!! Natural for the hands, I always use Mademoiselle from Essie. And something dark for the feet, either red or purple. For the summer, I go for flashier colours, such as orange, or bright red.
A huge thank you to Emilie – we've signed up to the newsletter, click here so you can too. Explore her website and take financial control!