Meet Emilia Makosa, Founder of Emeilleurq
By Zoe Greenwood, March 1 2021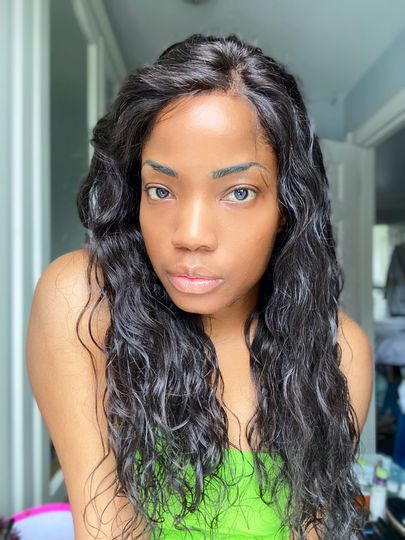 As a teenager, Emilia had always suffered from terrible acne and hyperpigmentation. She spent years trying out different products – natural, organic, medical – to see what worked best for her skin type. What she eventually realised is that, not only were these products expensive, but the a lot of the skincare brands didn't focus on black skin. Having always had that entrepreneurial spirit, Emilia decided to take things into her own hands and start up her own skincare line: Emeilleurq, which would include natural, non-toxic ingredients that work well on all skin types. 
Today, we spoke to Emilia, founder of Emeilleurq, about how she got into the beauty industry, her entrepreneurial journey and what she's learned along the way…
Hi Emilia, it's great to have you here with us! Could you tell us a little bit about yourself? 
Hi guys! My name is Emilia, I'm a businesswoman and mother of 4. I've been an entrepreneur for over 15 years and have founded and sold 3 businesses. My newest 'baby' is Emeilleurq Skincare (pronounced Emilia). My main role there is Marketing, which I thoroughly enjoy. My background is in property and hospitality; namely short term lettings but when the lockdown started in March 2020, I was left with a lot of time on my hands so I decided to pursue my passion; skincare. To me, Emeilleurq Skincare was more about just creating a brand, I wanted to make a difference and help other women who were also suffering from adult acne and hyperpigmentation. In the early days of creating the brand, I realised that I wanted to be more than just a 'business for profit', I also wanted to be hands on knowledgeable on not only the products I was selling, but skincare as a whole, so I'm now a qualified Facialist.
How did Emeilleurq start? Where did your inspiration come from? 
It started out of passion and necessity to be honest. I became passionate about skincare back in 2016 when out of the blue I experienced an intense bout of acne on my face. After struggling for a while to find a professional who could diagnose my condition and prescribe the right type of products for my skin tone, I finally came across Dr Askar of Askinology who worked what I describe as a 'miracle' by helping me manage the acne and severe hyperpigmentation on my skin. It was a two year journey of regular visits to London for my appointments and treatments and when it was over, I decided to do research on the ingredients of the products he prescribed for me. I had no idea what retinol or salicylic acid was but I took it upon myself to learn what these ingredients are, how they work and why some work for darker skin more than others. Growing up I had seen numerous family members and friends use toxic bleaching skincare products in an effort to have clear skin which would leave them with permanent scars and pigment issues because the general information online mostly deterred black women from using chemical peels etc. Whilst this is true to some degree, the full story is hardly told and black women are under-represented by the big brands who sell 'safe' skincare products that address acne and hyperpigmentation. Emeilleurq Skincareare aims to be truly diverse and offer products that work really well on dark and light skin, and we show that in our branding and marketing.
And, the name! How did you come up with it? 
Well I struggled to come up with a name if I'm being honest. All the good names are taken, right! Skincare is a very competitive space so for me it was a big deal to be able to stand out. Emeilleurq is a French word that means 'better'. It's also pronounced in a way that's similar to my own name. The name I really wanted was 'Better Skincare' but that wasn't available so I went on Google translate and typed in 'better' then translated it in all sorts of languages. The French translation made sense, I love France so it was a winner!
What would you say, if any, were the biggest challenges you faced starting up in the beauty industry?
I would say for me the biggest challenge was not knowing anyone at all in the industry. I had always started businesses in spaces where I'm known or know a few people so this was totally intimidating. I still don't know anyone personally but I'm enjoying finding out about everyone in the professional field to other brands as well. I'm lucky I have a brilliant friend who's kept me motivated and to not second guess and doubt myself. I'm looking forward to when this whole pandemic is over so I can attend events and get to know more people in beauty.
What are your hopes for Emeilleurq in the next 5 years? 
Our biggest goals over the next 5 years are to ensure we are environmentally sustainable in a meaningful way. We've only been in business for only 6 months but we are very much aware of our carbon footprint so we would like to do our bit for the planet we live on and not contribute to its demise. This is something that's now very important to us as a brand and we are learning how to build a culture around sustainability.
The organic and natural beauty industry changes every day. What do you think it'll be like in the future?
You're absolutely right. I definitely think organic and natural beauty will be the dominant fraction in beauty. As consumers become more savvy and aware of what goes into not only their products but what it takes to manufacture them, I believe it's only a matter of time before a huge shift is realised.
Inclusivity and diversity have also come under the spotlight within the beauty industry, but it's still not the standard. What do you think needs to be done for the industry to be completely inclusive?
 I think the beauty industry across the world and certainly in the UK has to look at everything through the lens of, 'Have I created conditions where every person can contribute in their unique, meaningful way and feel safe and secure doing that?' But this can only happen when we have a truly diverse group of people right at the top of the beauty 'food chain'. A top-down approach isn't enough because it drives compliance, not commitment. From senior leaders to frontline employees, every individual in the skincare industry must see and understand their role in company culture. When brands adopt this way of running their companies, they can holistically look at their consumers's reality. To quote Trishna Daswaney, "Diverse consumers deserve for their needs to be catered for as a matter of course, not as an 'other' or a separate add on." This starts with hiring and promoting to ensure diversity is represented at the decision-making table: with educators embedding knowledge of diverse skin, hair and wellbeing considerations for a broad representation of consumers into the curriculum; with brands authentically understanding, representing and building diverse community; with retailers providing the space and platforms for ranges that cater for diversity and for diverse-owned brands. There has been some progress but brands need to move further away from tokenistic portrayals of diversity, and take a more holistic and integrated view of the real consumer.
This past year has been difficult on many people – how have you been managing with lockdown? Was there any particular routine you followed?
It's been very difficult but I'm very proud of how we as a country have handled it. For me personally, I coped by keeping busy with work and fitness. I started off with a rigorous routine that started at 6am every week day but I got bored and just decided to do what I felt like doing on any given day. I actually adopted this in December when I realised we still had a long way to go with these restrictions and lockdowns. So when I wake up and feel 'meh', I process it, try and understand why then come up with a solution. Whereas pre-covid, I'd simply ignore how I'm feeling and get on with life. I'd say the pandemic has given me the opportunity to slow down and really get to know myself again. 
Being an entrepreneur, is there any advice you would give to those starting their own business? 
If there;s one piece of advice I'd give is, be resilient- it's not for the faint hearted! There are many hats you have to wear when you start out in business but as soon as you can learn to delegate. That way you can focus on developing your business, rather than working in your business 24/7 (which isn't healthy by the way)
We believe that beauty means something different to everyone – whether that's being able to work on your own terms, wearing that perfect dress, or being able to get your nails done whenever you want. Is there anything that makes you feel powerfully beautiful?
Truly loving myself, even with my imperfections. For me that's real beauty. Because it means even if I wake up with a few spots on my face, or have a bloated tummy, I'm still going to show up and smash it! I'd say for me, fitness is the main driver of achieving that level of confidence. I'm 38 but I've never been healthier or felt stronger. 🙂