The Difference Between Shaving and Waxing 
By Jennie Waeland, December 8 2020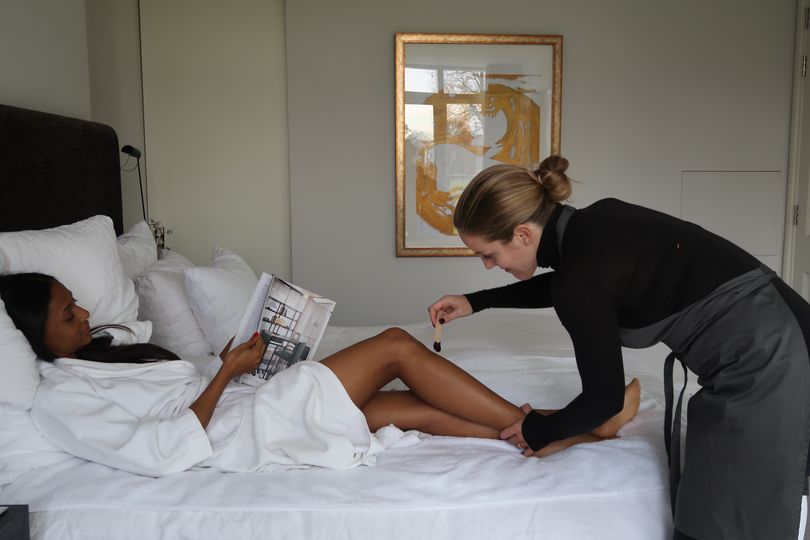 There is no right or wrong answer when it comes to body hair. For some, it is an integral part of their identity, whilst others prefer to remove it. Whether you like all hair removed, little hair removed or no hair removed – it's completely your choice. For those who choose to remove their hair, there is no better feeling than freshly smooth legs. 
Nowadays, we are inundated with methods to remove our hair – bleaching, shaving, waxing, sugaring, laser; you name it. But, for now, let's talk about the most popular hair removal methods: Shaving VS Waxing.
Shaving 
Shaving tends to be the most popular method of hair removal.. When we first tackled our hair face-on, the majority of us were  given a razor. It's often the easiest,quickest and cheapest method because it doesn't require any professional treatment. 
What is the method?
To shave, you will only need a few products. It is recommended first that you bathe your skin in warm water to loosen the hair follicles on your skin; this helps open up your pores ensuring a smoother shave. Also, you should try to exfoliate your skin beforehand to keep it smooth and soft. 
Next, you can either use shaving cream/gel or soap and water and move the razor in the direction of the hair growth. 
What areas does it cover?
Shaving can be done on any area of skin, especially larger areas. 
How long does it last?
The downside of shaving is that it's a very short-term solution as it  only removes the top layer of hair, rather than removing the root. Shaving can last up to a week, depending on the quality of the razor, and the body area. 
How much does it cost?
You can buy a razor for up to £20 from a shop, or you can get an electric razor for up to £40. 
Is it suitable for all skin types?
Yes, shaving can be done on all skin types, including sensitive skin. Make sure that you are using sharp, clean razors. 
Are there any potential side effects?
If you use an old razor or dry shave, you can risk getting razor burn. Small cuts can occur if you are not careful when shaving, especially around areas like elbows and knees. Also, ingrown hairs can occur as a result of lack of exfoliation or if the hair is cut unevenly. Find out how you can prevent and cure ingrown hairs here. 
Waxing 
Waxing is one of the most common types of hair removal. It can be done both at home and professionally by a mobile beauty therapist. There are two types of waxing: hot wax or strip wax. 
What is the method?
Hot wax tends to be a thicker consistency. It is applied in a few layers to the targeted area using a wooden spatula. Extra wax is applied to one corner. The wax hardens in a couple of minutes and is then peeled off directly from the skin, using the excess wax. This type of wax is often used for more sensitive areas e.g. facial hair, bikini wax and underarms. 
Alternatively, strip wax (used for larger areas) is a lot more runny and is applied in a much thinner layer to the skin. It is applied using the same type of wooden spatula as hot wax. Hair is removed by rubbing a disposable strip against it and pulling it off in a quick, swift motion. 
What areas does it cover?
Waxing can be used anywhere- from legs to armpits to the bikini area. Make sure that you are aware of any sensitive areas to avoid beforehand. 
How long does it last?
A wax is much more durable than shaving as it waxes hair from the root, cutting it off at the source. It can last between 3 to 4 weeks, depending on your natural hair growth.
How much does it cost?
Waxes can vary in price depending on where you get the treatment and if you do it using shop-bought products. At LeSalon, we offer various services including Brazilian, Eyebrows and Bikini Line. You can view our full service list and prices here. 
Are there any potential side effects?
It should be noted beforehand that in some cases, waxing may cause irritation, allergic reactions or slight pain. This is usually due to sensitive skin, so do make sure to consider your skin type before a wax. 
We hope that this information is useful to help you decide your preferred method of hair removal. The most important thing to remember, whether you're shaving or waxing, is that you look after your skin. Moisturise daily, exfoliate every few days and take your time with it.