Deep Tissue VS Swedish Massage: What's the difference?
By Zoe Greenwood, August 28 2020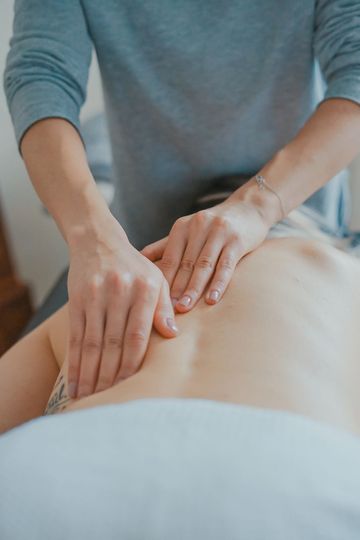 For some reason, getting a massage seems to be something you treat yourself to once in a blue moon, rather than something that can actually physically benefit you. Relieving stress, reducing muscle tension and soothing muscle pain are just a few benefits of massages and it's more than okay to get one every month – after all, I definitely wouldn't say no to one at the moment…. 
If you're new to massages or haven't done that much research, you'll start to notice that there are so many different types of massages from pregnancy to sports to classic. For the purposes of this blog, we'll be talking about the two most popular massage types: Swedish and Deep Tissue. 
What is a Swedish Massage? 
The Swedish Massage (also known as the classic massage) is the most common treatment simply because it addresses a wide range of issues – most commonly muscle tension from being hunched over from sitting at your desk all day. The massage itself varies from light to firm pressure depending on your personal preference, as well as the therapist's personal technique. 
What are the techniques used in a Swedish Massage? 
Kneading

Rubbing 

Tapping 

Vibration 

Bending and stretching 
What are the benefits of a Swedish Massage? 
The main benefit is that it allows you to complete relaxation; however, it also…
Helps relieve muscle tension and strain by flushing out toxins. 

Improves circulation by increasing oxygen flow in the blood. 

Increases your range of movement.

Alleviates stress. 
Now, for the second-most-common massage type. Deep Tissue. 
What is Deep Tissue Massage? 
As you may have guessed, a deep tissue massage involves going in deep into the layers of your muscle and connective tissue. They're usually recommended for those who have ongoing or specific muscle pain and are often used medically by experts. The therapist will use similar techniques to a Swedish Massage; however, they'll usually use deeper pressure. In fact, it's not usually a massage that you get to relax, but one to fix a problem. 
What techniques are used in Deep Tissue Massage? 
Deep pressure using their elbow, forearm, knuckles and hands. 

Kneading. 

Rubbing. 
What are the benefits of Deep Tissue Massage? 
Relieves stress. 

Rehabilitates injured muscles. 

Improves blood pressure.

Reduces chronic pain. 

Increases your range of movement. 

Aids sports-related muscle recovery.

Improves postural problems. 
Before booking a massage, it's best to understand what you want it for. Do you want to feel relaxed? Do you have a sport's injury? Are you feeling tense and stressed? There are so many different types of massages that use a variety of techniques to help/fix a problem. Saying that…you can never go wrong with an at-home Swedish Massage in the comfort of your own home!