Celebrating Pride Month Through Nails
By Helena, January 8 2019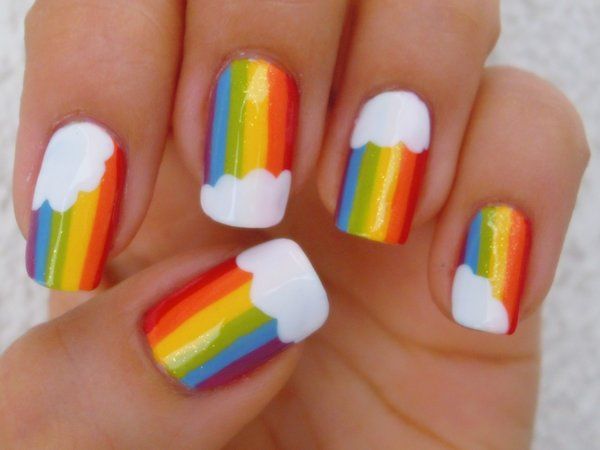 With events like London Pride just around the corner, everyone is looking for a way to paint the world rainbow, so what better way to do it then by starting with your nails!
We got in touch with Sterling, someone who is no stranger to Pride and a talented performer, to give us the scoop on what manis you can expect to see as well as newer nail trends that are a definite show-stopper for this colourful event! From this, we gave you a break-down of 3 must-have nail looks!   
Q 1: How long have you been going to Pride London?
I've been living in London for the past 3 years as a student, I haven't missed a single pride-related event yet!
Q 2: How do you like to express yourself during Pride?
I always go all out. As a drag performer it's my job to always make statements, it's what I do for a living.
Q 3: Are nails a big part of your look when making statements and performing? 
Absolutely! We all know at work that nails are needed to tie a look together! It's all about conveying to people what it is you are trying to express…. all down to the very last accessory!
Q 4: So what new and trendy nail styles are you expecting to see at London Pride this year?
Well, there are always the classics.. people everywhere with rainbow manis! But every year you can expect people to try and constantly take it to the next level with creativity. There are a lot of bold people there who always come to impress… mega acrylics, neons, sparkle, like 1,000 different colors on one nail… how do they even think of it? I love it though because I'm just crazy about big, bold, and creative looks!
Q 5: What would you suggest for people want to try out these Pride-inspired nail looks? (Whether for pride or literally anything else?)
DO YOU. If there is anything that Pride represents, it's that you get to express yourself HOWEVER you want! That's the point! You like being understated? Nude nails with a little pop of color are always hot! Or maybe you're a bit more outgoing a bold? Get those neon claws! It's all about being your own original self.. no apologies.
Just like the iconic LGBTQ+ rainbow, there's a color and style for everyone. It shows that using your fierce manis to celebrate makes a statement! So whether you plan to be powerfully understated or big and bold, here are some ideas for you to start taking pride in your nails!
The Classic Rainbow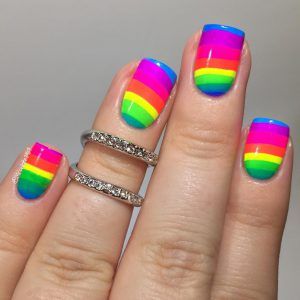 The definite go-to for anyone taking part in pride. The rainbow is the most popular symbol for the LGTBQ+ community. Representing different people like a rainbow represents different colours, it's not wonder this symbol became such an icon! It's definitely a statement that is universal, everyone will get it!
The technique in recreating this type of look is also very simple and can be done even as a beginner, since the main style is in stripes! Fun, easy, bright, and beautiful!
Elements for this look: rainbow colours, gloss, high shine, vibrant, neon.
Understated and Chic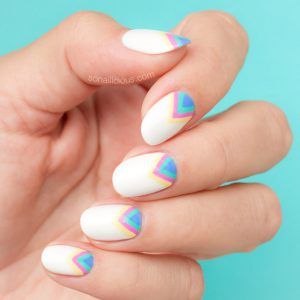 A sweet and versatile look, these manicures can be worn in an daily situation… whether you're at the pride parade or not!
Not everything has to be obvious to make a statement, which is why we love this look! The minimalism created by the negative spaces and nudes really plays up on different strengths… it also matches more outfits!
So if you want to try something new and keep it chic, stick to these humble yet beautiful looks!
Elements for this look: nudes, hints of colour, contrasts, shine, minimalism
Big and Bold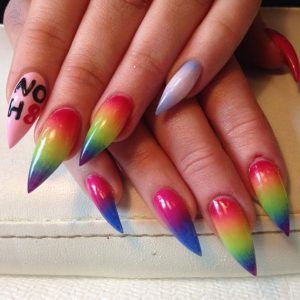 Want to make a bigger statement? These eye-catching nails are sure to do just that! Using intense, eye-popping elements will definitely turn heads and drop jaws! These looks are a favourite because they show the spirit of Pride: expressing yourself and going big! So don't be afraid to dip your feet (or your fingers!) into these wild and bold looks.
Elements for this look: neons, acrylics, stencils, glitter, matte
Ready to book your pride-inspired nails? LeSalon is ready to meet all of your colourfully-creative demands right from the comfort of your own home… no stress! Ranging from gels, shellac, or regular manicures, you can pick whatever style you love and even get a nail art add-on! Have a specific design in mind? Let us know what you want in the comment box when you book an order or even email us a photo!
So, if you're ready to add to your look for Pride 2018, book with us .
See you there!