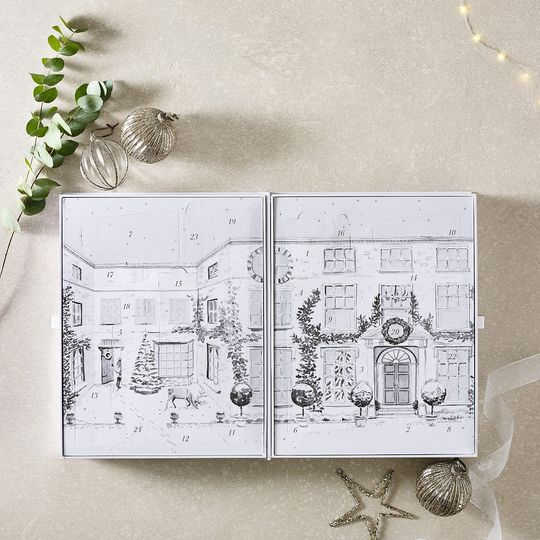 Beauty Advent Calendars are becoming a tradition for the Christmas countdown. 
Here is the opinion of most:
"If you don't have a Christmas Beauty Advent Calendar, then you must get one"
Imagine getting a beauty product every day of the week for nearly the whole month of December. 
Every year beauty brands compete to beat the title of the best and most purchased beauty brand. Don't be discouraged if you don't like the ones we suggested, there are other options suited for everyone. 
Rituals 
Deluxe Calendar– Cost £89.90 & Value £148.50
Exclusive Calendar- Cost £59.90 & Value £118.45
Rituals Christmas Calendar is setting the bar this year with a 3D and 2D calendar.
The 3D calendar comes in a big gold box and wrapped around it with red ribbon. When you open the calendar it turns into a Christmas tree included with a set of fairy lights. After you have set up your tree and placed it in the perfect spot, you decorate the tree with your little gifts to open each day.
This Beauty Advent Calendar serves a double purpose, as an advent calendar and a Christmas decoration.This Calendar could also be reusable since the lights are battery activated and the gifts are separately hung on the tree. If opened gently, you could use it for the following year, incorporating your own fillers.
With the products usually being sample sizes, you are sure to go back for more the minute they run out.
I have this calendar this year so be prepared for a whole blog about this advent calendar after Christmas. In order to prepare yourselves for next year.
Benefits:
3D
Decorative
Reusable
Value for Money
Rituals Christmas Collection Samples
Other Rituals Samples
Bodyshop
Deluxe Advent Calendar– Cost £99
Ultimate Advent Calendar- Cost £65
Beauty Advent Calendar-Cost £45
The Body Shop beauty advent Calendar is a personal favourite of most.

This year their advent calendar is a trio collection, set up of 3 buildings. It is based on a group of 25 inspirational women using their dreams to change the world.
Aesthetically these Calendars look quite beautiful in your home. Be it as the whole set or just one of each. All three include skincare bestsellers, deliciously-scented bath products, body treats, party season make-up and more.
Spoiler Alert!!!
You will receive some of the chai latte Christmas collection, which is an all-time favourite. 
Feeling fresh and rejuvenated for the month of December and having a new Bodyshop product to use each day. This advent calendar is most definitely value for money and very popular because of it's natural-inspired beauty which, is becoming more of a conscience for people these days. 
Benefits:
Popular
Women Empowerment inspired
Natural Products
Christmas Collection
Skin Care Bestsellers
Bath Products
Make-up
Decorative
Value for Money
L'occitane  
Classic Beauty Advent Calendar- Cost £49.00 & Value £79.00
Luxury Beauty Advent Calendar- Cost £79.00 & Value £98.50 
L'occitane is a great advent calendar to have. Their products are skin-friendly, natural ingredients and smell amazing. This is a serious value for money. Imagine smelling like warm toasted almonds every day for the whole of December. 
Having used this product myself I can vouch to this being an amazing treat with beautiful products inside.
Note to self:
If you are buying this calendar for the second time, the products don't  change. They are the same products each year, therefor no element of surprise.
If you like the products as much as I do then this is still a treat and the packaging is always very nice and elegant.  
Benefits:
Skin- friendly
Smell like warm, toasted Almonds
Value for Money
Nice & Elegant Packaging
Yearly Range
Christmas Collection
Charlotte Tilbury 
Glittery Galaxy of Makeup Magic Beauty Advent Calendar– Cost £150
This Calendar is very fun and  consists of all Charlotte Tilbury products. After all, who doesn't love a new item of makeup every day for a month?
Disclaimer:
This Calendar is only 12 days long but you do receive full-size products which last longer. Think of it as a gift you can use for next year. 
"Discover my magical world of makeup and skincare'
Benefits:
Full-size products
Make-up
Christmas Collection
12 best-sellers
Liberty London 
Beauty Advent Calendar– Cost £215.00 & Value £600
This Advent Calendar is definitely a 'treat yourself moment'. Could also be as  an early Christmas gift to someone special. You will be treating yourself or a friend to a mixture of high-end brands through the majority of December. The actual design of this Advent Calendar is stunning and very Christmassy. 
It's a design of their beautiful Tudor-revival building covered in snow as it falls from the heavens. The reason the cost is higher than the rest is because 18 of the calendar doors  will be filled with full-size products and only 7 sampler products – what a treat!. 
Benefits:
Serious Value for Money
High-end brands
Visually Beautiful
Decorative
18 full-size products
7 sampler products
Kiehls 
Limited edition Advent Calendar– Cost £82.00 
This advent calendar was created by a professional artist called Janine Rewell.
If you're interested in finding out more about the artist, head to their website, by pressing the link below.  Behind each door, there will be a range of face masks, facial serums, moisturisers and more. If you know someone interested in skincare fanatic, then this is the calendar for you!
Benefits:
Professional Artist Packaging
Face masks
Facial Serum
Moisturisers
Bestsellers
The White Company 
Beauty Advent Calendar- £160.00
This is a very popular advent calendar. Due to high demand, this popular beauty advent calendar has returned for another year. Making your Christmas countdown that little bit extra luxurious and white. 
Benefits:
Popular
Luxurious
Value for Money
Christmas Range
Bestsellers
Decorative
More of Charlotte's Posts