Meet Devina & Sarah: Founders of Aurora London
By Zoe Greenwood, November 6 2020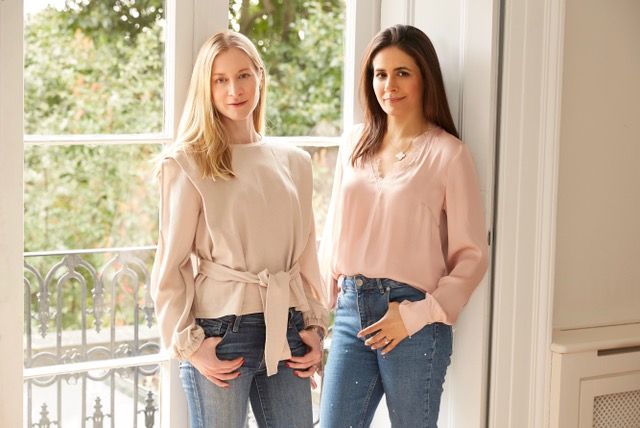 There's always that one bag that you can't stop thinking about. The one that will instantly refresh your wardrobe for the new season, but often costs an arm and leg to get it…After years of collecting designer handbags, Devina Dicarlo & Sarah Auerbach, realised that they no longer wanted to spend loads of money on the latest bag, but they also didn't want to compromise on the quality. That's when Aurora London was born.
Taking their love for high-quality handbags, and their knowledge of the luxury industry, co-founders, Devina and Sarah, went on a journey to create designer-quality handbags without it costing an arm and a leg.
Today, we spoke to Devina about the inspiration behind Aurora, their journey into the entrepreneurial world, and more!
What was your initial vision for Aurora London?
We felt there was a gap in the market to meet our needs for a cool, well made handbag for everyday use that was affordable. After many years of buying and collecting designer handbags, we reached a point in our lives where we had other priorities and didn't want to spend £500+ on the latest bag, yet we didn't want to compromise on quality either. The only available options were high street or designer. After research amongst family and friends we felt that we could bridge that gap. We were one of the first truly direct-to-consumer handbag brands.
Your bags are known for being both high-quality and timeless. How do you ensure that all your designs are durable as well as stylish?
We use the highest quality materials possible – we tend to use a combination of designer leather off-cuts from Italy and source leather direct from a renowned tannery in Barcelona. Our metal wear is also Spanish. This combined with the craftsmanship of our factory in Ubrique Cadiz, southern Spain, makes our products the best they can be. Our design aesthetic is also quite sleek and minimalist, and ensures they not only transcend seasonal trends but also work to withstand our customers' busy lifestyles.
Aurora has grown so much over the last few years – what has been your proudest moment to date?
It's definitely when we are out and about and see someone wearing one of our bags or we are told by friends and family that they met someone wearing our bags. Nothing beats that.
Sustainability within the fashion industry has been a big focus recently, what are the problems you see with the fashion sector today?
In our sector alone, there have been so many copy cats brands claiming to provide a similar product, however we know that there are many grades of leathers and metal wear and that many of these brands use inferior materials and pass off for the same quality and swamp the market with these bags.
As mothers yourselves, what would you suggest to other mums who are thinking about starting their own business?
Be ready for extreme hard work, even through sleepless nights, hustling, and not really switching off as you can when you are employed. It is a never ending circle of commitment, but one that can be equally rewarding and adaptable to your needs and family.
What do you believe has been the most challenging aspect of creating the brand?
Starting a business as friends can be exciting, but also stressful. How do you divide the work and endure the difficulties of what can come from starting a business?
Sarah and I have a relationship that spans 15 years, from when we first met as work colleagues at LVMH. After working together we quickly became friends and I strongly believe our similar work ethic, speed of working, vision, and ability to always find the humour in difficult situations, have all definitely helped us through all the challenges in our business life. We have our own roles and responsibilities yet always consult each other for feedback and opinions before decision-making. We are very intuitive about one another's thoughts and feelings about most things at work.
What are your hopes for Aurora in the next 5 years?
To continue enjoying what we do and have more and more women internationally wear our bags.
Name a woman in business that you truly admire and why?
Natalie Massenet for creating Net-a-Porter and being such a visionary and so ahead of the curve. I remember back in the day thinking it was ludicrous to shop online for a designer dress, but now couldn't live without NAP.
Is there an organising tool or app that helps you manage the "juggle"?
We both rely on so many! Trello is amazing and has been wonderful through this year of primarily WFH.
And lastly, what makes you feel powerfully beautiful?
Grooming is really important to us both and makes us feel more in control. A fresh mani, groomed brows and a great (quick) blow dry make a huge difference when you are tired, feeling overwhelmed or just need a pick me up.
A big thanks to Devina for her time with us! If you liked this article, check out our "Ladies Who Launch" section on our blog – we interview female entrepreneurs on all things business, family, and life.
Devina has also kindly offered you guys a discount of 30% off sitewide! Just use the code LSA30 at checkout. *code excludes shipping