Getting The Most Out Of A Spray Tan
By Zoe Greenwood, May 21 2019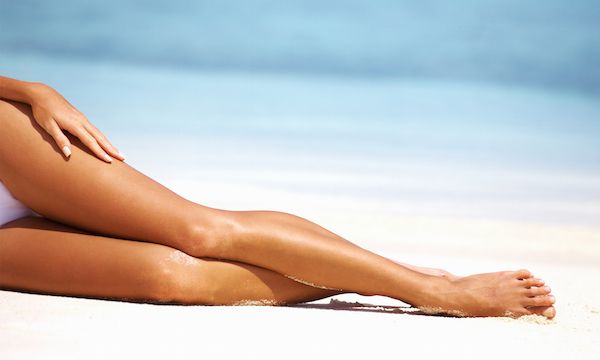 Apart from getting completely undressed in front of a total stranger, getting a spray tan isn't as bad as it seems. You get that sun-bronzed glow, you don't have to bake your skin under the damaging sun AND it only takes 30 minutes – what more could you ask for?
And, let's be honest – we just don't get the sun we need living in England – most of us can't just jet off for some holiday sun whenever we're feeling a bit pale (if you can, consider us extremely jealous…). So, rather than sacrificing gorgeous bronzed skin, why not opt for an at-home spray tan?
Here's our guide to an at-home spray tan:
Before:
Exfoliate:
The better condition your skin is in, the longer your tan will last. If you're not already, start by exfoliating your skin every few days to remove any dead skin cells. This ensures you achieve a smooth, flawless tan rather than a patchy look.
Waxing & Shaving:
Make sure you have shaved or waxed any unwanted hair at least 24 hours before your spray tan. If you wait until after to wax or shave, it might end up removing the colour.
Do not moisturise:
Your tan is likely to come off quite light and patchy if you moisturise before the treatment. The lotion essentially acts as a barrier between your skin and the tanning product. However, your therapist will apply a barrier cream on places which are known to be drier than others (e.g. knees and elbows).
Don't wear makeup:
It's best to be foundation-free during your spray tan. While you can ask for your face not to be tanned, the therapist usually does tan the whole body in which case, if you are wearing makeup, the tan won't come through. Also remove any deodorant as this can impact the development of the tan. The last thing you want is a streaky tan.
Time to strip:
You might feel a little silly, but your therapist will bring with them a disposable thong and a hair net for you to wear during the process. Obviously, you have the complete choice in what you wear – bikini, your own underwear, anything – just remember to keep the tan lines in mind! If you do opt for your own clothing, we recommend wearing dark colours to avoid the tan transfering onto your clothes.
After:
Loose clothing:  
Once the therapist has finished, she will leave you to dry off and get changed. As your tan is still fresh, it's best to wear dark and loose clothing to avoid the tan rubbing off and any stains.
Prepare to have a little smell:
Unfortunately, tanning also comes with that tanning smell which you can't quite put your nose on – it's not horrible, but it's also not that great. On the bright side, this will go away when you wash off the tan, so it's not a breakdealer.
No gym/sauna/sweat stuff:
If you need an excuse you to avoid the gym tonight, here it is. While your tan is still fresh, it's best to avoid any intense activity that will cause you to sweat; the sweat will instantly make the tan drip right off your body which is not a good look for anyone.
The darker the tan, the longer to develop:
When you first step out of the tanning booth, you're likely to look a lot darker than expected – this won't be the case once you wash it off, but it is worth noting that the longer you wait to wash the tan off, the darker your tan will be. It's recommended to wait between 4-8 hours before washing it off.
Moisturise daily:
After you've washed off your tan, start moisturizing with a non-oil based cream (if you're not doing so already). Hydration is the key to a long-lasting glow.