7 Tips For Removing Dead Skin From Your Feet
By Jennie Waeland, October 9 2020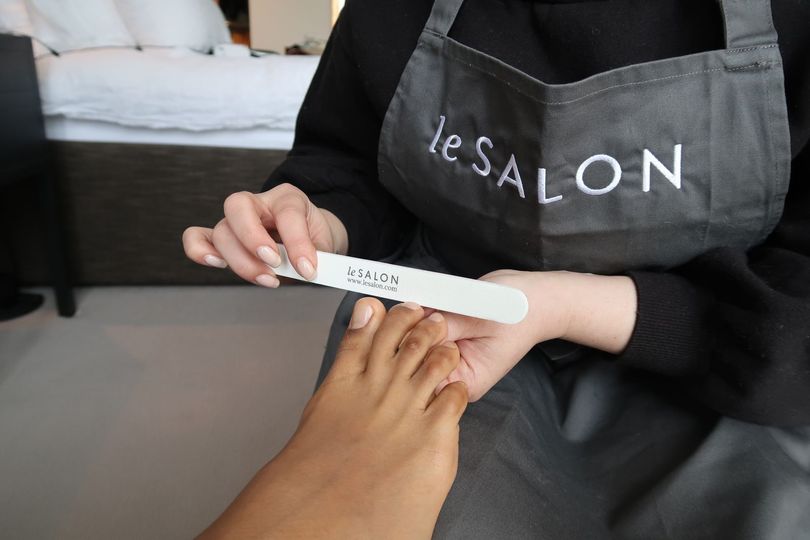 Let's not beat around the bush, dry and dead skin on our feet can definitely dampen our mood. Whether it is calloused and hard or dry and flaky, it is far from the baby soft feet we so desperately strive to achieve. 
Dead skin on your feet can be caused by many things. If you are constantly wearing socks or shoes with little room to breathe, it can cause the moisture in your feet to dry out and start to flake away. The skin actually thickens in order to protect your feet when walking. It builds up the protective layer when there are precarious conditions whilst you are walking. 
To avoid this, you should find breathable shoes that fit correctly. As much as we hate to admit it, our mums were right about getting 'sensible shoes'. 
However, if you already have the build up of dead skin on your feet, here are a few remedies you can try to bring back soft feet. 
Foot Scrub 
Foot scrubs act as a physical exfoliation and are easily accessible to us both online and in store. All scrubs will differ in ingredients, however as long as they come from a reliable brand, they should do the job. A bit of gentle rubbing on the skin's surface will help rid of the top layer of dead skin cells. 
The best ingredients to look out for are natural and rich in moisture. You can either buy a foot scrub with these ingredients in them, or you can try to make your own one at home. 
Coconut oil is extremely great for moisturising your skin. 

Peppermint is commonly used in foot treatments to cool down and soothe any irritated skin with menthol. 

Lavender oil has antiseptic properties and can help with cell regeneration 

Eucalyptus oil will help with cracked heels and helps to fight off bacteria and viruses
Foot scrubs can be used between 2-3 times a week. However, if you have sensitive skin, try once a week at first to see how your skin reacts to the abrasion. 
Pumice Stone 
One of those tools you often see in a bathroom and have no clue what it is or what it does. A pumice stone is actually a combination of water and lava stone formed together into a compact shape. 
Think of it as a nail buffer for your feet. The purpose of the pumice stone is to remove any dry, dead skin and to help rid your feet of those unwanted callouses. 
To use, dip it in warm water. We recommend soaking your feet in warm water for roughly 10 minutes. This will soften your skin and make it easier to work with. 
Move the pumice stone around your feet, specifically on dry areas. The motion varies, you can go side to side or in circular motions. Whatever works best for you. 
It is important to focus your attention on the outer layer of skin, rather than the entire section as this may decrease cell regeneration. 
Epsom salt 
Don't worry, we won't let you put any ordinary salt on your skin. Epsom salt is actually a magnesium sulfate compound. It can usually be used to alleviate aches and pains, and as an additional element to a relaxing bath. 
Why not try creating your own epsom salt foot bath. To do this, add half a cup of epsom salt to a foot bath filled with warm water. You can let them soak for up to 20 minutes. This will help to exfoliate your feet. 
After the bath, you can use the pumice stone to scrub off any extra dead skin. 
Vinegar soak 
Fortunately, most of us have a bottle of vinegar in our kitchen cupboards. But don't limit it solely to your chips…
Vinegar contains acetic acid, which helps to remove bacteria and germs from your body. It can help with problems such as dry skin and warts. 
For a soak, you can use any type of vinegar. Apple cider, white vinegar – the choice is yours. To create the vinegar soak, add 1 part vinegar to 2 parts cool water. 
Avoid hot water as this may further dry out your skin. Soak your feet for anywhere between 5 and 10 minutes. 
Once again, a pumice stone can come in handy after this soak. Vinegar can be fairly drying on your skin so be sure to apply a moisturising product on your feet afterwards. 
A professional scrape 
Don't try this at home. If you want to book in for a professional removal, you can see a podiatrist to have any dead skin removed with a scraping tool or a razor. If you try this at home, you may risk cutting yourself and exposing your feet to bacterial infection. 
Foot peel mask
Hear us out. A foot peel mask is a quick and easy solution to dry skin. You can buy these from many beauty brands. Simply place the mask over your feet and seal it up. 
You should leave it on for roughly 15 minutes. Unfortunately, despite the quick method, there is a longer turnover time. You should start to see results around 14 days after the treatment. 
These masks are full of hydrating magic, such as oils and vitamins. We recommend the Charlotte Tilbury multipack. 
Heel balm
There are many great balms on the market, tailored to all your dry feet needs. Simply cover your feet in the moisturising balm and then put a pair of thick socks on. The balm will help to bring moisture back into your feet and repair cracked heels. The thick socks are to contain the feet whilst they soak in the product.
This can be done as an overnight treatment, who doesn't want to wake up to baby soft feet?
We love the Comfrey and Mallow Foot Balm. 
Let's give our feet the TLC they deserve now that we veer towards the colder months.