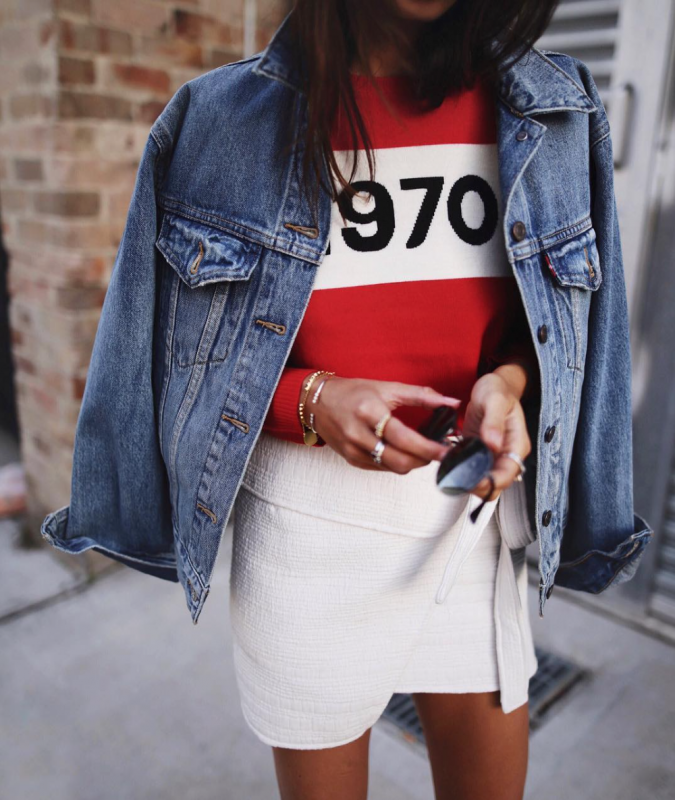 13 Fashion Instagrammers You'll Want to Follow
The Insta-sphere is now flooded with over 700 million active accounts. Standing out in a crowd this size can be difficult. Likewise, finding accounts that resonate with you - ones that give you that "can't-stop-scrolling' feeling - can be hard to come by. The type that inspires you. It's the ones that combine girl crush and "I want your life' envy into one. At LeSalon, we're huge lovers of fashion and are always on the lookout for cool Instagrammers to follow. If you're looking for some fresh feeds without wasting time, this is the list for you!
This week, we're sharing 13 fashion accounts that we think you'll probably love. What we love most is the accounts don't force-feed fashion, they share life's other joys - food, travel, art and more!
[Summer vibes with @bloomingdales @shopstyle_au ❤️🍉 // Exclusive to #Bloomingdales #ellamoss #sp #ontheblog](https://www.instagram.com/p/BY1V9CKghB2/) A post shared by Andy Csinger (@andicsinger) on
Andy Csinger is a Sydney-based fashionista who describes herself as "minimal (but not really)". Her sense of style is a unique blend of streetwear, basics and special standout pieces. It's effortlessly cool and we love it. More than just fashionable, follow her for the beaches, food, photography and a bit of Bali.
[London - Amsterdam - Berlin - London in the next 36 hours. One cancelled flight, one delayed flight so far and Mercury's not even in retrograde anymore 🇬🇧 🇳🇱 🇩🇪 #DontFailUsNowEasyJet #PodcastsAhoy](https://www.instagram.com/p/BY-UIPLjJbE/) A post shared by Lucy Williams | Fashion Me Now (@lucywilliams02) on
Lucy is South of France meets LA girl - laid back shift dresses and talking tees, layered minimalist necklaces…but don't think you won't see her throw in a luxe Chloe bag for a hit of luxe. Lucy's bio says she's a blogger, writer, stylist, reader, wanderer and picture-taker. She does a bit of everything! There's more - she's collaborated with jewellery brand Missoma to create the LucyWilliamsXMissoma Roman Collection launching next month. She's kind of a big deal. Did we mention she's got the Instagram verified badge!
[http://www.laezemagazine.com/zara-martin-in-her-wardrobe/ @laezemagazine @hannahillierphotography @stormmodels](https://www.instagram.com/p/BY8S5MMhkMt/) A post shared by Zara Martin (@zaramartin) on
We admit we have a major girl crush on Zara but who doesn't? The girl's got it all - fashion on fleek, DJ gigs for the likes of Chanel and collaborations with brands like SkinnyDip and BodyAmr. Her rock "n' roll sense of style is softened by hints of Parisian vibes, and her brunette locks are coupled with an ever perfect cat-eye flick. We love to follow her dreamy life, from private jets and red carpets to her posse of cool celeb friends. But she's not all fun and games, Zara is a proud ambassador of Women for Women International - a charity that works with women in countries affected by conflict.
[Sunshiney shirt for a sunshiney day ✨ PS. Did you know I'm on YouTube now? Search for "Lindsey Holland" to see my latest video!](https://www.instagram.com/p/BYivJRyHc3w/) A post shared by Lindsey Holland (@ropesofholland) on
Lindsey Holland's Insta bio describes herself as a blogger, physio and explorer. For more from her, check out her blog. She's truly the epitome of London cool girl - effortlessly stylish, reminiscent of Alexa Chung. If Reformation was a person, it'd be Lindsey, put it that way! Drool over her cute summer dresses, distressed denim shorts, and fresh sneaks as she explores London, Rome, Vegas and more.
[Have courage to follow your Heart & Intuition✨ 📸 @shaneduncan1 New post on the blog! Link in bio!! https://iambosslee.com/new-blog/2017/5/28/intuition](https://www.instagram.com/p/BVXnnxeFYK9/) A post shared by BossLee (@iambosslee) on
As a PR assistant at Pretty Little Thing and a stylist and designer, it's no surprise that she is an absolute style queen. We're in love with her fashion and celeb inspirations (Solange, Rihanna and ASAP Rocky). Her creative feed flows smoothly from colour to colour in a subtle way that's just so aesthetically appealing.  
['Hustle baby girl' tee & Rose chain by @catsgotthecream 🌷](https://www.instagram.com/p/BY-8jwOBYFH/) A post shared by Jade Laurice (@jadelaurice) on
Jade's signature bleached waist-length braids, cute freckles and positive vibes make her instantly memorable. Couple that with her style - streetwear with a serving of sexy - her feed definitely stands out from the crowd. As an artist and designer at POCALONDON, Jade shares her illustrations and paintings alongside her fashion feed. For more on Jade, check out her blog.
[The only top you need to transition into autumn is on thesilksneaker.com waiting for you 💫💁🏽 #WhoWhatWearing #fashion #ootd #streetstyle #bashparis](https://www.instagram.com/p/BYrPAQDhseW/) A post shared by The Silk Sneaker (@thesilksneaker) on
Shloka is a London-based fashion and lifestyle blogger hailing from Bombay. She defines her aesthetic as "laid-back luxury' and we completely agree. She mixes flowy skirts, Hilfiger jumpers and Gucci bags into one cosy yet fashionable look. We don't just follow her for the fashion - her food and flower shots are gorgeous as are her travel shots in locations like Greece and India.
[The sun is back... the sun is back! ☀️🕶 • #TBT to a beach in Cornwall where a woman who didn't think she was capable of such things, found herself doing a swimsuit shoot for @figleavesofficial 👙📷☺️ • How did she do it? She helped herself to some Body Happiness, that's how! 🙌🏻🙌🏻 • Thank you for all the wonderfully thoughtful and supportive comments on yesterday's Instagram & blog post too. You really are a truly love lot and I'm so grateful to have you! 😘😘😘 • 📷 by @patrick295 #sp #BodyHappiness #figleaves . . . . . . #onlinestylist #osstyle #makeyousmilestyle #inspirationforstylishliving #summer #summerstyle #bodyconfidence #loveyourself #liveinit #ootd #osbeachlife #oceanstateofmind #beachlife #beach #coastalliving #bythesea #saltyair #summer #sun #coast #coastal #oceanview #noshoes #beachday #oceans #coastalstyle](https://www.instagram.com/p/BYdSdcOFWuy/) A post shared by Amanda Start (@onlinestylist) on
OnlineStylist, aka Amanda, is a monochrome minimalist's dream. Her feed is simple elegance blended with cosy, home living. Not as much fashion as the other accounts, but her whole vibe is pure style. She promotes the hashtag #ElevateTheEveryday - she's all about adding that special touch whether it be a Scandi hand soap, a glass of champagne, or time spent on the beach with her dog. Her blog just had a major refresh, so give it a peek!
[C H I L L I N G ✖️ @aweatheredpenny jewellery, @andotherstories dress ☁️ missing my long hair 〰](https://www.instagram.com/p/BXBdNOTlDLJ/) A post shared by N A O M I (@thelondonfoxx) on
Naomi, the face behind thelondonfoxx serves up a seriously stylish monochromatic feed. If you're a fan of those perfectly choreographed overhead shots of flowers, perfume and candles laid out - you'll adore this page. Follow her even just for the London life shots. Obviously, a big makeup fan, check out her glam product shots, too. Her lifestyle blog is worth a read, too!
[Mellow yellow @windsorstore](https://www.instagram.com/p/BYJE1mAAlgx/) A post shared by Mpho Lebajoa (@mpholebajoa) on
Mpho is an absolute cutie but she dresses like a total boss. Think Missguided meets Nasty Gal with a pinch (or two) of upcoming streetwear brands. She shows us how to dress in Ibiza, at festivals, and as far as Sri Lanka. The ultimate fashionista, you'll see her rocking polka dot playsuits, PVC-esque dresses, and deep V tops.
["HAHAHAHA OH TABLE!! YOU ARE SO FUNNY!!" ☕️#waitingformycoffee #alwayscandid #howwasIlaughingbeforeIhadcoffee](https://www.instagram.com/p/BY-gR06Af5d/) A post shared by Jessica | Cocoa Chelsea (@jesschamilton) on
Jessica from Cocoa Chelsea had us hooked from the moment we read in her bio "Unhealthy addiction to pasta". Basically, we're soul sisters. Her blonde wavy hair gives off a retro 60s vibe, combine that with her relaxed yet ever stylish photos and we can't help but keep scrolling. She takes her followers from London to LA, to New York to idyllic beaches in Turkey.
[Quand tu n'as pas ton mari à portée de mains, heureusement qu'il y a les miroirs de salle de bains ! | when your husband is not around there is always the good old bathroom selfie. #paris](https://www.instagram.com/p/BZAqbgjldGU/) A post shared by Mathilde Lacombe (@mathildelacombe) on
Mum of three, entrepreneur and brand director, Mathilde is one busy woman. Though she doesn't let that stop her from keeping up appearances - she's always dressed head to toe in classic French style. Other than her dress sense, she posts home decor shots, good food and beach days. What's not to like!
[Currently hanging around the city of beautiful mosaic's, delicious tapas & flowing cava ✨🇪🇸 #MyLifeinPinkinSpain](https://www.instagram.com/p/BYV0jIPhbYb/) A post shared by Emma Jane Menteath (@emmajanementeath) on
Emma is a South African-British model whose life looks like a permanent holiday. Her Mediterranean travel photos make us really want to hop on a flight ASAP! Though what we love most is her boho-chic fashion approach. She shows us exactly how model-off-duty is done. Expect lots of food, striped beach umbrellas and good pairs of sunnies.
If you liked this list, you might like some of our other blog pieces - we cover beauty, wellness, city life and female entrepreneurs.
And, hey, fancy a manicure? Why not book one with LeSalon  - there's always a good time to pamper yourself!
You may also like...