12 Nail Art Designs for Spring 2021
By Brid McNulty, December 10 2020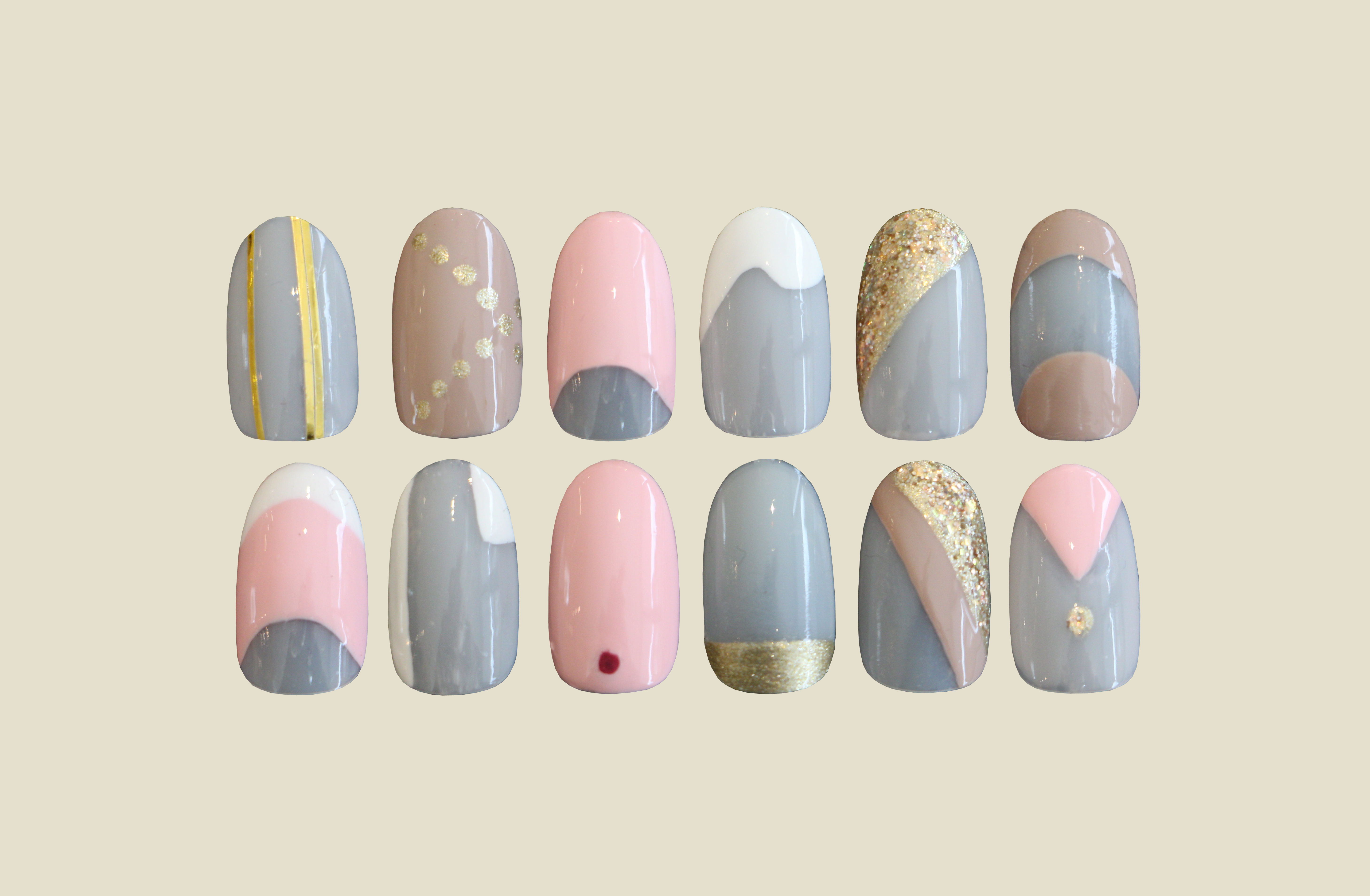 It's a cliche, we know, but spring has sprung. Finally! This also means it's time to freshen up your look, try new things, turn a new leaf, as they say. Some go for a new bob, a brighter wardrobe, or even a new exercise routine, but as nail fanatics, we're switching up our manicures. What better way to experiment than with cool nail art designs? It's a creative way to express your personality, plus it's got that instagramability factor. From glittery nails to minimalist geometrics, we've put together our favourites for this season.

An artistic nail art design is key for a killer mani, but we think the palette is equally as important. This season, we're predicting soft, fresh hues like baby pinks, crisp whites and soft tans. A pop of glittery gold never hurt anybody though, right – which is why we've included hints of it in our palette too. Negative space and neutrals are also key to any minimalist nail art look, so you'll be seeing negative space and natural cut-outs too. Excited? Let's get to it!
Here are 12 fun nail art ideas for spring 2018. P.S., if you make it to the end, we'll share our favourite bonus nail art look.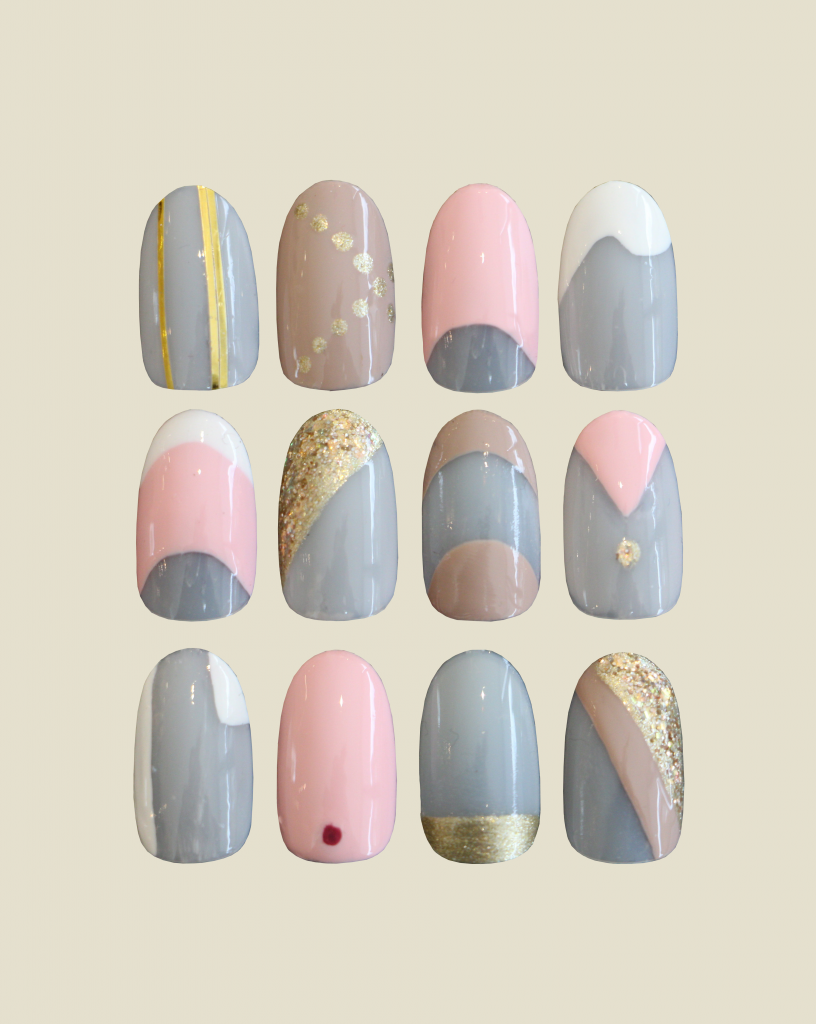 1. Geometrics with Negative space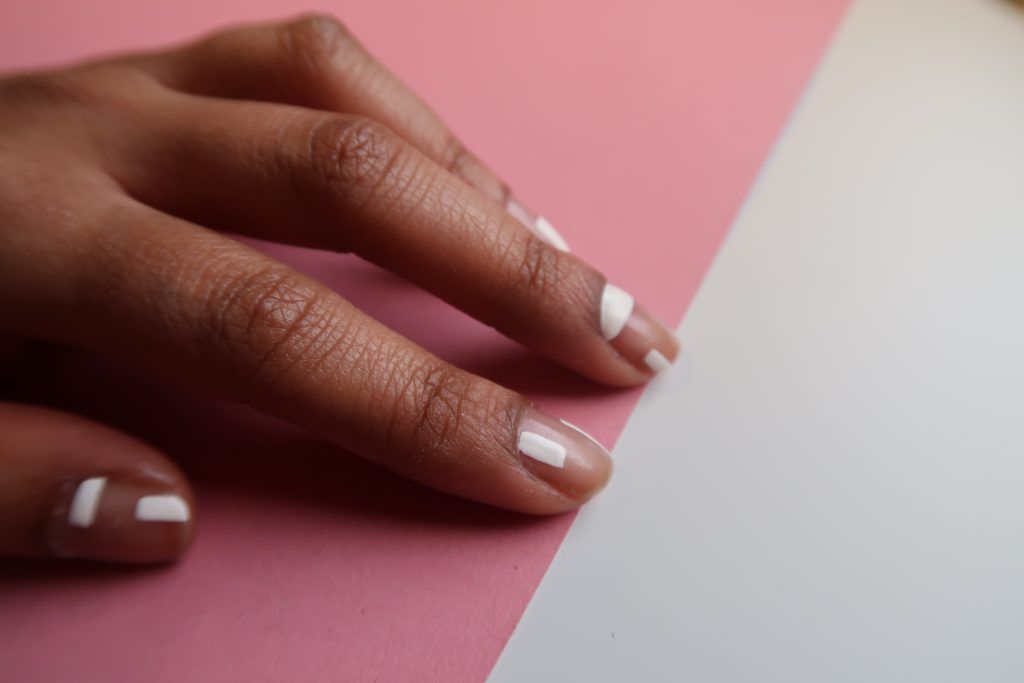 Most of our palette this season follows smooth, round lines, and lots of colour-blocking. But our first look is more geometric. Each nail is slightly different – with varying sizes and placed blocks. Refine it with a single colour choice, like white with a natural base colour. Or welcome spring with pastel blocks.
2. Gold Glitter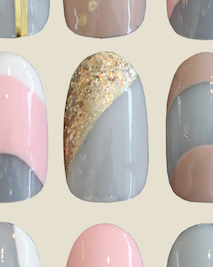 With more sunshine and the summer on its way, our skin will be (kind of) tan soon. But in the meantime, let your nails sparkle golden with a glittery accent.
3. Connect the Dots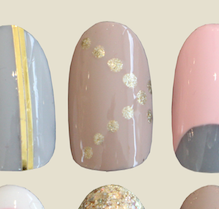 This look on all five nails could be a bit much in our opinion, which is why we recommend it on one or two nails, and even varying the dots per nail.
4. Minimalist Stripes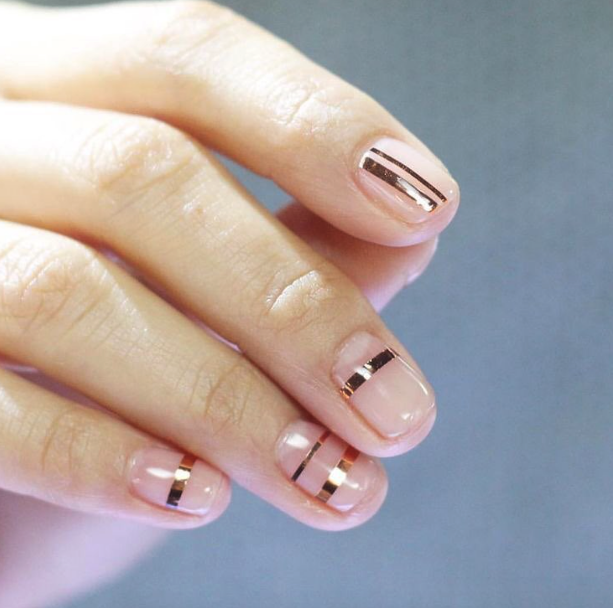 We love this look – it's not actually a polish, but strips glued onto the nail. Super simple, super chic. And best of all, it can be worn day to night.
5. Half Moons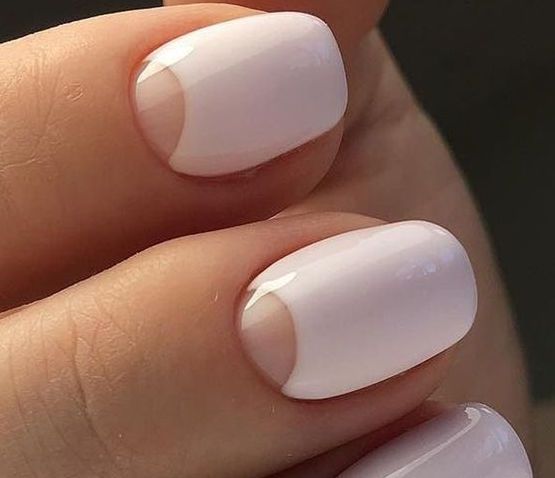 Always a classic, but this spring we're keeping it fresh and crisp with a natural half moon and a soft pink polish. Half moon nail art looks best on a nail with a round tip and relatively straight nail bed base – that way the half moon really looks like a half moon!
6. Ride the Wave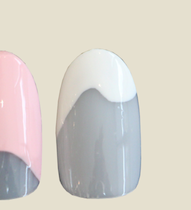 This one might have been slightly wishful thinking on our part – we just can't wait to get to the beach this summer! But this wavy nail art tip is different enough to stand out but not tacky at all. We kept the base natural and the tips white as a sort of nod to a French manicure, but feel free to play with dual colours on this one.
7. Half Moon with French Tips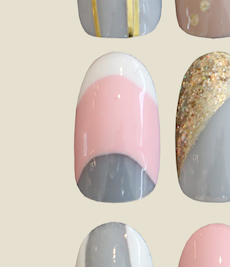 We just can't get enough of a half moon nail look. But this time, it's got a twist – it's sort of a half moon – French mani hybrid. Again, this look lends itself well to colour experimentation.
8. We need some (negative) space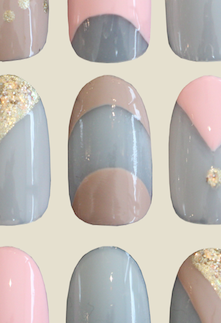 This nail art design looks beautiful on those with long nail beds. Ideally, there needs to be enough space to pain the tan half moon, the tan tips and leave the negative space in between.
9. An art deco look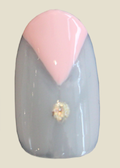 This look could be OTT for some, but keep is refined with our soft spring palette – a natural base, a soft pink colour and a gold dot.
10. The classic dot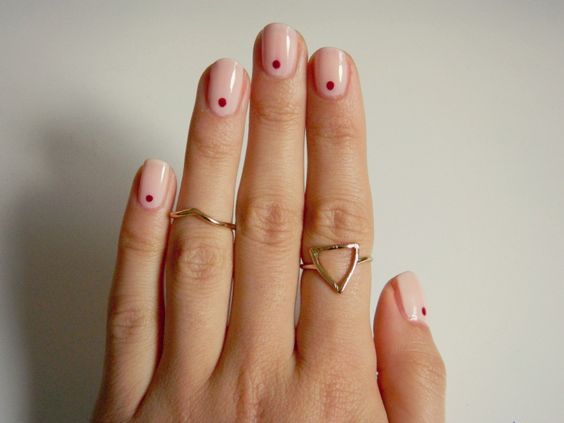 The classic single dot is a perfect "gateway' design into the nail art world. If you haven't dipped your toes into nail art, go for this one. We chose a soft pink base with a dark pink dot near the base of the nail. But the dot can look great near the tips, too.
11. A golden cuff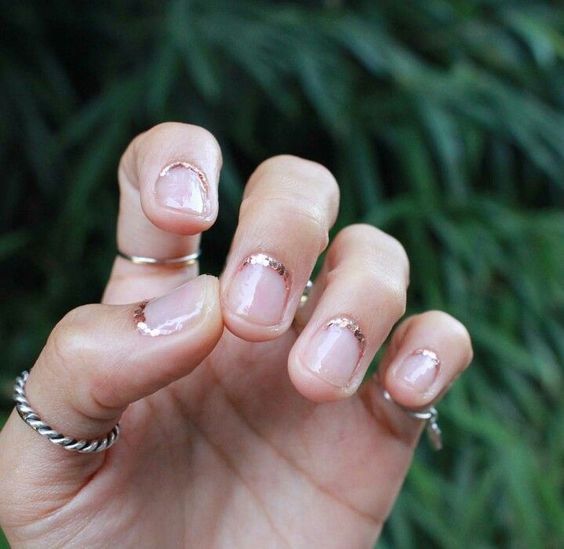 This look made the rounds last year, especially after Korean nail artist Unistella experimented with it. We think it's a simple way to add a pop of shimmer to your life without going overboard. It's easy enough to do at home yourself – paint your base coat, then two layers of a natural shade over the nail. Let that dry, then use a nail art brush to paint on the gold thinly across the lower nail. Once dry add your top coat.
12. Double stripes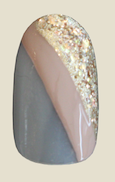 One final look from us – the double stripes. But not as conventional as it sounds. We added our final pop of gold diagonally along the tips then the second stripe in tan. We left the rest natural as we like our nail art minimalist.
BONUS: Ombre nails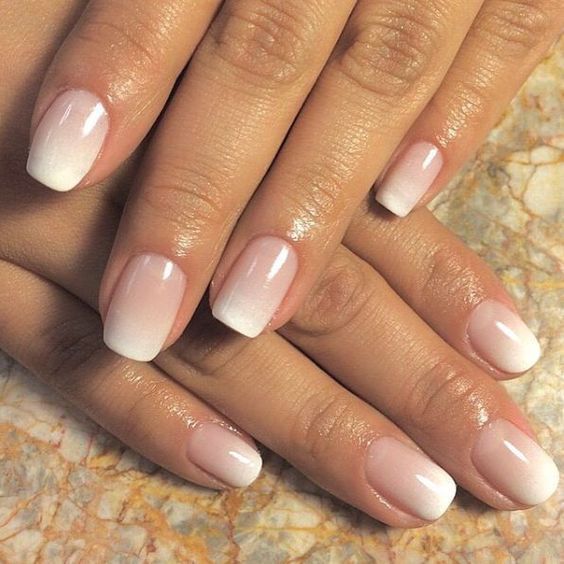 You made it! Our final spring nail art look is the ombre because let's face it, no nail art list is complete without ombre.
Which look is your favourite? We hope you loved these spring nail art designs. Some of these nail art looks are easy enough to try yourself at home, but nail art is all about getting the details perfect – sometimes a professional is best. Book our Spring Nail Art Manicure via our app or website and we'll send an expert nail artist straight to your home.