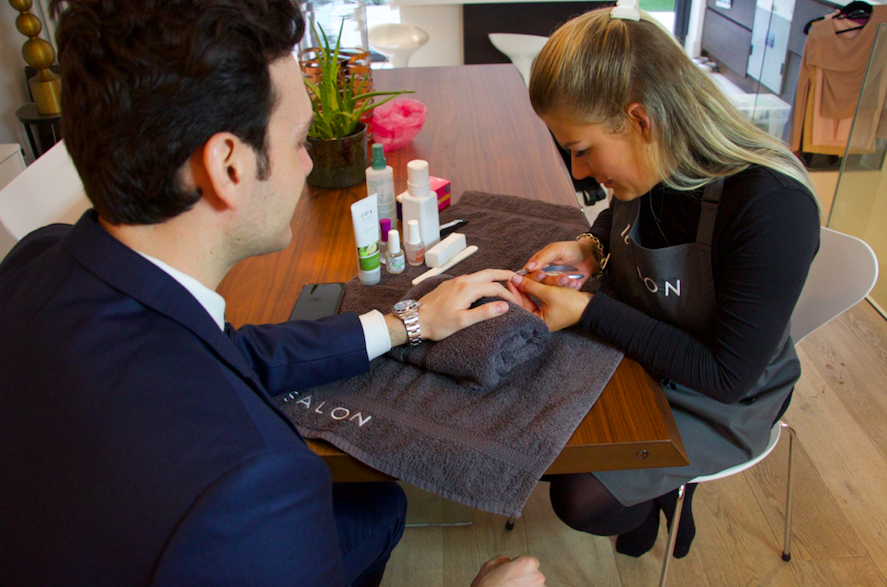 Men's Manicure
£25- Approx. 30 minutes. This treatment includes file, cut and cuticle work.
LeSalon is closed due to Covid-19. Enter your email to join our waitlist and be the first to know when we reopen.
Feel and look professional and well-groomed with a men's manicure or pedicure. We know your schedule is busy, which is exactly why we come to you. Yes, a manicure in the comfort of your own home, or even your office or hotel. You can indulge in some well-deserved "me time' - ain't no shame in spoiling yourself! Your LeSalon men's nail treatment will cover all bases for essential nail care, with a side of pampering too.
What's Included
Trimming nails to the desired length

Filing nails for a smooth finish

Buffing the nails

Shaping nails into your desired shape (square, round, almond, etc.)

Treatment of the cuticles - clipping and oiling

A pampering hand massage is also included
We offer the highest quality at-home treatments.
What we need from you
A table and chair.

And of course, make sure you're relaxed and seated ready to be manicured.
What to Expect in more Detail
When one of our Salonettes arrive at your house,  you'll recognise them easily as they will be wearing all black and carrying their kit. Invite them in, and then the manicure process can begin.
Sterilising
The Salonette will begin by sterilising your hands as well as theirs: we take hygiene seriously at LeSalon. This will be done with a quick spritz of sterilising spray. You don't need to worry about any mess being created, as our Salonettes are well trained and have punnets and towels to keep their kit together.
Clipping and shaping
This part of the process is sort of where the magic happens. The therapist will ask you what type of shaped nails you would like, so this can be square, rounded, almond-shaped - whatever you want. To make sure it's the one that you want, the therapist will do this on one nail and you can make a decision if it's the style you would like to stick to.
Cuticle treatment
Cuticle care is important as they can be prone to infections and are sensitive - plus untidy cuticles are never a good look! A removing solution will be put on each finger around the cuticle, which the therapist will then remove thoroughly. The solution softens and cleans the cuticles; the therapist will then proceed to push back the cuticles gently.  Do not hesitate to say if the pressure is too much/little, our Salonettes are trained to go at whichever pace you prefer. Once the dead cuticles appear, these will be neatly clipped away.
Hydrating Lotion
Your Salonette will massage in a nourishing lotion to ensure your skin, nails and cuticles are well-hydrated. If you'd like some extra massage time, you can always book that as an add-on - it's definitely a fan favourite!
Buffing the nails
If everything looks good, so that's the shape and the cuticles, then the therapist will buff the nails. Our therapists are very skilled, so very few layers of the nail will be removed. This process creates a healthy look, adding a tidy sheen to the nails.
Finishing touches
Last but definitely not least, cuticle oil is added and rubbed in. This nourishes and hydrates your cuticles, keeping them healthy. And voila - the manicure is complete!
Future bookings
Before the therapist leaves, she will ask you if you would like to book for another treatment again. It takes no more than 20 seconds, just confirm the date that you would like to book in and leave the rest to us.

FAQs
Can I change my timeslot for earlier or later?

You would have to contact admin in order to change the allocated time of your appointment.

Who is the men's manicure suitable for?

The men's manicure is suitable for any man who wants a little pampering and some me time. Men who are looking for a professional and groomed look, suitable for men ages 18 and above!

Do I need to provide a towel?

Your Salonette will come prepared with one in her kit. They are disposable, so you can ensure that the towels are clean.

Can I have colour added to my manicure?

Yes, when booking, make sure to include that you would like colour added to the notes and the therapist will come prepared.

How do I know if my booking has been confirmed? Once you book your appointment, it varies if you're checking using the app or the website On our website, simply click on your username on the navigation bar along the top and click on 'Booking History'. From there, you can see your upcoming and previous bookings. When the booking has been confirmed, it will say 'confirmed' next to the therapist's name.  For the app, it's pretty much the same though the layout is slightly different. Just click on the top left-hand side, and click on 'Bookings.' Here you will have all of the confirmation details just as it is on the website.
Recommended Add-ons